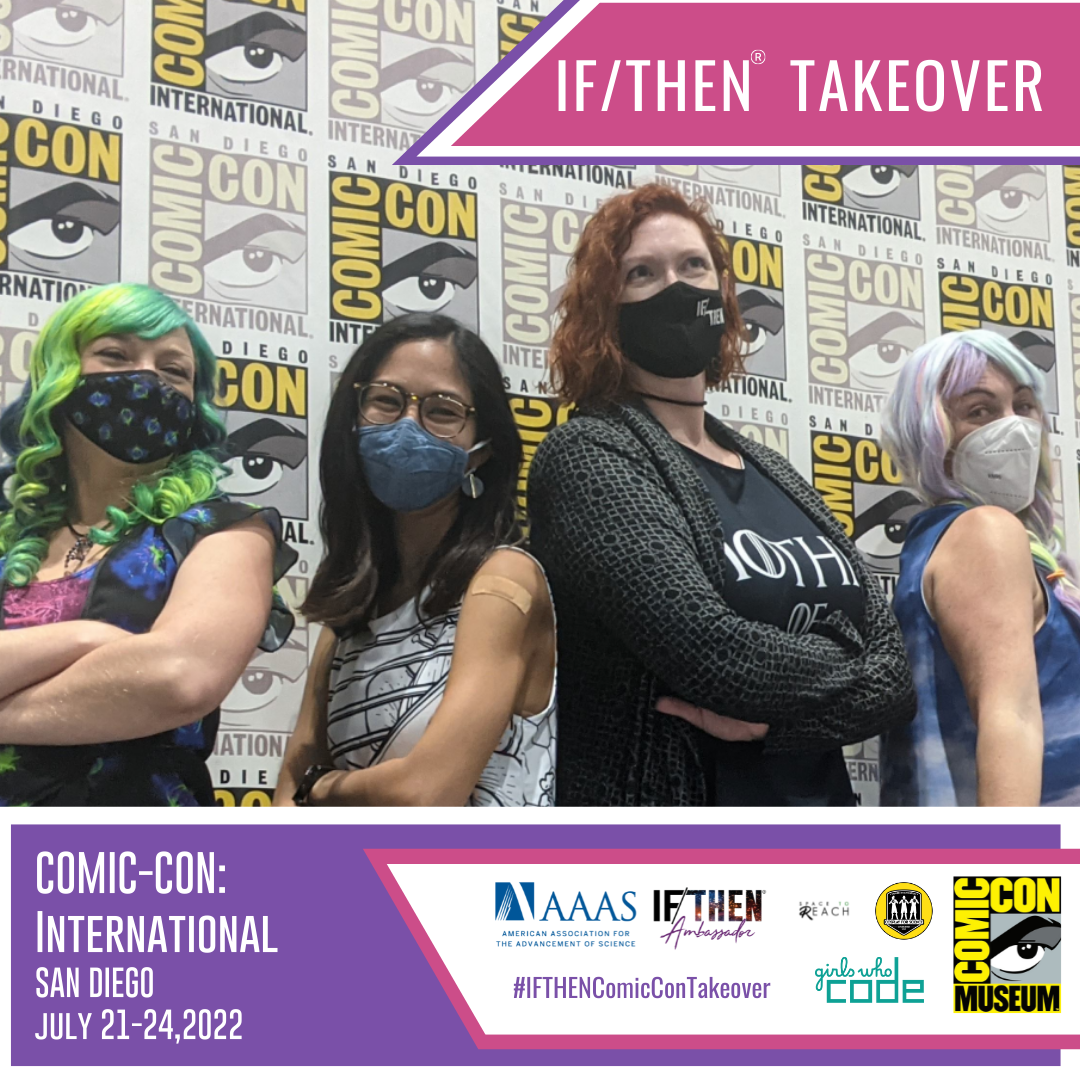 AAAS IF/THEN STEAM Events at Comic-Con Museum
SCIENCE!!!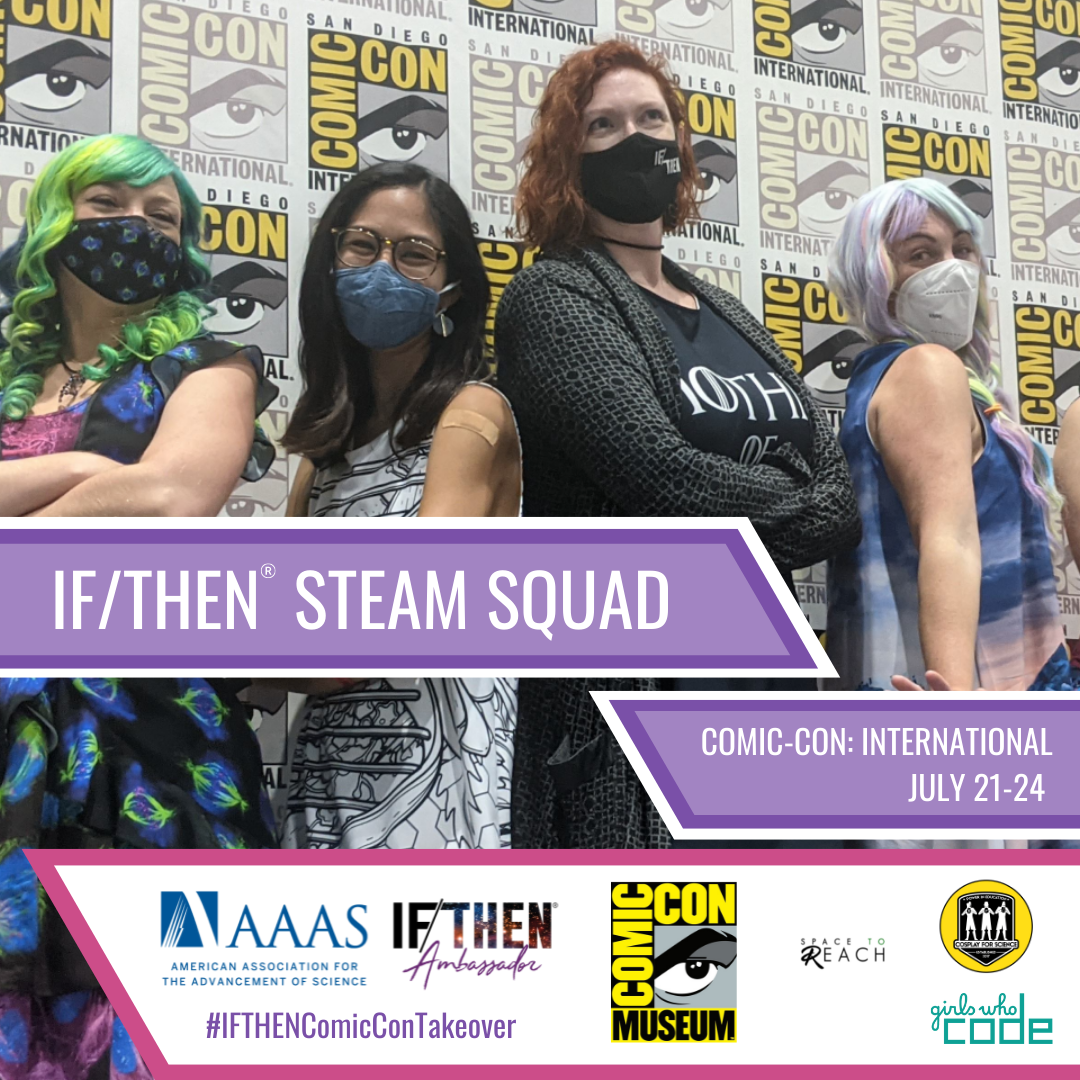 American Association for the Advancement of Science (AAAS) IF/THEN Ambassadors are blinding us with science at San Diego Comic-Con this year by bringing a massive Science, Technology, Engineering, Art, and Music (STEAM) fair to the Comic-Con Museum during SDCC 2022.
At the Museum
From 10am PT to 2pm PT on Thursday, July 21 through Sunday, July 24, visitors to the Comic-Con Museum can participate in activities like:
The IF/THEN Comic-Con Takeover will offer both badged Comic-Con attendees and the general public, particularly families, an opportunity to meet and hear about the career paths of women scientists and engineers who are incorporating art and other unconventional methods to teach and communicate science. These real-life heroes include:
They're bringing some awesomeness for gamers, too. IF/THEN Ambassador Beata Mierzwa will be at the museum presenting her new game, Microscopya. The game takes players on a fantastical journey through the inside of a cell with hand-drawn illustrations and puzzles aimed to spark curiosity and excitement about science while bringing awareness to careers in STEAM. Mierzwa will present demos of the game and explain the cross between her passions for science and art.
Visitors to the museum can also engage with the Ambassadors at their Splash Talks that will take place in the museum's new theater. These 5-15-minute long talks will give visitors the chance to chat with an Ambassador about themes that correspond to their work and the IF/THEN® mission, including their unique career pathways, anecdotes from the field, and powerful inspirational stories.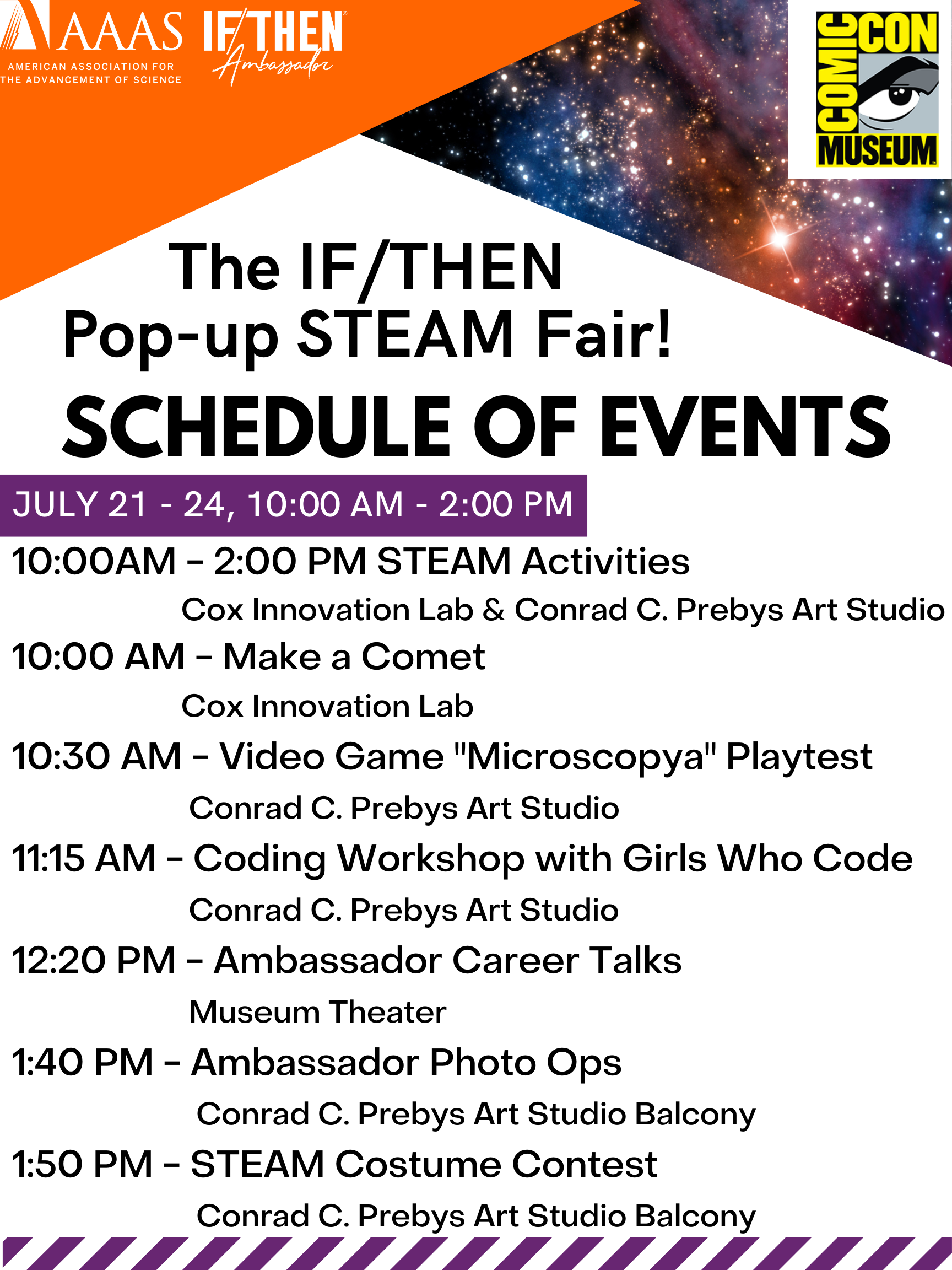 At the Convention Center
The STEAM keeps rolling through SDCC at the convention center as well. IF/THEN Ambassadors will be participating in panels throughout the con. They'll be weighing in on topics like inclusivity in STEM culture, the merging of pop culture with science, and what dinosaurs, humans, space, and fuzzy creatures all have in common (aside from being what's running through my mind at any given moment).
Look for IF/THEN Ambassadors at these amazing panels:
Mission Unstoppable – 10:00 a.m. – 11:00 a.m. on Thursday, July 21:
Ambassadors Dr. Wendy Bohon, Dr. Earyn McGee, Myria Perez, Dr. Becca Peixotto, and Dr. Johanna Varner

will answer the question, 'what do dinosaurs, human history, space, fuzzy creatures, earthquakes, and lizards have in common?' during the

Mission Unstoppable

panel. Moderator and Mission Unstoppable Show host

Fig O'Reilly

will discuss the groundbreaking and Emmy award winning show, airing on CBS, that highlights the work of STEAM superstars with the Ambassadors as guests on the show.

Futurists – 6:00 p.m. – 7:00 p.m. on Thursday, July 21
Ambassadors Gracie Ermi, Dr. Erika Hamden

,

Sydney Hamilton, Dr. Beata Mierzwa

,

Dr. Becca Piexotto

, and

Jasmine Sadler

will discuss the merger of popular arts and real STEM to see what has already made the leap from imagination to reality and what waits just over the horizon at the

Futurists

panel. The panel is inspired by technology and science represented in beloved popular arts.

Representation Matters – Changing STEAM Culture to Be a More Inclusive Space – 2:30 p.m. to 3:30 p.m. on Saturday, July 23
Statistics regarding the lack of women in STEAM careers are well known and this panel will discuss what action can be taken to address the lack of diversity, equity, and inclusion in these spaces. Moderator Ashley Gramby

of Girls Who Code will discuss these issues with the change makers that are creating a new landscape for everyone with IF/THEN® Ambassadors

Dr. Wendy Bohon, Dr. Davina Durgana, Bea Gandica, Dr. Jaye Gardiner

and

Erika Kurt.
You'll also find IF/THEN Ambassadors contributing to panels like:
The Science Behind the Expanse – 5:00 p.m. to 6:00 p.m. on Friday, July 22
Ambassadors Dr. Davina Durgana, Dr. Erika Hamden, Sydney Hamilton

,

Jasmine Sadler

will participate in a discussion of

The Expanse

series, a television series in which humanity has colonized the Solar System. The series has all the components of a good space saga: murder, society at the brink of war and civil unrest, a conspiracy and dangerous alien technology that could wipe out everyone. The Ambassadors will join representatives from The Fleet Science Center to explore the stories, the space science, and the social science of the series.

The Science of Jurassic World – 6:00 p.m. to 7:00 p.m. on Friday, July 22
Ambassadors Dr. Earyn McGee

,

Dr. Claire Meaders

, and

Sam Wynns

will join moderator

James Floyd

, paleontologists

Stuart Sumida

and

Gabriel Santos

, and geneticist

J. Dianne Dotson

for a discussion about the science behind the juggernaut movie franchise

Jurassic World.

The scientists and franchise fans will discuss the real-world science behind bringing dinosaurs back to life and letting them loose, asking the big questions including 'What do the movies get right and wrong about these extinct creatures?', 'What are the technical challenges and ethical considerations of re-creating and genetically tinkering with different species?', 'What is the impact of introducing megafauna into different environments?', and 'Once the dinosaurs are loose, what rights do they have to survive? Does life really find a way?'.

The Science of Spider-Man and the Multiverse – 11:30 a.m. to 12:30 m. on Saturday, July 23
What is better than one Spider-Man? Multiple Spider-Mans, of course! Representatives from The Fleet Science Center and Ambassador Dr. Erika Hamden

will explore the stories of Spider-Man and the Multiverse and look at the science behind a lab accident creating a superhero and how many universes scientists think actually exist.
If you can't make it to San Diego, the IF/THEN Ambassadors have you covered there, too. Fight your FOMO by watching TikTok, Twitter, and Instagram for Dr. Earyn McGee's takeover of all the IF/THEN socials. She'll be posting videos to TikTok, live tweeting panels, and going live on Instagram with her fellow Ambassadors to make everyone at home feel like they're at the con, too.