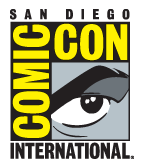 Artists' Loft at BarrioHaus
This year Comic-Con International introduces it's newest programming venue, the Artists' Loft at BarrioHaus. All programming at this venue is FREE and open to the public, no badges necessary. BarrioHaus is located at 1616 National Ave, San Diego.
Programming will include educational panels with a focus on Latinix culture and contributions to popular arts. Thursday panels will include "A Long Story Short: Mexican Comic Books" and "From Mexico to the USA, a Bridge One Comic at a Time." Visit the Sched site for complete programming schedule.