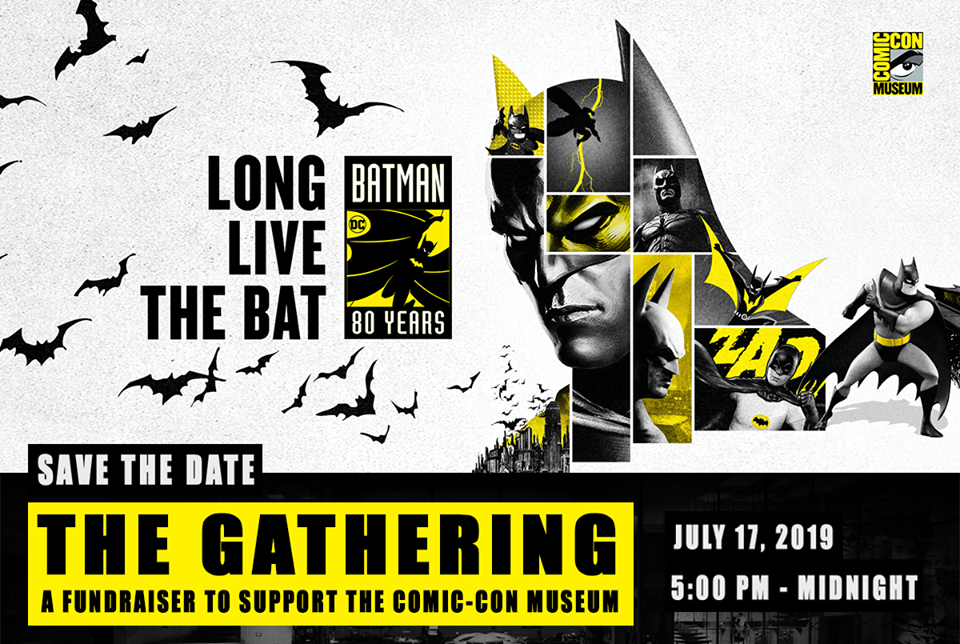 The Gathering at the Comic-Con Museum
Batman will be the first inductee into the Comic-Con Museum's Character Hall of Fame during a Wednesday, July 17, celebration in the museum's Balboa Park building. The fundraising event, called The Gathering, will take place from 5PM to midnight during Preview Night of Comic-Con and be a part of the 80th anniversary celebration from DC Comics' "Long Live the Bat."
The Gathering will be the Comic-Con Museum's inaugural fundraiser, with ticket sales supporting the construction of the museum. Attendees will be also to experience an evening of entertainment, special guests, props and memorabilia, and the Character Hall of Fame induction during this ultimate 80th anniversary celebration of Batman.
Tickets for the event are now available at www.ccmgathering.org. The ticket tiers are:
Black Carpet Reception, 5pm entry, $750: The Black Carpet Reception includes early access to gallery installations and experiences, entertainment, silent auctions, passed hors d'oeuvres, champagne, and signature cocktails. Access to the Main Event and After Party are also included.
Main Event, 7pm entry, $250: The Main Event includes themed food stations, signature cocktails, silent and live auctions, paddle raise, Comic-Con Museum Character Hall of Fame Induction Ceremony, entertainment, and access to the After Party.
After Party, 9pm entry, $50: This fan-centric celebration will feature lively entertainment, food stations, and signature cocktails.
Please note this is a 21+ event.