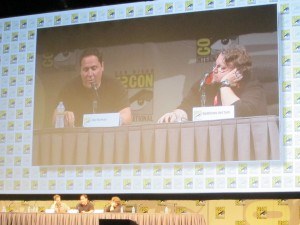 Comic-Con 2011 has come to a close, and our sleep-depraved minds are still reeling from the whirlwind four days of lines, panels and offsite events. And because there was much more to see and do at the con than one person could ever dream of, we went to Twitter and asked our awesome readers what their favorite moments of 2011 were.
http://twitter.com/#!/SD_Comic_Con/status/95532370811293697
Click past the jump to see the top five.
5. Conan O'Brien
No one was expecting this. If anyone predicted Conan would be on our top five list, we'd have all thought it was the upcoming fantasy reboot, right?
Our favorite late-night host surprised the convention by opening up his own offsite location in the Gaslamp – The Museum of Conan Art – to promote his new animated venture, The Flaming C. He event went as far as crashing the Green Lantern Animated Series panel to show off his new project, much to the audience's approval.
Not only that, but Conan tweeted some of the most memorable lines from Comic-Con:
https://twitter.com/#!/ConanOBrien/status/94435381562458112
https://twitter.com/#!/ConanOBrien/status/94609653278842880
https://twitter.com/#!/ConanOBrien/status/94859800147542016
4. Spielberg and Jackson (oh, and Tintin)
Who would have thought a week ago the first appearance of Steven Spielberg at Comic-Con would rank toward the bottom of our list? Well, that's SDCC for you – always surprising us and providing the crowd-pleasing moments from where we didn't expect them. That's not to say this isn't one of them, because it made our list after all, but Steven Spielberg, joined by a surprise appearance by Peter Jackson, and a hysterical pre-production look at the mo-cap technology and it still couldn't make it past Nathan Fillion? And that, loyal readers, is pure Comic-Con.
Jackson didn't give any reveals on The Hobbit worth mentioning, but Spielberg did announce that Jurassic Park 4 has a story, has hired a writer, and that we should see it in the next two to three years. Quick, someone email him the "Dinos with Guns" concept we all read about, before it's too late! Nada on an Indiana Jones IV film though.
In all seriousness, how awesome is it for everyone in attendance to say they were once in the same room as Steven Spielberg? The sizzle reel of film clips prior to him receiving the Inkpot Award is evidence he is the reason why everyone in that room is the person they are today – including Jackson. Spielberg's influence on the Comic-Con crowd cannot be overstated. Just ask the guy with the t-shirt.
3. Nathan Fillion
What more can be said about Nathan Fillion? He's a SDCC favorite because he loves the con as much as the con loves him. Very few embrace and give back to the welcoming audience as much as the former Captain Reynolds does. Not only did he participate in the Castle panel on Sunday, ironically titled "One-on-One with Castle Star Nathan Fillion", but also at Zachary Levi's NERD HQ across the street from the convention center. Sadly, he wasn't able to participate in the Firefly reunion at NERD HQ, but there certainly was enough of Mr. Fillion to please the con-goers during the weekend.
And what a crowd pleaser he is. Fillion doesn't just show up to a panel, the man is prepared. He plans his bits and executes them flawlessly, judging from a cheering and hysterical audience. He speaks the geek lingo. He is, quite frankly, one of us, descending upon San Diego during the annual geek pilgrimage for the same reasons we all do. Heck, he even wandered the show floor in his spare time (in disguise, no less).
He's frequently referred to as The Mayor of Comic-Con, and we agree. There is no better celebrity to bestow this title than Nathan Fillion.
2. Cowboys and Aliens Premiere
When Jon Favreau announced he would be bringing the worldwide red-carpet premiere of his new blockbuster film, Cowboys and Aliens, to this year's Comic-Con, it was the biggest news of the pre-convention season. Sure, we have special screenings for fans, such as the free Attack The Block and the invite-only Captain America ones from this year, but rarely if ever have we had one with such attention. If that weren't enough, Favreau reserved 2,000 tickets for SDCC attendees.
The internet was buzzing about how these tickets would be distributed. What chances did we have of attending? How difficult would it be to get a ticket? We all found out shortly before the start of the con, where we had heard gold bricks would be handed out to attendees at random locations and times, and within each gold brick was a chance to win tickets to the premiere.
The news of these appearances came fast and furious. Multiple times per day, announcements were made via text and Twitter, and fans dropped what they were doing and rushed the location where they were being handed out. It was a cool promotion – the "bricks" were just paper, but inside everyone who grabbed one got a C&A t-shirt, and among them a few even got to go to the Saturday star-studded premiere. The cool thing about this was, no matter who you talked to during the con, you undoubtedly knew someone or ran into someone who won the tickets. That made the event feel less-exclusive and more of a gesture of gratitude toward the fans as it was intended.
For that, Mr. Favreau, we say on behalf of the Comic-Con crowd, thank you!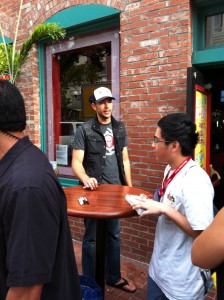 1. Zachary Levi (Chuck, Nerd HQ)
What a year for Zachary Levi. Traditionally a favorite among the Comic-Con crowd, Levi this year really propelled himself to the upper echelon of geekdom with two big events during the weekend.
First, it was an emotional and tearful send-off to NBC's crowd-pleasing Chuck, entering it's fifth and final season, and it's final panel at Comic-Con as well. Levi and cast were on hand to kick off the crowded Saturday schedule and show their thanks to the welcoming crowd for the past few years of support. Few shows speak so directly to the Comic-Con audience – The Big Bang Theory and Community among them – which made this last appearance for the show in Ballroom 20 a heartfelt goodbye and with a standing ovation.
But it's what Levi did outside of the con that propelled him to our number one spot.
Across the street from the convention center, Levi took over Jolt'N Joe's restaurant in the Gaslamp with NERD HQ, an alternative to Comic-Con offering four days of events packed with big names like Nathan Fillion, Zachary Quinto, Dominic Monaghan and other friends of Levi's. NERD HQ was an intimate setting which proved more accommodating to fans than the huge Ballroom lines and ticket registration insanity that Comic-Con has become. It also partnered with companies like Xbox to provide hands-on game previews of top upcoming titles, hosted a Tweet-Up with Xbox's Major Nelson and held the second annual Nerd Party. On top of all this, 100% of the cost of the tickets for each panel, called "Conversations for a Cause", raised over $40,000 for charity.
Levi made himself accessible to fans and could be found signing autographs and posing for pictures, always with a smile on his face. It seemed as if NERD HQ was the party Levi always wanted to throw at Comic-Con, and had a blast doing it for his fans. He's already announced he'll be doing it again next year, and we can't wait. We hope this grows bigger and better every year!
What were your favorite moments of Comic_Con 2011? Let us know in the comments!