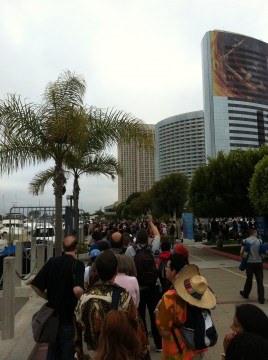 There will be NO on-site pre-registration for 2013 at this year's SDCC.
This morning, 2012 SDCC pass holders received an email from CCI, the organizers of San Diego Comic-Con, on the future of the on-site pre-registration process.
The email linked to a survey of eight questions suggesting CCI is looking at pre-registration via a restricted online sale for current-year pass holders, a lottery where random current-year pass holders are selected to pre-register for 2013, and even restricting the number of additional passes that can be purchased by a single pass holder.
The description from the survey clearly addresses the issues attendees experienced last year, and mentions it "will better assist us in trying to find the best way to face the challenges of having a popular show for which there are more people who want to attend than we have badges to accommodate"
From the survey:
Because of the sheer number of people who wanted to register at the show for the following year, we had to move 2012 pre-registration offsite to accommodate the lines of people and allow space for additional registration equipment.

Our plan in 2011, to have the pre-registration area open only until 11:00am each day or until the allotment of badges had been sold, was an effort to allow people to enjoy the show and not have to spend the entire day in line for badges. Unfortunately, even with these changes and a larger facility we could not accommodate every attendee who wanted to purchase a badge for Comic-Con 2012, and we did not avoid having a long line of people waiting to purchase those badges.

Comic-Con has decided to not offer onsite pre-registration for the 2013 show.

Instead, we plan to offer those who attend Comic-Con 2012 a special opportunity to purchase a 2013 badge after Comic-Con.
The good news is, no one will have to miss any of the convention this year by standing in line for next year's con. The bad news, which we all expected would come some day soon, is that the heightened popularity of SDCC means the odds of getting a pass for the following year's con is going to depend more on luck than location.
We'll be covering this as more information becomes available.
What do you think? Sound off in the comments.