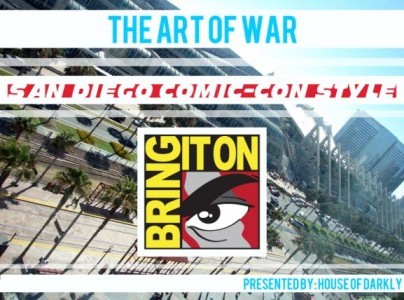 Lurking around the internet for the latest Comic-Con scoops definitely has its highs and its lows. Sometimes we come up empty-handed, and sometimes, like what we're about to show you, we strike pure gold.
Of all the places we go on the internet, it's strange to say reddit is anything but calm. Yet as far as SDCC communities go, the comiccon subreddit is comprised of a relatively small group of users who share tips and tricks on how to survive the events leading up to and through the big week. And it's here where we found "The Art of War: SDCC Edition", a 40+ page PDF comprised by user houseofdarkly that is one of the most comprehensive guides we've seen on preparing for the con.
The PDF guide's introduction says it all:
Why "The Art of War", after Sun Tzu's treatise on military principles? Is it that bad, that you'll be storming the con center with a foam sword and a Vader helmet? The goal of Sun Tzu's work was not actually to wage war (except as a last resort), but rather to avoid it, and even remove the need for it. So, this is designed to prepare you to deal with the unexpected so that you don't feel like you're doing battle (with yourself, the con, or other attendees).

There are a wide variety of tips out there on the web. The aim here is to go beyond scattered hints or top ten lists and generate a genuinely thorough handbook to prepare you fully for your first trip to SDCC, as well as help previous attendees refine and improve their experience. It's not just about the literal "how", but keeping your head in the right place to maximize your enjoyment.
Contents of the guide include what to pack, what to carry with you, how to get a seat in the most popular panels, how to score autographs and exclusive merchandise…we could go on, because yes, it's that comprehensive. We think it's a great guide for newbies and veterans of the con alike, and encourage everyone to check it out and keep it handy.
You can download the PDF from houseofdarkly's tumblr page. We'll also give it a permanent spot in our Links widget in the sidebar.
Read it already? Then let us (and houseofdarkly) know what you thought of it by leaving a comment below.