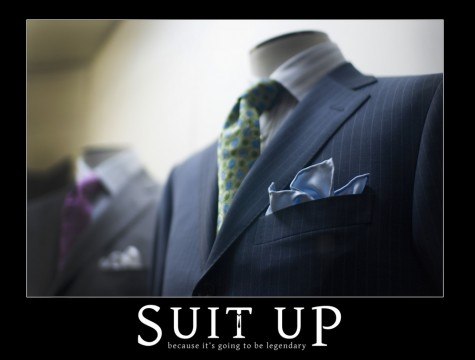 –Dary!
This morning, Twentieth Century Fox TV announced its panel lineup for this year's Comic-Con. Returning this year are the animated favorites: American Dad, Bob's Burgers, Family Guy, Futurama, and The Simpsons. Also introduced will be the much-anticipated Sleepy Hollow, including a screening of the pilot.
Disappointing to not see American Horror Story on this list, given earlier reports Ryan Murphy was looking forward to finally bringing it to SDCC this year. Also a no-show is It's Always Sunny In Philadelphia, which is moving to the FXX network this year.
Notably included is the first Comic-Con appearance by How I Met Your Mother, which is headed into its ninth and final season. It's about time, NPH! Sadly, no Jason Siegel on the list of guests for that panel.
[UPDATE 1] It appears as if the entire HIMYM cast will be on hand, including Jason Segel, according to The Hollywood Reporter.
[UPDATE 2] First, yes Jeremy wrote "Siegel" instead of "Segel". He fixed this, and as his punishment he was forced to watch "Dracula's Lament" 100 times.
Second, as our astute reader kerrydixon mentioned below in the comments, FX last year announced its panels separately from the Fox TV panels. So, there's still hope for fans of American Horror Story and It's Always Sunny, as well as other popular FX shows such as Archer and Wilfred. Again, this is Jeremy's fault, which is absolutely redonkulous.
[ORIGINAL POST] Here's the full Fox TV panel schedule, from EW.com:
THURSDAY, JULY 18:
MURDER POLICE:
From David Goodman (Family Guy) and Jason Ruiz, this new animated FOX series follows a dedicated, but inept detective, Manuel Sanchez, and his colleagues – some perverted, some corrupt, some just plain lazy – in a twisted city precinct. Panelists David Goodman, Jason Ruiz, Will Sasso (The Three Stooges, MADtv), Chi McBride (Golden Boy, Hawthorne, Human Target), Peter Atencio (Key and Peele), and Justina Machado (Welcome to the Family, Private Practice, Six Feet Under) will unveil a sneak peek at footage, followed by a fan Q&A session.

FRIDAY, JULY 19:
SLEEPY HOLLOW:
Executive Producers Alex Kurtzman & Roberto Orci (Star Trek, Fringe, Spider Man 2) and Len Wiseman (Underworld, Total Recall) will unveil their highly-anticipated project with an exclusive, not-to-be-missed world premiere screening of the Pilot followed by a Q&A with fans featuring series lead Tom Mison (Parade's End) and Nicole Beharie (42, Shame).

BONES:
Creator and Executive Producer Hart Hanson, executive producer Stephen Nathan and David Boreanaz return to Comic-Con to discuss what's in store for Booth and Brennan and screen a reel of never-before-seen footage from the upcoming season, followed by a Q&A panel discussion.

BOB'S BURGERS:
Creator and executive producer Loren Bouchard, executive producer Jim Dauterive and the always entertaining cast including H. Jon Benjamin, Dan Mintz, Eugene Mirman, John Roberts, Kristen Schaal and Larry Murphy will be serving up hilarious never-before-seen footage followed by a Q&A panel discussion

BRICKLEBERRY:
Creators and executive producers Waco O'Guin and Roger Black, executive producer Zac Moncrief, along with David Herman (Office Space), Tom Kenny (SpongeBob SquarePants), Jerry Minor (Anchorman) and Natasha Leggero (Community, Burning Love) will abe on hand to premiere a hysterical episode from its second season followed by a Q&A panel discussion.

SATURDAY, JULY 20:
HOW I MET YOUR MOTHER:
For the first time ever, the hit sitcom visits Comic-Con to kick off its final season with an exclusive look at the show and a panel featuring Josh Radnor (Happythankyoumoreplease), Cobie Smulders (The Avengers), Neil Patrick Harris (Dr. Horrible's Sing-Along Blog) and Alyson Hannigan (Buffy The Vampire Slayer) and executive producers Carter Bays, Craig Thomas and Pamela Fryman.

FUTURAMA:
We're dooooooooomed! An epic panel for the ages will celebrate Futurama's latest and greatest final season. On hand will be most or all of Futurama's legendary voice cast, comprised of Billy West, John DiMaggio, Katey Sagal, Maurice LaMarche, Tress MacNeille, David Herman, Phil LaMarr, and Lauren Tom, performing never-before-heard scenes from the upcoming "Last Episode Ever". Plus: Executive Producer David X. Cohen, Creator Matt Groening, and a cartooning showdown to the death! (Note: actual death not guaranteed.)

THE SIMPSONS:
Celebrate The Simpsons' 25th year on the air with Creator Matt Groening, Executive Producer Al Jean, Supervising Director Mike Anderson, Consulting Producer David Silverman, never-before seen footage from guest director Guillermo del Toro and musical guests "We Put The Spring In Springfield"!

FAMILY GUY:
The Griffins are back at Comic-Con for another raucous panel and a sneak peek at season 12 featuring Seth Green (Robot Chicken), Alex Borstein (madTV, Shameless) and executive producer Rich Appel (The Simpsons, The Cleveland Show) plus other surprise guests.

AMERICAN DAD:
Join us for an exclusive look at the new season, the world premiere of a song from the never-before-seen Christmas episode featuring the return of Krampus and a Q&A with fans featuring Wendy Schaal, Rachael MacFarlane, Scott Grimes (ER, Band of Brothers), Dee Bradley Baker (Phineas and Ferb, Star Wars: The Clone Wars) and more.

SUNDAY, JULY 21:
SONS OF ANARCHY:
Get an inside look into the world of FX's highest-rated series ever, with creator Kurt Sutter (The Shield) and stars Charlie Hunnam, Katey Sagal, Ron Perlman, Maggie Siff, Kim Coates, Mark Boone Junior, Tommy Flanagan, Theo Rossi, Dayton Callie and Jimmy Smits.
Which panels are you most excited for? Any shows not on the list you expected? Let us know in the comments.