Gentle Giant hasn't quite attracted the San Diego Comic-Con lines of a Hasbro or Mattel, but the vendor has grown each year and the long term value of its collectibles have grown right along with it.
Two years ago GG made a big splash with its 12 inch reproduction line of the original Kenner Star Wars figures. SDCC became the home of the elusive reproduction of the vinyl-caped Jawa and captured major attendee attention. Last year, its Blue Snaggletooth, combined with Squirrelpool and Thanos busts, kept Gentle Giant employees busy all weekend long.
The announcement of this year's Gentle Giant exclusives makes it likely the booth will continue to be a hot spot. Take a look at what is on the list for 2013:
[UPDATE JUNE 27]
Michonne Mini Bust: The details on the Michonne Mini Bust are hidden behind the Premier Guild Member login, but we do have a picture of the new Walking Dead limited exclusive.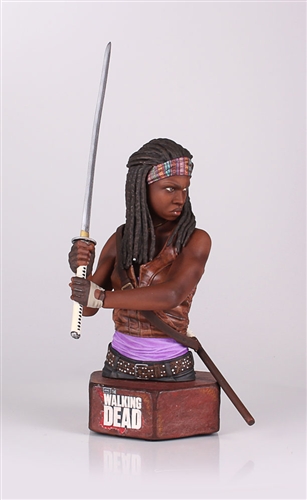 Gentle Giant is offering a Walking Dead bundle: buy the Michonne Mini Bust and four Blue Prison Walker Army Men and Receive a bonus Governor Replica Eye Patch.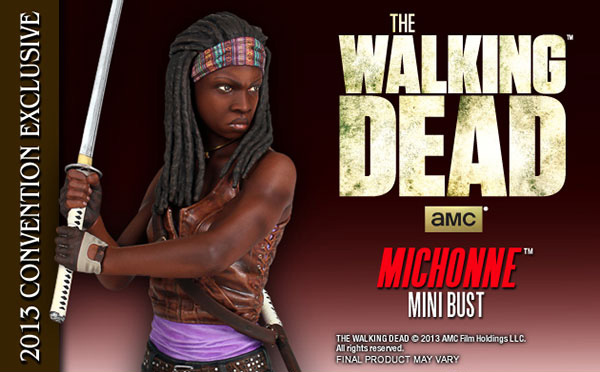 [UPDATE JUNE 24]
Star Wars Yak Face 12″ Jumbo Figure: Exclusive reveal from Yodasnews.com the Gentle Giant San Diego Comic-Con 2013 Power of the Force Yak Face Jumbo 12″ Kenner Vintage figure.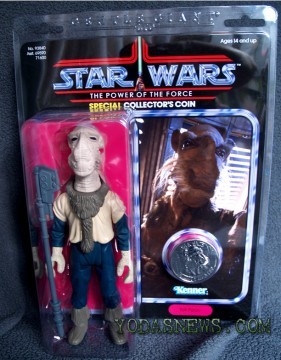 McQuarrie C-3PO Mini Bust: Ralph McQuarrie's early designs of C-3PO are uniquely different from that of the final screen version. Based on original pre-production illustrations for Star Wars: A New Hope, this mini bust displays a fascinating look at McQuarrie's conceptual development of the beloved protocol droid.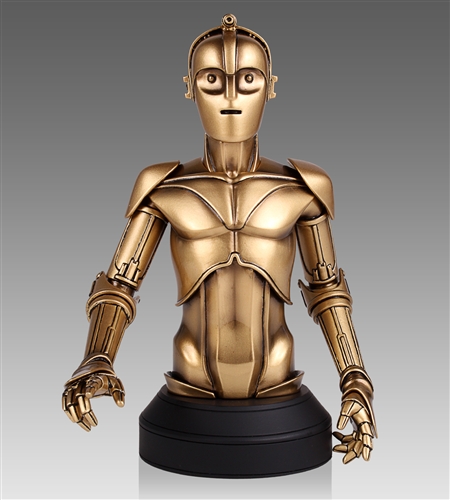 The McQuarrie C-3PO Mini Bust limited to 1008 pieces and sells for $75. Pre-order from Gentle Giant. One per account.
[UPDATE JUNE 21]
Yuki 7 Maquette: This latest Gentle Giant SDCC exclusive is a beauty – literally. It's the Yuki 7 Maquette from artist Kevin Dart.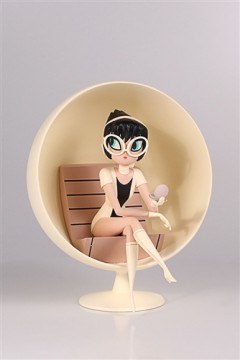 Yuki 7 is a jet-setting spy girl and fashionista! An International Girl of Mystery, Yuki 7 operates as a spy-for-hire from her secret HQ in Tokyo.  As dangerous as she is beautiful, this sexy secret agent is an expert in information recovery, undercover operations, and catwalk fashion.

Available only at San Diego Comic Con 2013, each limited edition Yuki 7 maquette is hand painted and individually numbered. Includes matching certificate of authenticity.
The maquette is limited to 250 pieces and will sell for a very affordable $100. It is also available for pre-order now on the Gentle Giant website.
[UPDATE JUNE 19]
The Faun Statue: Gentle Giant's latest SDCC exclusive announcement is The Faun from Guillermo del Toro's Pan's Labyrinth. It is limited to 250 pieces and is available for pre-order for $400 (only one per account):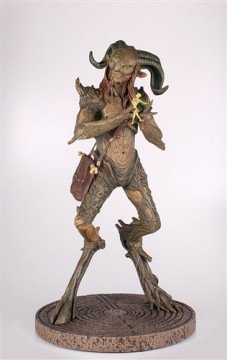 [UPDATE JUNE 18]
Boba Fett Deluxe Mini Bust: StarWars.com has the exclusive preview on the Boba Fett Deluxe Mini Bust, for $150 and limited to 2500 pieces.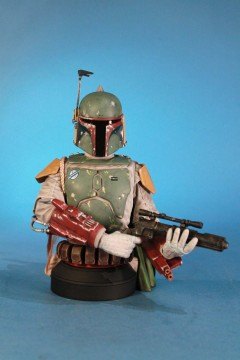 Based on Boba's appearance in Return of the Jedi, each bust is hand-painted, individually numbered, packaged with a certificate of authenticity, and comes with multiple interchangeable arms allowing for a wide range of poses — including his classic rifle cradle. The attention to detail is stunning, from battle damaged armor covered in film-accurate scrapes and scratches to Fett's trophy scalps, which are woven and not sculpted. The bust comes packaged in a handsome green tin emblazoned with the Mandalorian insignia, and protect by a slip cover.
[UPDATE JUNE 17]
SDCC Exclusive Galactus Mini Bust: Marvel.com has announced the Gentle Giant SDCC Exclusive Galactus Mini Bust will be sold at the Gentle Giant booth for $120 and is limited to 800 pieces.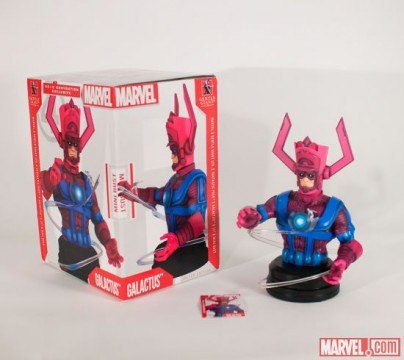 Digitally sculpted by the master artisans at Gentle Giant Ltd., this intimidating bust features the fearsome Ravager of Worlds in fine detail using only the highest quality polystone. As an added bonus, his most famous Herald, the Silver Surfer is rendered in high-quality pewter, orbiting his master! This limited edition mini bust is hand painted and comes individually numbered, and includes a matching certificate of authenticity.
Premier Guild Members can pre-order now on the Gentle Giant website and have the bust shipped directly to them.
James Bond Honey Trap Whisper Variant: Exclusive doesn't begin to describe this, erm, exclusive. A limited run of 100 pieces for this extremely detailed depiction of Bond Girl Domino from the film Thunderball, this Honey Trap Whisper Variant SDCC Exclusive statue stands 22.5″x11″x11″ and runs – wait for it – $669. Premiere Guild member will get the first shot at pre-ordering this, so only Bond geeks and serious collectors need apply. Only one per account.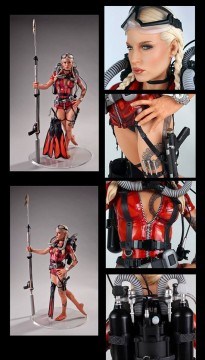 "Magnitude" An Admiral Ackbar Mini Bust: "Magnitude" an Admiral Ackbar mini bust, is based on the artwork by Steven Daily.  This mini bust stands at 8" tall and comes in a screen printed wooden box with a 4 x 6 limited edition lithograph print by Acme Archives.  Limited edition of 500 pieces, each comes with a hand-numbered certificate of authenticity and bottom stamp. This will strictly be limited to one per account and will cost $175.00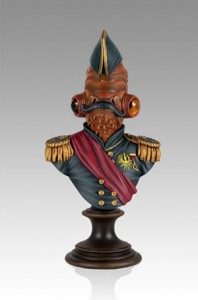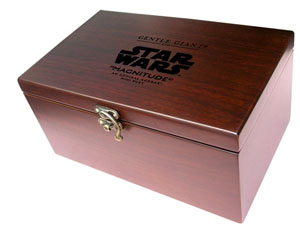 What has you excited at the Gentle Giant booth? Will you stop there before Hasbro and Matty? Share your comments here.
Twitter: @The_Con_Fluence
www.con-news.com
www.sdccblog.com
www.theconfluencecovers.com