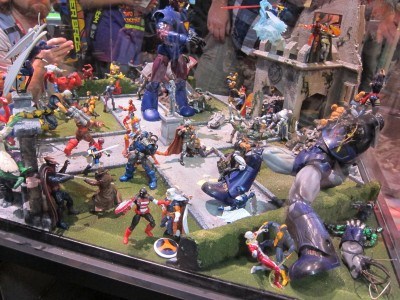 As always, the news for San Diego Comic-Con (SDCC) exclusives are coming fast and furious as we near July. For those new to the exclusive scene, it is important to know that this will not end at any point prior to the show. These days it is more difficult to find a booth at Comic-Con that doesn't have an exclusive than one that does. Despite the many options for exclusives, there are always the darlings of the show that draw the greatest buzz during the show.
Over the last few weeks, we've been getting many questions on how to get the exclusives. Tips for getting the Matty pre-sale and Hasbro booth items have already been discussed here, but there are also some smaller booths that have generated a lot of interest. In the end, we can only provide as much information as we have but we want to share as much as we can with all of you. For those that are veterans of the SDCC exclusive scene, you know that in many ways getting that coveted Boba Fett Black Series figure will be more competitive than getting into Hall H. Not only are there lines that curve out the convention center and down the marina, but there is also the risk that you get to the front and the daily allotment of your item is now sold out. All in all, there is a reason that SDCC exclusives sell for a premium on the secondary market.
With all of this in mind, here are some topics that seem to be the greatest concern to our readers so far:
NECA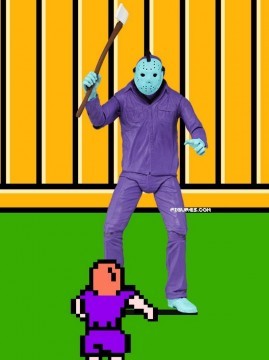 Outside of Hasbro and Mattel, the booth that we are getting the most questions about is NECA. The Friday the 13th NES Jason has caused a buzz since it was first announced, but follow-up with the Kick-Ass 2 figures and prop replica has only added to the attention the booth is getting. Each year there are breakout booths that experience unprecedented attention and so far NECA is looking like the leader in this category for 2013. Although NECA has a history of having leftover exclusives that eventually make their way to a Toys 'R' Us near you, this year has the potential to catch everyone by surprise. Unfortunately, there is no way to accurately know the exact supply and demand that these items will garner this year. Two very different scenarios seem totally plausible at this time:
The buzz continues to build up to Preview Night and the Jason figure catches more viral buzz by being featured on morning shows and the NECA booth becomes the 2013 version of the Rainbow Lantern Corp Graffiti booth of 2009. In June of 2009, the announcement of multiple color DC Lantern figures caused a huge wave of anticipation that washed over the Graffiti booth and made for a total paradigm shift. So much attention was drawn to the smaller booth that it rivaled the biggest battles in Hall H or at the Hasbro booth. Graffiti went with a lottery system to deal with the demand and it left many upset. This isn't to say that NECA will go this route, but it is to highlight that things change and even if you're in line at 5AM it doesn't mean that you'll get your item.
NECA has a larger supply than the demand and by Sunday you can walk right up to the front of the line without a wait on Sunday. Eventually the surplus of items ends up at a Toys R Us and you might even get it on clearance if you wait long enough.
Obviously, these are two very different scenarios but it is the reality of the situation. We hope everyone at SDCC gets all of their exclusives but you will need to make some choices. Our advice for NECA is to evaluate how valuable these items are relative to the time demand. If NECA has an item that will make or break your SDCC, we suggest going there first (yes, even before Hasbro). There is no telling what will happen with demand and you could be left out if you wait until Friday or Saturday. On the other hand, if you can leave SDCC okay without a NECA item, we suggest waiting on it. Past practices indicate that NECA will produce enough items to meet demand. If doubtful, remember that awesome SDCC exclusive NECA Gizmo from 2011.
Mezco Toyz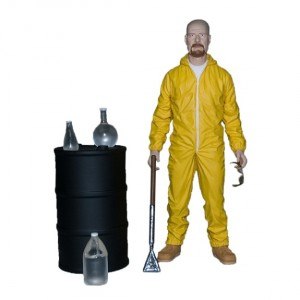 We were a little surprised to see questions on the Mezco Breaking Bad figure. This one is very easy: It has a pre-sale option. Buy it now and don't take up any valuable SDCC time chasing it.
Being in Line When the Exhibit Floor Closes
A strategy for some is to try to jump into an exclusive line ten minutes before closing, with the goal of getting the exclusive and not losing valuable floor time. In most cases where you would actually employ this strategy, it will not work. The competitive booths will cap lines or just call it a day at closing without warning. There were many sad faces at the 2011 Hasbro booth, as some waited in line three hours for a Death Star and were turned away empty-handed at the end of the night. Security and staff can't allow the hall to be open an extra hour or two after closing, so the best way to go is early.
LEGO
LEGO is always a popular spot at SDCC. In addition to an exclusive, LEGO has gotten into the habit of giving away some of the coolest minifigures around. Although the LEGO lines can get very confusing because they will keep looping around the booth, the process is pretty straightforward: find the end of the line and get in it. Exclusives and giveaways should be highly competitive on the first days of the show, so make sure to make it a high priority if it is a must for you. Similar to Hasbro or Mattel, this line will be very long until everything is gone. There should be no need to go to Sails or find anything other than the booth itself. If the demand is too high for the booth, they will cut lines so that the area is safe.
Hallmark
This is a super competitive line, but also one of the most organized at the show. Limits will be clearly defined and there will be employees present monitoring. The line will start at the booth and twist around the wall. If you enter around Hall H and go directly there, you should have your items. Star Wars items are always an early sell out and DC always lingers throughout the weekend.
With the amount of exclusives at SDCC each year, there is no way to find simple answers to all of the questions. In the end, the easiest way to get your exclusive questions answered is to ask those that have been there and even more importantly to inquire at the booths. We've had many cases where asking a question of the vendor has given us much earlier access to the items. Don't be shy. Lastly, just like all aspects of Comic-Con, make sure to prioritize and enjoy the show. Just as you can't be in Ballroom 20 and Hall H at the same time, it is very possible that you won't be able to get all the exclusives you want. Making a list too big can create a situation where you end the weekend feeling less than happy with the show.
What are some strategies you suggest to get those elusive SDCC exclusives? Let us know in the comments below.