We've started a new, quasi-regular column on the Blog titled "Under The Tents". The title is symbolic, as it's representative of the times we all line up under the tents waiting for those big moments to happen inside Hall H or Ballroom 20.
Here's the stuff you might have missed for today:
 Sidekick, the second title from J. Michael Straczynski's Joe's Comics imprint at Image Comics, will debut a special black and white variant at Comic-Con this year. A trailer for the title was released over the weekend.
http://youtu.be/L-A0Bma0gII
Comic Book Resources reports Bill "Game Over" Paxton's Seven Holes for Air graphic novel, which was released digitally last year, will make it's print debut at Comic-Con this year, courtesy of Arcana Comics. With that news was announcement that Paxton and some of the creative team would be signing copies of the book at the Arcana booth on Thursday, July 18 at 2PM.
Yes Anime will be selling an Exclusive Edition Super Alloy Batman by Jim Lee 1/6 scale Action Figure at Comic-Con this year, announced on their Facebook page. A true exclusive, as it will be sold only at SDCC, this figure stands 12-inches tall and features a more armored suit comprising at least 85% die-cast metal alloy, with more than 50 points of articulation.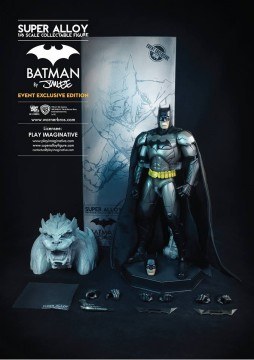 It will sell for $275 and will be available at the Yes Anime booth, #4729.
CCI has announced its annual Comic Creator Connection, an event during SDCC to bring together artists and writers. There are two 2-hour sessions, on July 18 and 19. There will be on-site registration for the sessions, but space may be limited based on pre-registration interest. Sign up today.
Metal Gear creator Hideo Kojima tweeted a picture of a limited edition Fox Hound iPhone bumper which will be available at Comic-Con this year.
New iPhone bumper limited for Comicon this year. Now in progress. pic.twitter.com/qCfDhvWjDg

— HIDEO_KOJIMA (@HIDEO_KOJIMA_EN) June 17, 2013
Legendary Entertainment, the studio behind the weekend's box office smash Man of Steel and upcoming blockbuster Godzilla, has announced the 'Win a VIP Trip to Comic-Con' Sweepstakes via its Facebook page. Included in the Grand Prize is "early access to off-site experience", meaning Legendary might have its own event like Warner Bros.' "Extra at Comic-Con" last year. The official rules describe it as a "offsite immersive experience (subject to availability) at a date, time, and location to be determined". Stay tuned…
We mentioned a few months ago that The Awesomes, the new Hulu series from SNL's Seth Meyers, had plans to appear at SDCC this year, and now we know a little more of those details thanks to Variety. In an article about Xbox Live scoring the exclusive premiere of the new animated series was mention of an offsite party at Comic-Con between Microsoft and Hulu:
Hulu and Microsoft will host a launch party for "The Awesomes" at Comic-Con International in San Diego in July. The first seg will be available ad-free to Xbox Live users July 25 before becoming available on Hulu and Hulu Plus Aug. 1.
We have previously announced that Creature Designer and digital sculptor Andrew Baker is going to be at the Con and we can now confirm the attendance of Nick Keller, Paul Tobin  – both part of the conceptual design team for The Hobbit: An Unexpected Journey and Daniel Falconer who also writes Weta's The Hobbit Chronicles series of books.
Weta's booth will be #3513B in the Exhibit Hall.
Writer Jane Espenson tweeted she is working on some "special content we'll be showing at the Once Upon A Time panel at #SDCC!"
Giving notes on some special content we'll be showing at the Once Upon A Time panel at #SDCC!

— Jane Espenson (@JaneEspenson) June 17, 2013
We guess that is as close to an official confirmation we're going to get regarding a panel appearance for the popular ABC series, until the studio makes its announcements in the next couple of weeks.
Evangeline Lilly announced via twitter she will be at SDCC signing her children's book The Squickerwonkers, a project she had announced a few years back but it looks like it's just now getting published.
I will selling and signing the book, #TheSquickerwonkers, at #ComicCon, #SanDiego, July 2013.

— Evangeline Lilly (@EvangelineLilly) June 17, 2013
Adds some heat to a possible Hobbit panel appearance at the Warner Bros. Pictures panel as well, doesn't it? [thanks kerrydixon]