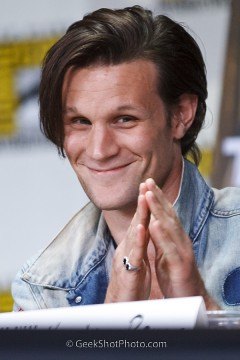 CCI is releasing the programming schedule for Comic-Con 2013 in it's annual fashion, and we'll be bringing you the highlights of each day as they're announced.
We'll also be discussing our thoughts on this year's lineup, including our top picks, in a special series of podcasts (the first of which will cover Thursday-Friday's lineup).
You can read our previous highlights here:
Saying that, bring on Sunday!
Up until a few years ago, it was Ballroom 20 that hosted the big panels on the last day of the con. But CCI switched that to accommodate more fans, and so again we have Hall H open this year. It's also becoming a bit familiar in terms of the shows appearing in the big hall on the final day, with many repeats from years prior, and no major film productions.
Breaking Bad and Community join Sunday stalwarts Supernatural, Doctor Who, It's Always Sunny in Philadelphia (returning from a brief Comic-Con hiatus) and Sons of Anarchy. The Doctor Who panel is described as the 50th Anniversary, so expect most of the focus to be about saying goodbye to Smith rather than looking past him for the twelfth Doctor. Panel guests are listed to be Matt Smith and Jenna Coleman, and writers and executive producers Steven Moffat and Mark Gatiss. Also listed is An Adventure in Space and Time star David Bradley, who will be portraying the first Doctor in the upcoming special this fall.
Room 6BCF, the second-largest panel room open on Sunday, will play primarily Kids' fare, with DC animated series Teen Titans Go! and Beware The Batman offering new episodes screened for the audience. However, the summer hit Under The Dome follows with panel guests Dean Norris (Breaking Bad), Mike Vogel (Bates Motel), and Rachelle Lefevre (Twilight), along with executive producers Brian K. Vaughan (Lost), Neal Bear (Law and Order: SVU), and Jack Bender(Lost). Sadly, Stephen King is not listed to appear.
Room 6A will also have its share of kids programming, a given considering Sunday is always considered Kids' Day at Comic-Con. Particularly interesting to us is Scooby-Doo! Adventures: The Mystery Map, a new straight-to-DVD mystery starring the Scooby gang, this time in puppet format. The crew has a lot of pedigree, with Muppet and Sesame Street connections, so this should be a fun one to watch. The panel will screen the film, and panel guests include Matthew Lillard (Shaggy), as well as the crew who will "reveal their magical visual techniques during a fun postscreening panel". The annual SpongeBob Squarepants panel returns with Tom Kenny hosting an "interactive live SpongeBob event" (sounds like a blast); a premiere of the new Tom and Jerry straight-to-DVD movie with producers/directors Spike Brandt (The Looney Tunes Show) and Tony Cervone (The Looney Tunes Show), and screenwriter Paul Dini (Batman: The Animated Series); and the annual Starship Smackdown panel closes out the room for this year.
Video game fans have just a handful of panels to look forward to on Sunday. The standout for us is DuckTales Remastered, which will focus on the upcoming NES remake with Capcom, along with "maybe a surprise or two".
Again, Indigo and Ballroom 20 are closed for Sunday.
We have plenty more panels to recommend, but we're saving them for our live schedule rundown on Sunday night, July 7, at 9PM ET/6PM PT. Watch for the link for the live broadcast on our Facebook, Twitter and Google+ pages, and tune in to interact with Jeremy, James and Kerry as we go through the rooms, share our tips and unveil our sleeper panels for each day.
Which panels are you looking forward to most? What do you think of the programming schedule this year? Let us know in the comments.
Image courtesy of GeekShotPhoto.com