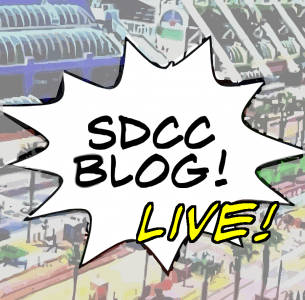 Now that you've had some time to recollect on San Diego Comic-Con 2013 – and maybe get rid of that bad case of Con crud that had it's grip on you for days – now it's time for The San Diego Comic-Con Unofficial Blog team to share with you their most memorable moments from this year's convention.
[UPDATE 2] The audio version is now live on our podcast feed.
We'll be broadcasting live on Tuesday July 30 at 9:30PM ET/6:30PM PT, via Google+ Hangouts on Air as with our previous live shows. We'll embed the live broadcast here on the blog, as well as post it on our social network accounts – Twitter, Facebook and Google+.
[UPDATE] Here's the link to the live broadcast:
You'll be able to chat with the hosts of the SDConCast – Jeremy, James, Kerry, and other team members – during the live broadcast via YouTube. We'll be answering your questions live!
We asked you last week to share YOUR favorite moments of SDCC 2013, and the response has been overwhelming! We'll be sharing a few of these with our listeners during the live broadcast, so if you haven't gotten yours in yet, there's still time! Leave us a comment or a voicemail today.
Talk to you tomorrow!