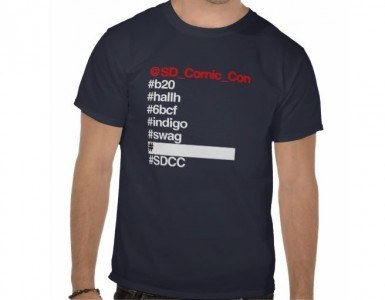 For those ready to ascend into the craziness that is San Diego Comic-Con, we have you covered. Everything you need to prepare yourselves can be found in the bullet points below.
Download the Comic-Con International Quick Guide for 40 pages of maps, exhibitors, restaurants and more information, all in one tidy PDF!
We'll be tweeting line queues for all the big rooms, and liveblogging/tweeting during the most popular events. Follow @SD_Comic_Con on Twitter and use the following hashtags when tweeting us with line statuses (here's a sample, but we'll be sure to remind you which to use):
#b20
#hallh
#6bcf
#indigo
#6A
#hasbro
#wb
#UnderTheSDCC
Don't forget to check out our posts on who to follow during Comic-Con for the latest info and announcements.
Do you know where to pick up your badges? Check out the Badge Pick-Up page on the official site and look at the handy table below to see where you need to be and when.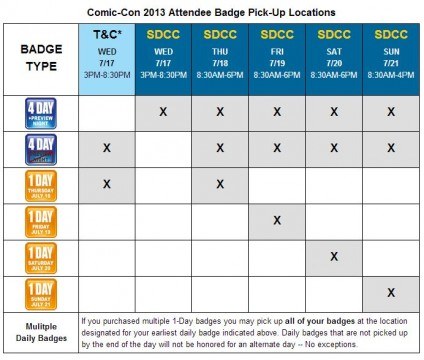 Have you checked out our guides on Ballroom 20 and Hall H? You might want to, because you'll be spending a lot of time in there…
Whether it's your first time or your tenth, hopefully you'll find some helpful information in our "Countdown to Comic-Con" series of guides.
Planned your evenings outside of the convention center? If you have some time to fill, look no further than our 2013 Offsite Events list. Better yet, download the whole list via iCal, sync with Outlook or Google Calendar and take them with you on your smartphone.
And while we're talking offsites, will we be seeing you at our Enchantment Under The SDCC party Wednesday night? We hope so! Tons of giveaways, lots of fun!
While we're talking about calendars, make sure you've signed up for Sched and chosen your panel favorites. You can take the panel schedule with you!
Download the San Diego Comic-Con Official iPhone App to stay up-to-date while you're on-the-go.
Nothing to do while standing in lines for panels? Download our SDConCast podcast episodes and listen while you wait! Or if you are thinking ahead, subscribe via RSS or iTunes and download all of our episodes ahead of time.
Sign up for our 2013 San Diego Comic-Con Photo and Video Experience on Google+. And while you're at it, find out how to snap the best pics at your panels with GeekShotPhoto's invaluable photo tips.
Chart your course! Check out the Exhibit Hall map and exhibitor list.
Not within walking distance of the Convention Center? The 24-hour shuttle service schedule and map has been posted.
Have you made your shopping list of exclusive SDCC merchandise? Check out CCI's annual Exclusives Guide now!
Don't forget to book your SuperShuttle service with our exclusive discount coupon.
Check the weather. Pack and dress accordingly.
Check out /Slashfilm, IGN, and The Beat for the latest movie, TV and comics news to come out of San Diego.
Most importantly, enjoy! We hope to meet you there!