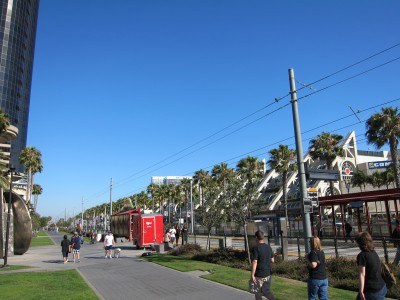 With this year's San Diego Comic-Con just over two weeks in the past, CCI is already looking forward toward the future.
Not only have they begin preparations for 2014 badge pre-registration, set for some time in November, but they've today announced information regarding child badges and volunteering for next year's convention.
First, let's go over child badge registration, since we get questions about this a lot. The policy states any child 12 years of age and under gets into Comic-Con for free with a paying adult. However, CCI uses a cutoff date rather than birth date to determine whether one is a child and gets in free, or is a junior and requires a Member ID and badge. That cutoff date is November 1, 2013. Simply put, if you're 12 or under on that date, you qualify for a child badge. If you are 13 or older on that date, you must have a Member ID and must purchase a junior badge to enter the convention.
One more note about child badges: Children are registered at badge pick-up, as long as they are accompanied by a paying adult.
Okay, now let's go over volunteering, one of the more popular ways for people to get involved in making Comic-Con a success, and get a free badge and t-shirt to boot.
If you're looking to become a SDCC volunteer for the first time in 2014, you'll first have to log into the Member ID site (granted you've already created your Member ID – it's important!) and opt-in by selecting to be placed on the "Comic-Con 2014 Volunteer Interest List". CCI mentions signing up for the Volunteer Interest List is the only way to receive information on when volunteer registration will be open to the general public, as the exact date and time will only be emailed to those on the list and not made available on its website, Twitter or Facebook accounts.
If you completed an assignment in 2013, you'll be notified via email when returning volunteer registration is open. Once returning registration is complete, new volunteer registration for the general public will open. Right now the site gives a general date of "early 2014" for new volunteer registration, which leads us to think returning volunteer registration might be as early as later this year.
For the full details, please check out CCI's Child Badge Policy and Volunteers pages for 2014.
Are you getting ready for San Diego Comic-Con 2014? Let us know in the comments.