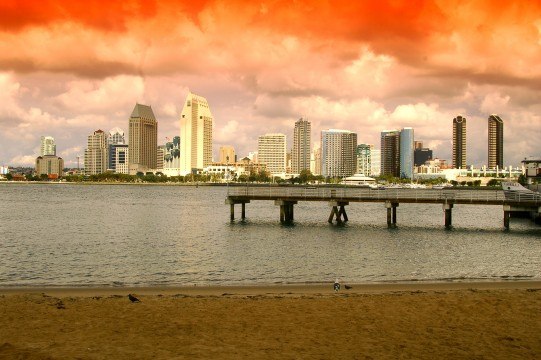 Now that several thousand attendees have their San Diego Comic-Con badges, we can begin turning our attention toward other aspects involved in the convention, like transportation, or finding a place to sleep. As of this morning, Comic-Con International has unveiled news on at least one of those aspects: Hotels.
The Early Bird Hotel Sale is back for 2014, with reservations now open. Just like in previous years, the Early Bird sale is not for downtown hotels, but rather for hotels in further-out areas, like Mission Valley or the airport. These hotels are typically cheaper than the downtown offerings, which will be available later this year, but attendees have to use transportation in order to get downtown to the convention center.
In recent years, this has become easier than ever, in part thanks to an improved Shuttle Service offered by CCI. This year's shuttle service will run on Wednesday from 3PM until 10PM, and then a 24-hour service will begin on Thurday at 7AM and conclude on Sunday at 7PM.
The Early Bird hotels sell out much slower than the regular hotel sale (which we dubbed Hotelpocalypse last year), but each room requires full prepayment at the time of booking. There's also a two-to-four-night minimum stay on each room, and you can see prices and restrictions on CCI's Early Bird site page.
The Early Bird rates will be available through April 8, and CCI states this:
This special Early Bird Hotel Sale is only available BEFORE general housing opens.
This means that the general hotel sale will be taking place after that, presumably later in April. Attendees can either book their room before then through this system, try their hand at this year's Hotelpocalypse for Gaslamp hotels, or try booking direct – which is typically more expensive, as CCI gets a special 'con rate' for all hotels in their block.
Will you be booking an Early Bird hotel? Let us know in the comments.