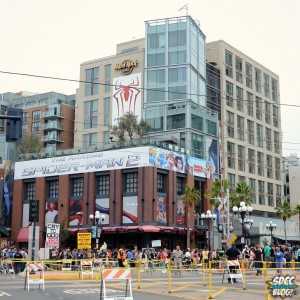 With the news that the Early Bird Hotel Sale would be ending next month on April 8, many attendees were left wondering just how long after that we'll need to wait until the general hotel sale. As it turns out, not long at all.
The Comic-Con housing company, Travel Planners, confirms that the general hotel sale for SDCC will open April 8, at 9AM Pacific. Calling their Comic-Con helpline (877-552-6642) gives you the following message:
Welcome to the 2014 Comic-Con International Housing Services. The Early Bird Sale's currently open for non-downtown hotels only. Please note: Hotels for this sale must be fully prepaid at the time of booking and are completely non-refundable. General housing for all hotels is currently scheduled to open on Wednesday, April 8, at 9AM Pacific time.
While the message says 'Wednesday', we confirmed with a Travel Planners representative that the date of the sale is Tuesday, April 8.
Travel Planners also confirmed with us that the sale will run similar to last year: When the booking site opens, attendees will be able to submit up to their top 6 hotel choices. Last year, Travel Planners notified individuals of their hotel selection within a week. You will then have the opportunity to book the hotel room by making a deposit, or cancelling your reservation.
The general hotel sale includes hotels in the Gaslamp, which are the most highly sought-after hotels. For those who don't mind staying further out and using CCI's free Shuttle or their own transportation, Early Bird hotel reservations for Mission Valley hotels are already open.
Last year, the general hotel sale was 10 days after Open Registration occurred. While CCI has currently closed Member ID's to any further changes or the creation of new Member ID's, usually the first sign that Open Registration is soon, we may have to wait until later in March for that sale.
As we say for the Hotel Hunger Games: May the odds be ever in your favor!
Will you be trying for a room on April 8? Let us know in the comments below.