Scroll down to the end for updates to this post.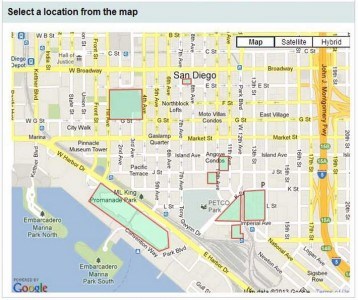 We've known for some time that Ace Parking was shooting for "mid-May", and since then there has been a slow trickle of information in regards to the upcoming Comic-Con parking pass sale. While we were at WonderCon this past weekend, some additional information was revealed which sheds  a bit more light on what the experience will be for those participating in the sale event, and when.
First came a tweet from John Gjerset, Chief Information Officer for Ace Parking, which was the first indication that a new system was developed for this year's sale.
#SCCC Update: Waiting to finalize a few details w/@Comic_con before releasing the sale dates. Once things are finalized, we'll let you know!

— Jon Gjerset (@jgjerset) April 18, 2014
This year,@AceParking will be selling the @Comic_Con permits through a new system! Disregard links to last year's permit store page! #SDCC

— Jon Gjerset (@jgjerset) April 18, 2014
And this past Monday, Ace Parking updated its Facebook page with an update regarding the new system and a timeframe on when to expect the sale to occcur:
We know the San Diego Comicon enthusiasts have all been wondering, when's Ace Parking going to sell parking for#ComicCon? Looks like May will definitely be the month that we're launching the sale of parking permits for the event. Thanks to our CIO, Jon Gjerset & his team for working so diligently, creating an in house system for purchasing #SDCC parking, while also coordinating everything with Comic Con. It's a tough job, but we don't think anyone could have done it better, but Jon and his team. When all details are all finalized, we will make sure to release sale dates through our website and social media first, we promise. 
So it sounds like the sale will definitely be in May, but is dependent on finalizing details regarding the new system and coordinating with CCI. We've seen other systems associated with SDCC get major refreshes this year in hopes of better handling the stress caused by the influx of Comic-Con attendees and participants, which have also caused unscheduled delays with event dates. However, any minor delays in such improvements will hopefully make for smooth execution of badge and parking sales in future years.
In the meantime, you can prepare for the impending parking pass sale by understanding the different parking options available in our guide from last year.
[UPDATE] More tweets from Ace Parking CIO John Gjerset have given us additional insight into the new system the company has developed for Comic-Con, and new information in regards to the upcoming sale date.
#SDCC Parking Update: Sale date and rates locked in. @AceParking will announce the on-sale date early next week.

— Jon Gjerset (@jgjerset) April 26, 2014
Spent the day load testing our new system to ensure we don't get buried like last year. This year we're backed by #AWS and a great dev team.

— Jon Gjerset (@jgjerset) April 26, 2014
With so many systems buckling in the weight of the Comic-Con onslaught, it's good to see Ace Parking recognize the issues that plagued last year's sale and is proactively resolving them. And it has picked a good solution – Amazon Web Services – joining the likes of such companies as Netflix, Expedia, Comcast and more who are also on the web platform. That should also calm those who have criticized CCI for not using more established vendors with scalable solutions to handle such demand.
More good news for attendees is that, after recent testing, Ace Parking has the confidence in the new system to solidify a sale date, and soon. We should know more early next week in regards to a date, as well as the new parking rates and lots available.
We'll update everyone as soon as Ace Parking makes an announcement next week.
Are you participating in the parking pass sale? Any pointers you would like to share with our readers? Let us know in the comments.