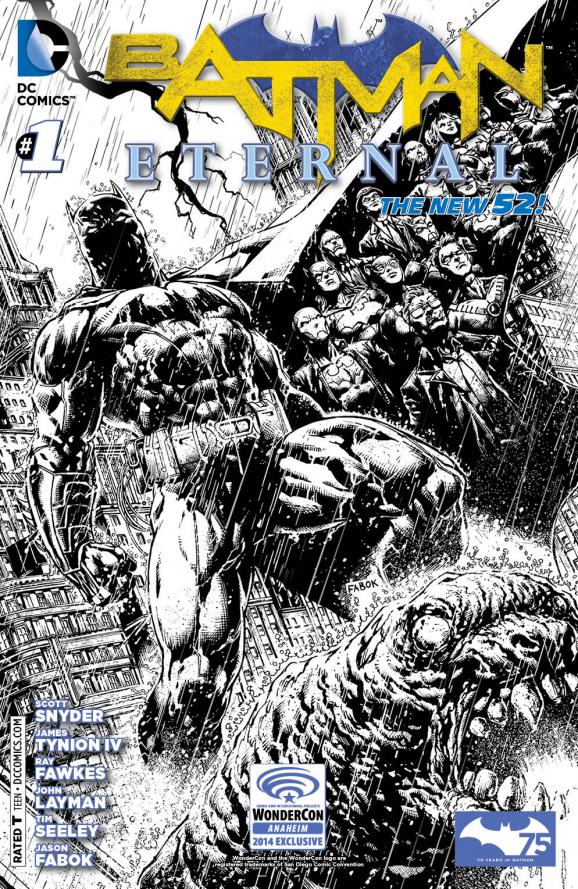 [UPDATE] Son of Batman panelists will feature Jason O'Mara (Batman), Sean Maher (Nightwing), Xander Berkeley (Langstrom), Stuart Allan (Damian) — and filmmakers James Tucker (producer), Ethan Spaulding (director), Phil Bourassa (character designer) and Andrea Romano (dialogue director).
All of the panelists will sign exclusive-to-WonderCon "Son of Batman" mini-posters TODAY, Friday, April 18, from 3:30-4:30pm in the DC Entertainment booth.
The original post is as follows:
DC Entertainment is returning to WonderCon in 2014 with many of their best artists and properties, and to celebrate Batman's 75th Anniversary in a big way.
Details about the previously Batman 75th Anniversary Panel have finally been revealed, and the company will be bringing many familiar faces along to the Saturday, April 19th panel (4PM), including artist Jim Lee, director/writer Kevin Smith, radio personality Ralph Garman, and the "legendary voice of Batman", Kevin Conroy. The panel will also feature animator Bruce Timm (Batman: The Animated Series) and Peter Girardi, the SVP of Creative Affairs. The group will lead a discussion about DC's famous Dark Knight, and also debut an animated short from Darwyn Cooke inspired by the Batman Beyond series.
DC Entertainment is also bringing along several other properties, including the world premiere of Son of Batman, and a special screening of a new episode of Teen Titans Go!, along with a panel featuring the show's producers and cast. There will also be a signing for Teen Titans Go! on Friday at 1:30PM, and signings for Son of Batman on Friday at 3:30PM, at DCE's interactive 1200 square foot booth #401.
There will also be exclusive comic variants, sold at Graphitti Designs Booth #301.
Here's the full press release:
DC ENTERTAINMENT CELEBRATES 75 YEARS OF BATMAN AT WONDERCON 2014 WITH STELLAR COLLECTION OF TALENT AND EVENTS

All-Star Batman 75th Anniversary Panel includes Jim Lee, Kevin Smith, Kevin Conroy, Bruce Timm, Ralph Garman And Peter Girardi

BURBANK, Calif. (April 14, 2014) – DC Entertainment (DCE) will mark the 75th anniversary of its iconic Batman character at WonderCon 2014 with an impressive line-up of can't-miss reveals and exclusives sure to thrill fans of the world's most popular Super Hero.

A special highlight of DCE's WonderCon activities will be the Batman 75th Anniversary Panel scheduled for Saturday, April 19 at 4 pm. The exclusive event brings together a stunning collection of superstar talent heavily influenced by the legendary Dark Knight and his rich 75-year history. DCE co-publisher and renowned Batman artist Jim Lee will join the all-star celebrity duo and writers of the forthcoming BATMAN '66 MEETS THE GREEN HORNET mini-series Kevin Smith (Clerks, Mallrats) and Ralph Garman (Family Guy, KROQ radio personality), the legendary voice of Batman Kevin Conroy (Batman: The Animated Series, Batman: Arkham Knight), Peter Girardi, SVP – Creative Affairs, Warner Bros Animation and groundbreaking Batman animator Bruce Timm (Batman: The Animated Series) in a fascinating discussion about the celebrated Super Hero. The must-see panel will also feature an exclusive premiere of an animated short from Darwyn Cooke, inspired by the Batman Beyond series.

In addition, DCE will join Warner Bros. Home Entertainment and Warner Bros. Animation for special events including:

The world premiere of Son of Batman, the landmark 20th entry in the ongoing series of DC Universe Animated Original Movies. Taking place Friday at 6:00 pm, the screening precedes a star-studded panel including the voice of Batman, Jason O'Mara (Terra Nova, Life on Mars).

A special screening of an all-new episode of Teen Titans Go! Scheduled for Friday at 2:00 pm, go behind the scenes of the fan-favorite series with a panel featuring the show's producers and members of the voice cast.

Son of Batman select voice cast and Teen Titans Go! select voice cast signings at the DCE booth (wristbands required). The Teen Titans Go! signing will take place on Friday at 1:30pm and signings for Son of Batman will take place on Friday at 3:30pm.

Fans attending WonderCon also have the chance to pick-up three exclusive variant comic books at the Graphitti Designs booth (#301) including:

The debut issue of the new blockbuster weekly BATMAN: ETERNAL #1

The latest "Riddler" themed cover of BATMAN #29 in a location-specific hue of blue from artist Greg Capullo

The must-own debut issue of THE SANDMAN: OVERTURE #1 featuring an exclusive 3-D motion cover, never before seen and only available at the Con

Home to the most talented writers and artists in the business, DCE's interactive 1200 square foot booth (#401) will serve as a hub for its stellar collection of appearances, announcements and events at WonderCon 2014.

Can't make the Con? DC Entertainment's website is the go-to place for behind the scenes coverage and in-depth interviews. Also, look out for a WonderCon 2014 special edition of DC All Access webseries premiering on Tuesday, April 22 at 10am PST.

Download the DC Entertainment Events App on Apple's App Store or the Google Play Store to stay up to speed on all DC Entertainment signings and panels at WonderCon.
Will you be attending any of DC Entertainment's WonderCon events? Let us know in the comments.