One of our favorite booths during this year's Toy Fair was Kidrobot's. Not only was the designer toy company's shelves lined with awesome licensed collectibles from such fan-favorites as Futurama, The Simpsons and Marvel, but they were also teasing us with San Diego Comic-Con exclusives and surprises from Teenage Mutant Ninja Turtles, CAPCOM, DC and more.
Although they were more than happy to share their plans for SDCC 2014, which you can check out here, there was one big thing they were planning that was strictly "off the record". Until now.
We're happy to bring you the first news of Kidrobot's unique cross-promotion, honoring our nation's astronauts who will be attending Comic-Con with a special Dunny that will truly be "exclusive" – the SDCC 2014 'ISS Dunny 1'.
Kidrobot will be producing this special edition Dunny specifically for visitors to the International Space Station. The Dunny will be available at the ISS Gift Shop located just inside Docking Port B, but also for a limited time at San Diego Comic-Con for astronauts not currently on the ISS.
On Thursday, July 24, astronauts with the proper identification will be able to get access to the Exhibit Floor one hour earlier than the general public in order to line up for this special exclusive Dunny.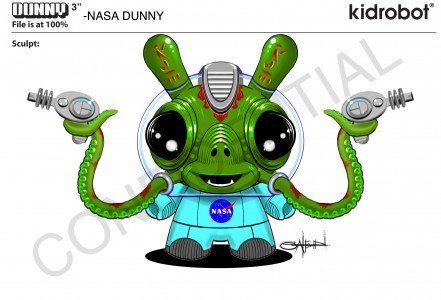 Here's the official description from Kidrobot:
–You've just made history by going into space and advancing human knowledge of the cosmos!
Why not treat yourself to a souvenir of your monumental journey?–

"ISS Dunny 1" goes on sale at 1PM Eastern Time on June 17, 2014 aboard the International Space Station.

There will also be a special one-day sale at SDCC for astronauts not currently on the ISS. Just show your NASA ID and a picture of you on the ISS to claim the right to purchase.

Astronauts will be allowed to begin lining up at 8am on Thursday, July 24.
Limited quantities. 1 per person. While supplies last.
There are no rain checks or discounts for this item.

$14.99 MSRP. Payment accepted in US dollars only. Exact change required.
Are you an ISS astronaut who will be taking a break from staring at the stars to attend San Diego Comic-Con and…stare at the stars? Let us know in the comments.