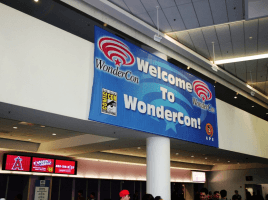 The hotel lottery is behind us (for now), but with WonderCon right around the corner there's good times ahead. Listen to Kerry, James and Jeremy as they talk about what happened during "Hotelpocalypse 2014" and break down the WonderCon Anaheim programming schedule to bring you the highlights and dark horse picks for each day.
And, did we mention our First Annual WonderCon Reader Meetup? Oh we did? Good. See you there!
Site Links:
[SDCCBlog.com] [Facebook] [Twitter] [YouTube]
Show Notes:
Vote for James and Beth (Geekshot Photography) for "Best Photographer" in the Steampunk Chronicle Readers Choice Awards!
WonderCon Anahiem 2014 Programming Schedule
WonderCon Reader Meetup Presented by Warner Archive – Friday April 18
Music:
Intro: "Omg I <3 Livejournal (And My Livejournal <3s Me)", Talkshow Boy
Outro: "Joss Whedon", lo-fi is sci-fi
Podcast Links:
Download: 58MB, 1 hour 24 minutes [Direct Link]
Subscribe: [RSS] [iTunes]

The Hosts:
Jeremy Rutz
Twitter:@spotanime
Website: About Me
James Riley
Twitter:@danregal
Website: geekshotphoto.com
Kerry Dixon
Twitter: @kerrydixon