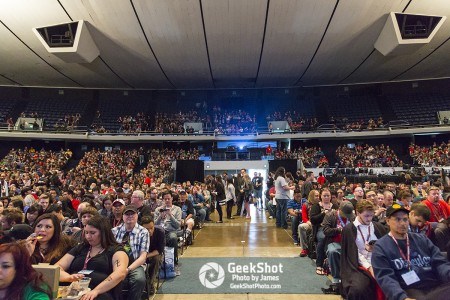 WonderCon Anaheim, Comic-Con International's sister show to San Diego Comic-Con, is just a couple of weeks away. Earlier today, we all got our first peek at the programming schedule for the convention, and it's filled with fan-favorites from comics (where's Marvel?), television and film. It's not the media-crazy event that is SDCC – some say it's more akin to what SDCC used to be – but there's more than enough interesting programming to fill most of the day and still get you time on the Exhibit Floor.
We've combed the schedule for our favorite panels to help you plan your weekend. With that said, bring on the highlights!
Friday, April 18
The convention kicks off Friday at noon with a screening of Salem, the upcoming WGN America series debuting on April 20, from producer Brannon Braga (Star Trek: Enterprise) and starring Shane West (Nikita). The screening is followed by a panel and Q&A. The cherry on top? An audience member will be selected for a background role and an all-expense paid trip to appear on an upcoming episode. (Room 300AB)
With the absence of any meaningful Marvel presence, it's DC's show to rule. The DC Entertainment: All Access panel is at 1PM in Room 300AB, where you can "find out what some of DC's biggest names have to share from behind the scenes" with "some of the industry's top talents".
Immediately following at 2PM is where you'll have to make some decisions. Do you go to the Teen Titans Go! panel with an exclusive episode screening? Or would you rather go a bit darker and check out The Men Who Made Batman in celebration of The Dark Knight's 75th Anniversary? Or, if you can't get "Let It Go" out of your head, check out Frozen: The Art of the Story, where artists from the film will discuss "how the craft of story impacts the animated filmmaking process" and showcase some of the memorable sequences from the film. No word on whether Adele Dazeem will also be attending.
In the "Sounds Fun" category, join Ashley E. Miller (Thor, X-Men: First Class), Steve Melching (The Clone Wars, Big Guy & Rusty, The Boy Robot), Daren Dochterman (Star Trek: Phase II), Robert Meyer Burnett (Free Enterprise), Adam Jahnke (The Digital Bits), and moderator David E. Williams (editor, GEEK magazine) to discuss Hollywood Remakes, Reboots & Requels at 3PM. And if that line-up isn't enough for you, check out the panel description – it's a hoot. (Room 207)
Artist Georges Jeanty will be talking Dark Horse's Buffy and Firefly comics at 4:30PM (Room 203). Or, turn out the power and join the cast and crew of NBC's Revolution at 5PM in the Arena, with panel guests Elizabeth Mitchell (Lost), David Lyons (ER), Stephen Collins (Falling Skies), executive producer Rockne S. O'Bannon (Defiance, Farscape), and "additional names to be announced". And travel to a galaxy far, far away with…Jedi Annikin Starkiller? Artist Mike Mayhew takes you on a tour of Dark Horse's The Star Wars, the comic based on the original rough-draft screenplay by George Lucas, at 5:30PM. (Room 203).
And finally, before you head over to our First Annual WonderCon Meet-Up (and you will be there…you…will..be…), head over to the Arena at 6PM for the world premiere screening of Son of Batman, the new animated feature from DC Entertainment.
Saturday, April 19
We hope you're well rested from a day full of awesome panels, as well as a night of debating whether Michael Bay is the devil (ask Jeremy, he has thoughts), because another day full of panels starts promptly at 11AM with TNT's Falling Skies [Ed. One of my favorite shows – Jeremy] where attendees will be treated with "exclusive, never-before-seen footage from the upcoming season" (Room 300AB). But where most people will be is the Warner Bros. Presentation in the Arena at 11:30AM, or in the line at least, as this panel which covers "movies" and "television" (specific content not yet made public) will undoubtedly be one of the weekend's best.
Standing in lines ain't your thing? Then check out the special video presentation and Q&A of the CW's upcoming series The 100, at noon in 300AB, and stay immediately after for Once Upon A Time, with producers Edward Kitsis and Adam Horowitz (Lost, TRON Legacy), Josh Dallas (Thor) and "other surprise guests" for an exclusive episode screening and Q&A. And, all attendees will receive a limited-edition WonderCon Anaheim giveaway. So, bonus!
The other big SDCC-style panel is scheduled for 1:15PM in the Arena – the Twentieth Century Fox presentation. We expect The Maze Runner will be there, but what other surprises will TCF have for us? We'll have to find out. As the MySched site says, "Get there early!" One alternative in case you don't get into the Arena: the Hanna-Barbera History panel at 1:30PM with Mark Evanier, Tony Benedict, Jerry Eisenberg, Wally Burr and others (Room 300DE).
Here's a tough decision: At 4PM is the Batman 75th Anniversary panel in room 300AB, but at 4:30PM is TV Guide's Fan Favorites Showrunners panel in room 300DE, which includes visionary Chris Carter (The X-Files), as well as panelists David Eick (Falling Skies), Marc Guggenheim (Arrow), Andrew Kreisberg (Arrow), and Steven Molaro (The Big Bang Theory). Batman vs X-Files? File under: "Things only heard at WonderCon".
Our friends at Warner Archive are hosting the "Toonstock" panel at 7PM in room 300AB, which focuses on "toe-tapping, music-themed animated TV series from the past 50 years, including Josie and the Pussycats in Outer Space, Butch Cassidy and the Sundance Kids, The Amazing Chan and the Chan Clan, Jabberjaw, and more." And if we know anything about Warner Archive panels (which we do), we know they're always a fun time with great surprises.
Lastly, be prepared for some more tough choices at the end of Saturday. The Psychology of Star Trek vs. Star Wars with our friend  Dr. Ali Mattu and guests Dr. Andrea Letamendi (UnderTheMaskOnline.com), Chase Masterson (Star Trek: Deep Space Nine) and Catherine Taber (Star Wars: The Clone Wars) in Room 213; or catch advance screenings of NBC's The Blacklist (Room 21oCD)  or BBC America's Orphan Black (Room 300AB) before the 10th Annual Masquerade in the Arena at 8:30PM.
Sunday, April 20
Happy Easter everyone! Start the last day of WonderCon at noon with Warner Archive, classic cartoons and some "surprise guests" for "From Chuck Norris to Mr. T: Real-Life Toons and Back Again!" in room 300AB. Or at 12:30PM, check out "Disney's Master Teachers: Life Drawing with Animation" in room 300DE, where "Disney's current master teachers-Karl Gnass, Mark MacDonnell, and Bob Kato-will talk about their creative philosophies, their approach to life drawing and gesture, how classical drawing translates to animation, and what animation studios look for in artists."
At 1:30PM in room 213, join Buffy Season 10 writer Christos Gage, Serenity writer Zack Whedon, artist Georges Jeanty, and some "surprise guests" (Harpo Whedon, anyone?) for Dark Horse: Whedonversity. New to the DC Universe? Then you must attend DC Entertainment 101: Essentials at 2PM in room 300AB. Or join Clare Kramer (Buffy's Season 5 Big Bad), Marv Wolfman and others as they discuss "the past, present, and future of female character creation for comics and video games" in Beyond Cliches: Creating Awesome Female Characters at 2:30PM in room 201A. Richard Hatch will be hosting a discussion about the Future of Battlestar Galactica at 2:30PM as well, in room 300DE. Finally, end the day with '80s favorite, the GoBots at 3PM in room 300AB, which includes a celebration of Johnny Quest's 50th Anniversary.
Of course, there are tons more awesome panels at WonderCon Anaheim we couldn't list, so be sure to check out the entire programming schedule. And sign up for MySched, mark your favorite panels and see which ones your friends are going to.
Which panels are you looking forward to most? Let us know in the comments.