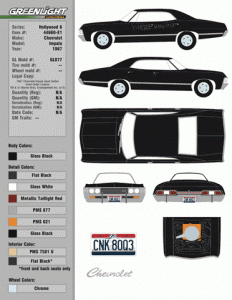 Cinequest.com has announced its first exclusive for San Diego Comic-Con 2014, which is sure to please fans of the Winchester boys.
A 1:64-scale die-cast variant of the boys' 1967 Chevy Impala from the "Blade Runners" episode from Supernatural Season 9, which aired this past March, has been unveiled as a SDCC convention exclusive from the licensed movie-memorabilia and collectibles manufacturer. The variant will include the Enochian warning etched into the die-cast that was part of the episode. Let's hope no one has the bright idea to make a Snooki variant to go along with it.
The product page on the Cinequest site has images of the blister card, along with design images of the the product. Here's the description from the product page:
We're marking the coming 10th season of Supernatural with a great variant Metallicar from the Season 9 episode "Blade Runners". Sam and Dean get back to the Impala only to find that Abbadon's henchmen have ransacked and keyed the car, engraving a warning in Enochian: "Be Afraid, Your Queen."
Better yet, the item is now available for pre-order, both for attendees who will be attending the convention as well as those who won't be travelling to San Diego this July. The pre-order can be picked up from the CineQuest.com booth, #4738, starting Thursday July 24 (no Preview Night pick-ups).
The Metallicar SDCC variant, complete with Enochian warning, is limited to 1,000 pieces worldwide, is $13. Pre-orders can be made through the product page on the Cinequest site.
Now that exclusives are getting unveiled, will you be putting this one on your list? Let us know in the comments.