Mattel is a little late on announcing the last of this year's line of San Diego Comic-Con exclusives, but Pixar website Take Five A Day may have unearthed at least one – and fans of Disney and Pixar should be pleased.
Take Five A Day is reporting that Mattel will be bringing a set of Cars Neon Racers to the convention, including Lightning McQueen and Shu Todoroki.. However, these cars do a lot more than just glow in the dark. Instead, Mattel appears to be created a black light effect on the cars by using a different mold, that allows the lights underneath the cars to "leak out and up", making the glow-decals light up on their own. Additionally, the cars also have light-up headlamps – although no sound effects.
From Take Five, here's a look at the figures: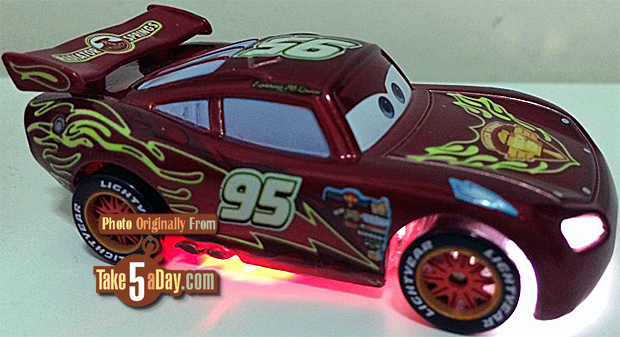 According to Take Five, these figures are priced at $50. You can see more photos of the cars over at Take Five's website.
Are you hoping these are one of Mattel's remaining exclusives? Let us know in the comments.