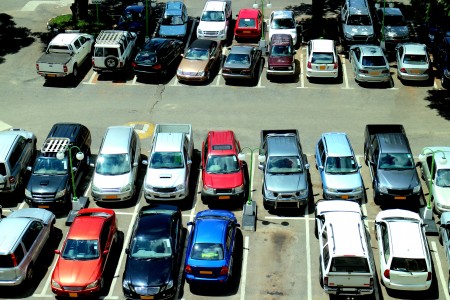 Information continues to trickle out regarding the San Diego Comic-Con parking sale, announced for Tuesday, May 20 at 9AM PT.
Late yesterday, Ace Parking published a Frequently Asked Questions page in regards to the upcoming sale highlighting some of the changes for 2014. Multi-car families, or those who are carpooling, will be especially pleased, as the system no longer prompts for vehicle information upon purchasing a parking pass. Drivers will simply need to put the printed permit on the dashboard so it can be scanned.
Here's the text from the Ace Parking FAQ:
Q: What if I drive a different car the day of the event?
A: This year there is no need to enter details about your vehicle when you purchase your permit. The program doesn't even prompt for them. We only request that you place a copy of your printed permit on your dashboard so it can be scanned by our lot enforcement personnel.
But what might be of most interest to our readers is that, unlike last year, the lots and prices have been published in advance of the sale, which we have captured in the spreadsheet below:
Prices took a slight increase from last year, as we've noticed the Hilton and Convention Center parking went from $12 to $15, with other lots seeing a $5 increase. [UPDATE] Ace Parking has announced in their FAQ that a $4.95 service will be added on for each day pass purchased, down from $5.95 in 2013.
We've also created a Google map with markers for all of the Ace Parking locations above, along with prices per day and an estimated number of spaces available (space information from Parkopedia).
Ace Parking has improved its sales system for 2014 after the challenges it faced in handling the rush of users last year. The company wasn't happy with the system's performance and is aiming for 100% system uptime throughout this year's sale.
Many lots have trade-offs, such as close walking distance versus price, and other pros and cons depending on individual needs. Be prepared – make sure you read our 'Guide to Parking at San Diego Comic-Con' in advance and make sure you know which lot is right for you.
What do you think of the changes to the parking sale system this year? Let us know in the comments.