It's been another big week in the headlines for San Diego Comic-Con. We have updates on a special variant cover for The Walking Dead Magazine available only at SDCC, artists who will be attending, new exclusives, and much more.
Here's some things you might have missed:
Esquestria Daily has the scoop on an Esquestria Girls side series that will be "heading to French TV this fall". ED reports that Toymag was able to confirm to them through a e-mail that there will be "a whole bunch of news on it's English release at SDCC2014".
The Walking Dead Magazine reported on Twitter that it will have a special cover variant for Issue #9, available exclusively at San Diego Comic-Con.
Who's going to #SDCC2014 in July? Look our for our special cover variant for #TWDM issue 9 on sale exclusively at the Con.

— WalkingDeadMag (@WalkingDeadMag) May 6, 2014
Award-winning comic book writer and artist Cameron Stewert revealed on Twitter that he will be at SDCC this summer.
https://twitter.com/cameronMstewart/statuses/463382873962065921
N.C. Winters, an artist based out of San Diego, revealed on Facebook that he will be attending SDCC, and sharing a booth space with fellow artist Color Ink Book.
NECA suggested on Twitter that its line of exclusives may include several items from the Aliens line – including multiple Ripley's.
"@jmaquila: @NECA_TOYS do you think fans will see Ripley at #SDCC2014 ?" Sure hope so maybe more than 1 if we're lucky

— NECA (@NECA_TOYS) May 9, 2014
Voting for the Eisner Comics Industry Awards is now officially open. All professionals in the comic book industry are eligible to vote – and have until June 13 to submit their ballots. Eligible voters can click here to submit.
Daniel Presedo, Imagineer for the Adobe Photoshop team, announced on Twitter that he is currently in the process of designing a new Photoshop shirt for SDCC, and that a limited number of the shirt will be available each day.
https://twitter.com/dramenon/status/464905842882387968
Comic book artist Paolo Rivera announced on Twitter that he'll be showing his Spider-Man "style guides" through fellow artist Mark Hay at SDCC.
It turns out I can't show my finished Spidey style guides from the movie online, but they'll be available through @splashpageart at SDCC.

— Paolo Rivera (@PaoloMRivera) May 8, 2014
Author Jonathan Maberry revealed on Facebook that he will be attending San Diego Comic-Con to talk about his upcoming book V-WARS, as well as Joe Ledger, ROT & RUIN, and more.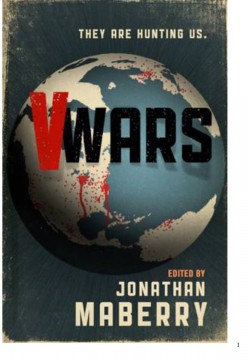 CollectionDX announced on its site that a variant of Sen-Ti-Nel's upcoming Metamor Force Dino Getter 1 will be coming to SDCC, as well as a few other conventions. The figure is priced at 15,000 yen, or around $146. Here's a look at the figure: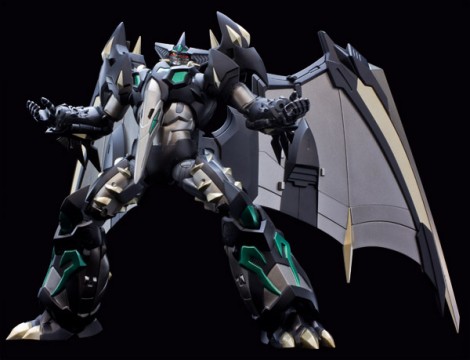 Fans of the new Showtime series Penny Dreadful should probably plan to swing by Entertainment Earth's booth this July. Licensing.biz is reporting that Bif Bang Pow! is creating a Deluxe deck of tarot cards inspired by the series, to be sold at San Diego Comic-Con. There is currently a regular version of the tarot cards, available for presale through Entertainment Earth for $14.99. Although no further details were announced about the Deluxe version, such as price or availability, most of Bif Bang Pow!'s exclusives are sold at the Entertainment Earth booth.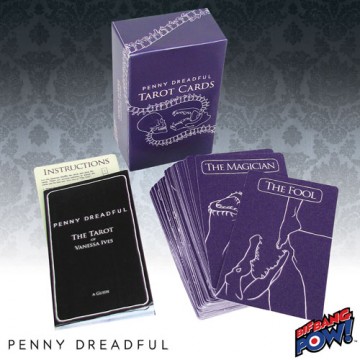 Artist and author Mark Gonyea released a first look at the six new posters he will be offering at Comic-Con on Twitter:
New stuff for #sdcc2014 part 3. This year I'll have 6 new posters! pic.twitter.com/hQpMHYe6JU

— Mark Gonyea (@MarkOblivious) May 11, 2014
Science fiction author John Scalzi revealed on Twitter that he will be attending San Diego Comic-Con this July.
@LordGrimdark I WILL SEE YOU IN HELL JOE and by Hell I mean SDCC of course.

— John Scalzi (@scalzi) May 13, 2014
Comic artist Humberto Ramos shared a sneak peek on Twitter of a Spider-Man sketch from his second collection of Marvel art, My Marvels 2, which will reportedly be available at the con this July.
#MyMarvels2 coming up in #SDCC2014 this is a little sneak pickpic.twitter.com/Vx0CT8XlJh

— humberto ramos (@humberto_ramos) May 4, 2014
Artist Michael Mulipola announced on Facebook that he will be doing a signing at SDCC for his new graphic novel Headlocked.
Artist Des Taylor will be attending San Diego Comic-Con with a new art book, exclusive prints, and sketches. His comission list is also open for SDCC – and you can find more information on his Pinterest.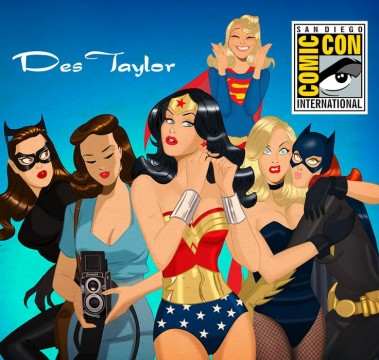 Garbage Pail Kids confirmed on their Facebook page that they will be attending San Diego Comic-Con this July, along with Topps. GPK also announced they will be partnering with Atomic Toybox, and you can find them both at Booth #4120 for "special promos", new product announcements, and convention exclusives.
Anything we missed? Let us know in the comments.