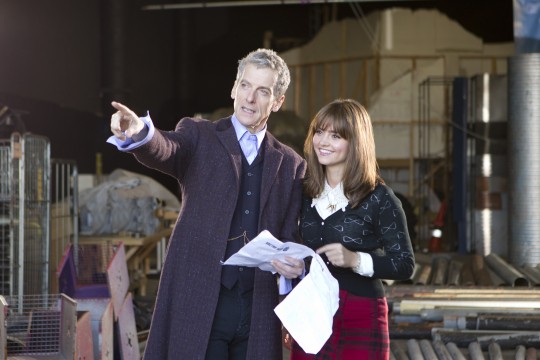 The line for Hall H may have just gotten a whole lot shorter on Sunday.
On Tuesday, June 10, BBC America and the BBC Worldwide announced a global Doctor Who tour to promote the upcoming season, with the tour coming to New York City on August 14. In the press release, it was mentioned that "Peter Capaldi and Jenna Coleman will appear together for the first time in the US when they arrive in New York". The only problem with that? San Diego Comic-Con is nearly a month earlier, on July 24-27.
So what does that mean for Doctor Who's appearance at the convention? Nothing good, as it turns out.
A representative at BBC America confirmed to us that there will indeed be no Doctor Who panel at this year's San Diego Comic-Con.
While there's still likely to be some Doctor Who happenings around the convention – BBC has already called for fan art to decorate its booth, which typically sells Doctor Who themed merchandise, and last year also saw an offsite fan meetup for the 50th Anniversary – there definitely won't be a panel at this year's event. And considering the announcement about Capaldi and Coleman's first US appearance being in August, we don't expect any festivities BBC America has planned to include the two stars on site.
Doctor Who had previously skipped SDCC in 2010, in a year that would have also introduced fans to a new doctor (the then first-timer Matt Smith). Since its 2011 return, the show had gotten an upgrade to Hall H on Sundays, the day when some of the most anticipated television shows (Supernatural, Community, Breaking Bad) have taken over. Doctor Who is typically considered the linchpin of that line-up, so it will be interesting to see how its loss affects Sunday's programming schedule this year.
While the loss of Doctor Who is unfortunate, we still fully expect BBC America to have the same level of involvement in the convention as they have in previous years. We already know that they will once again have a booth, and we wouldn't be surprised by panel appearances from Orphan Black (assuming the show is renewed for a third season) or the upcoming paranormal series The Intruders, starring John Simm and Mira Sorvino.
Will you miss the Doctor Who panel at this year's Comic-Con? Let us know in the comments.