Moebius Models, manufacturer of classic sci-fi and horror models, is coming back to San Diego Comic-Con with some more high-quality statues sure to grab the attention of attendees. Last year, the company brought the beautiful 1966 Adam West Batman statue, as well as the more modern Dark Knight and Joker statues from the Christopher Nolan series.
The company has now started to unveil its 2014 exclusives, and we'll update this master post when new items are announced.
[UPDATE June 27] Moebius Models has revealed the next set of their exclusives – Man of Steel and Zod statues, which will be limited to 250 pieces during Comic-Con, with an allotment of 50 per day available to attendees. The statues are available for $150, and we're hearing they will come with a special shopping bag. Catwoman, which we revealed earlier this month, will also come with her own special bag. For those that purchase either of the statues, they will receive an order card for a third piece – a Black Kryptonian suit with heat-vision eyes. The Kryptonian suit will have a variation of the standard blue/red suit arm, and will only be available after the show with the card enclosed in the SDCC exclusive package. Here's a look at the Man of Steel statues and packaging:
[UPDATE June 11] Moebius Models has announced its first exclusive for 2014, the 1/18 scale Catwoman on Bat-Pod, based on the Anne Hathaway Selena/Catwoman from The Dark Knight Rises, and will come in deluxe packaging as shown below: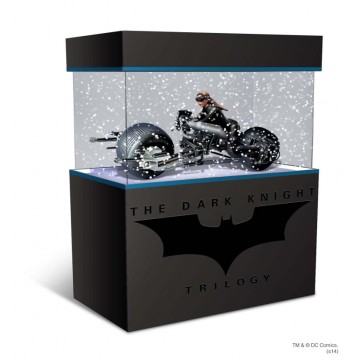 Here's the description from the product page:
Hand built and painted from the Moebius Models plastic kit. Catwoman is a resin cast figure sculpted by Jeff Yager. Get one while they last! Product will be limited to 200 per day starting Wednesday night.
Good that they will have allocations of this for each day of Comic-Con. The exclusive will run $45 + tax and will be limited to a run of 1000 fully-finished pieces . This will be available at the Merit International booth, #5349; and the Moebius Models booth, #2946, starting Preview night.
Also mentioned, the company will soon be unveiling SDCC-exclusive statues for Man of Steel and Zod. We'll update when these are unveiled.
What do you think of these Moebius statues? Let us know in the comments.