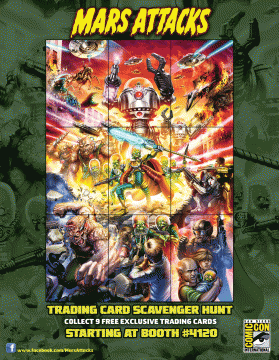 After a five year absence, The Topps Company will once again be returning to San Diego Comic-Con and can be found at Booth #4120 with exclusives for attendees. To celebrate the company's return, Topps is offering an all-new Garbage Pail Kids character, as well as exclusives from Mars Attacks.
Additionally, Topps will be hosting a Mars Attack Trading Card Scavenger Hunt during Comic-Con. The scavenger hunt will consist of 9 exclusive free connecting puzzle cards, featuring brand new art by Chad McCown and is the first official continuation of the 2013 card series, Mars Attacks: Invasion! Attendees can pick up the first card at the Topps Booth, and then will have to search out the remaining cards at a variety of other booths around the cards. Each card is free, and the back of each card will point convention-goers to the location of the next card in the series.
Here's a look at what Topps will be bringing to San Diego Comic-Con:
Garbage Pail Kids "Comic Conner": To celebrate their return, Topps has created an all-new Garbage Pail Kids character, "Comic Conner," who will appear on a show exclusive limited edition T-Shirt available for just $20. Topps will also be giving away an exclusive "Comic Conner" promo card– which will be strictly limited and available on a first-come-first-served basis.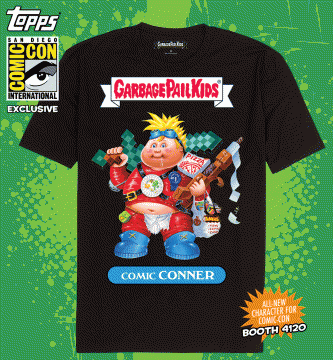 Garbage Pail Kids Trading Card Prints: Also exclusive to the show are a set of 11×14 jumbo Garbage Pail Kids trading card prints, perfectly suitable for framing, and feature 6 popular "GPK" characters including "Comic Conner."  These jumbo card prints will be priced at $10 each or all 6 for just $40 (while supplies last).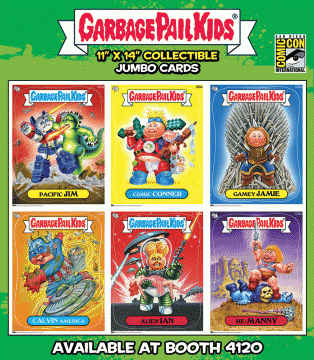 Additionally, fans can pick up the Mars Attacks vs. Presidential Monsters 2-Pack featuring a Martian soldier and "Baracula", a spin on Barack Obama. That set will be available at the Heroes in Action Booth #3450.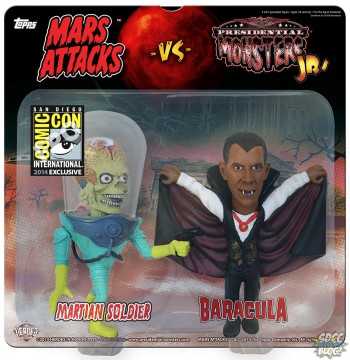 Topps will also be offering "all the latest Topps collectibles and trading cards at the Topps booth: from Star Wars, Doctor Who, WWE, and Skylanders to Garbage Pail Kids, Mars Attacs and Wacky Packages".
Will you be stopping by the Topps booth? Let us know in the comments.