Another day, another ton of San Diego Comic-Con news updates. We've learned more artists, the return of Hello Kitty, more evidence that Penny Dreadful might be making a visit to SDCC, and more.
Here's what you might have missed:
Attendees will be treated to a sneak peek at Sequart Organization's documentary on Neil Gaiman during SDCC, the company announced on Twitter.
https://twitter.com/Sequart/status/474236611572412416
Adobe Photoshop imagineer Daniel Presedo shared the design of the Photoshop Comic-Con shirt for 2014 on Twitter. Presumably, fans will be able to pick up the shirt at the Adobe booth.
https://twitter.com/dramenon/status/474203496774770688
Artist Daggy Chu will be sharing a booth with Awdplace, and they will have buttons and prints to sell, as well as a double-sided 50 page sketchbook featuring their "doodle work" of the last five years. You can find more information on Awdplace's tumblr post.
After coming to Comic-Con for the first time last year, Hello Kitty is making a return to SDCC in 2014. In a recent press release about Hello Kitty's 40th Anniversary celebration plans, Sanrio mentioned that Hello Kitty will "continue appearing at special events across the globe, giving hugs to her fans, and spreading the message of friendship." At each appearance, the hugs will be tallied and added to a Global Hug Report on Sanrio's website. Among the conventions listed for Hello Kitty hugs? San Diego Comic-Con. We'll have more information about Sanrio's plans soon!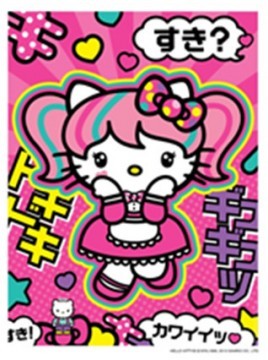 Illustrator and Disney artist James Silvani, mostly known for his work on Darkwing Duck, has announced on his tumblr that he is open for commissions for SDCC. Attendees can check out Silvani's tumblr for details.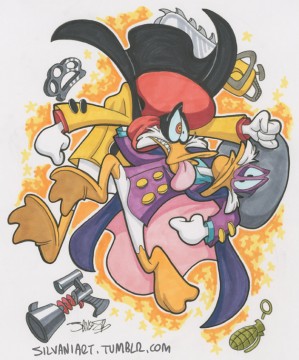 We have some additional details on the MyCoolCarStuff Star Wars exclusive keychains that we mentioned last week. The set will be limited to 1000, and will be available for $19.95, according to the company's Facebook page.
If you're wanting to sell some comics, attendees can swing by to visit Heritage Auctions for free auction evaluations during the convention. Information, including how to schedule an appointment, are available on the company's website.
Sketch artist Kim Jung Gi will be heading to San Diego Comic-Con, according to his Facebook page.
In addition to earlier comments about the appeal of Penny Dreadful to SDCC audiences, Showtime president also spoke to the Hollywood Reporter about the series' presence at SDCC. According to THR, Nevins said it will have a "big presence at Comic-Con in July" and is "ripe for merchandising, with horror book boxed sets, cast action figures and tarot cards among the products set to hit the marketplace".
Australia-based graphic novel anthology Gaining Velocity will return to Comic-Con this summer, as announced on Facebook. Last year they hosted a panel on Australian and South African comic art in addition to having a booth. Australian fans can also join the company for a pre-SDCC party in Melbourne (date to be announced).
This week's ForceCast.net Jedi Journal podcast announced that DelRey Books will be at SDCC to give away promo samplers of the new book Star Wars: A New Dawn; the sampler will also include excerpts of other upcoming Star Wars books. John Jackson Miller, author of Star Wars: A New Dawn, will be at Comic-Con as well:
Big news in today's @JediJournals about @DelReyStarWars' #SDCC con special, around 1:16. And yes, I will be there! http://t.co/lIonmivcKO

— John Jackson Miller (@jjmfaraway) June 4, 2014
Anything we missed? Let us know in the comments, drop us a line or tweet us at @SD_Comic_Con.