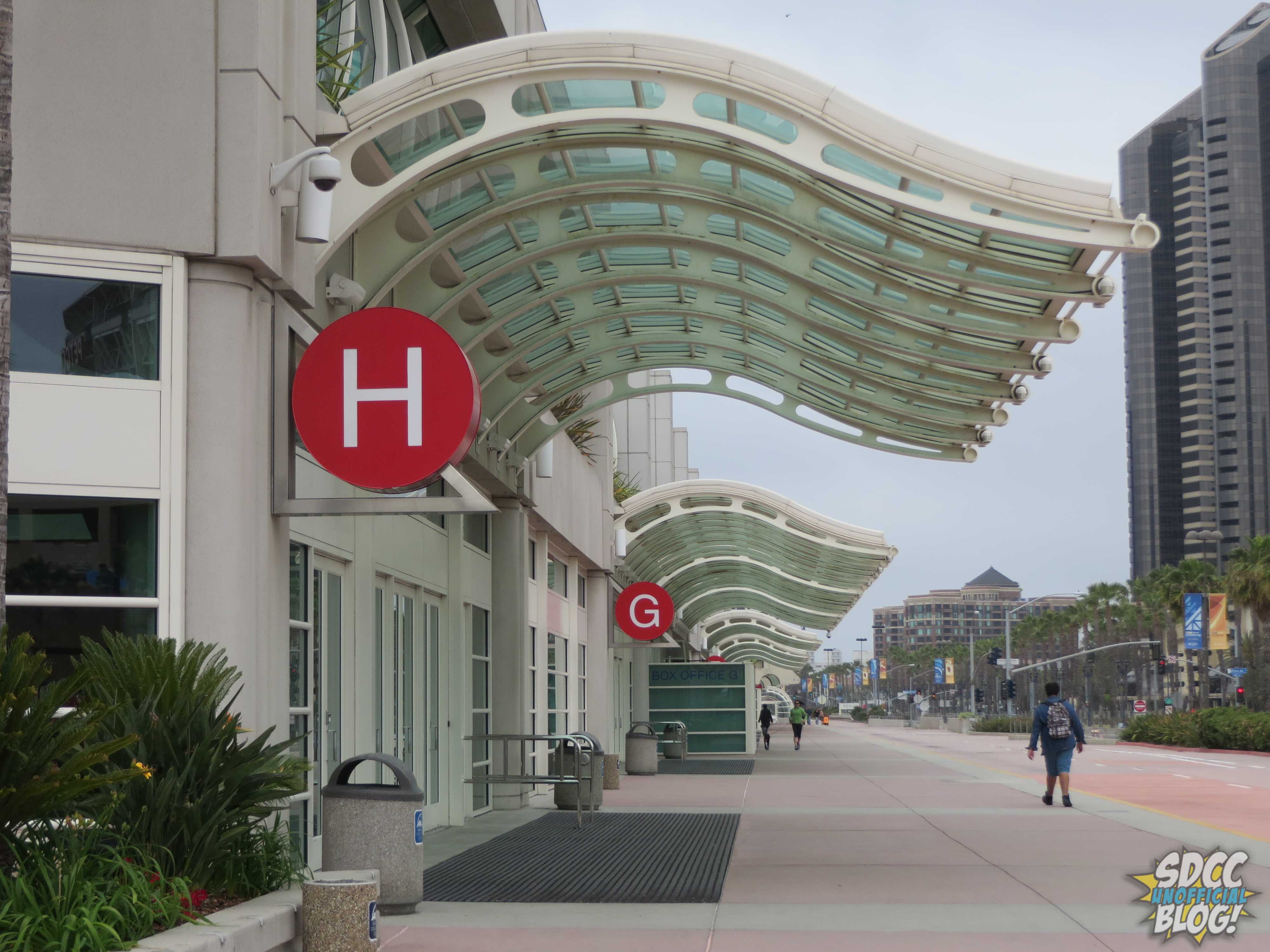 [UPDATE] Since so many of our readers had questions on how the new Hall H wristband policy would work, we reached out to Comic-Con International for some clarification. Thanks to David Glanzer, Director of Marketing and Public Relations at Comic-Con International for the answers to your questions, below:
SDCC Unofficial Blog: What was the reasoning for the policy change?
David Glanzer: The wristbands will help those in line for the first panel of the day better understand whether they have a good chance of entering Hall H. The wristbands are color coded with each quarter of the room being assigned a specific color. This will allow us to also place signage at those points (where the wristband color changes) to alert those still in line where they are in the cue for entering the Hall for future panels.
What time will wristbands start being handed out?
On Wednesday night, we will start passing out wristbands for Thursday only, shortly after the exhibit hall closes.
On Thursday night, we will start passing out wristbands for Friday only, shortly after programming at Hall H ends.
On Friday night, we will start passing out wristbands for Saturday only, shortly after programming at Hall H ends.
On Saturday night, we will start passing out wristbands for Sunday only, shortly after the last panel is loaded.
Will staff be handing wristbands out continually once they do start or is it incrementally every hour/every 30 minutes?
As people get in line we will hand out wristbands. We will stop at 1:00am and resume at 5:00am.
If successful, will this be implemented for other lines (Ballroom 20) in the future?
After the show we'll review how successful this program was and then move forward accordingly.
What about people who don't have their single-day badges yet, (i.e., they would be picking them up in the morning). Can they participate or will they have to go to the back of the line? And on that note, will you need to present your Comic-Con badge in order to get a wristband?
You will need to have a badge or barcode to receive a wristband.
Thanks again to David Glanzer and the rest of the CCI staff for addressing these questions.
Original story is as follows…
Coming-Con International has announced a fairly major policy change this year, though it's one that will only affect those who plan to line up for Hall H before the first panel – so basically, a lot of people.
For the first time, CCI is introducing a new system called Toucan Trackers. At certain times before the first panel each day, CCI will distribute color-coded wristbands to anyone standing in line for Hall H (and Hall H alone – the Ballroom 20 and general line will remain as always). There will be four different colors, with each color representing roughly the amount of people to fill each quarter of the room. Wristbands will be given out "as attendees get in line" until 1AM, and then wristband hand-outs will resume at 5AM, starting with the last person who received a wristband from the 1AM cutoff time.
This affects attendees in two ways. The first is that now, when you show up for Hall H, you can have a better idea of where your placement in the line will place you once the doors for Hall H are opened. Receive the second color batch? You should be somewhere in the first half of the room. Have they already run out of wristbands? You're probably not going to make it inside before the first panel, and you can better plan your time for the day, rather than wondering if being back on the island means you're getting in or not.
The second way that it will affect attendees, of course, is that for large groups of attendees camping out, it's often common for only a few members to stay in line at a time, while the rest swap out to take showers and sleep for a few hours. While it's still possible to do that, it's important that prior to leaving to do these things, everyone in the group gets their wristband. Comic-Con International has stated that if attendees have a friend coming to join them later, they will not be distributing wristbands for those missing bodies – instead, anyone who arrives after wristbands have been handed out will be forced to join the back of the line, regardless of where their friends are. Better make sure you have a wristband before leaving to use the restroom, too!
Once attendees have a wristband, only one member of the group needs to remain in the line in order to save their place – but if your wristband colors do not match, you will not be able to enter at the same time. Having a wristband also does not guarantee entry into Hall H, though it is a good signifier.
After the first panel of the day, the wristbands will not be used – entry will be based on first-come, first-serve in the line, as always.
The practice of line-cutting has run rampant for years, and this could be CCI's answer to the problem. It should also stop those who wait until doors open, and manage to sneak their way in.
You can find more information about the policy change on Comic-Con International's Toucan Blog.
Are you excited about this policy change?