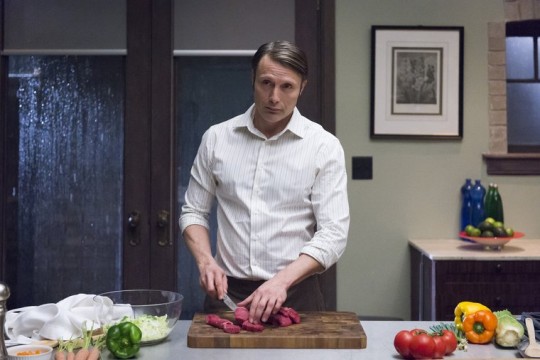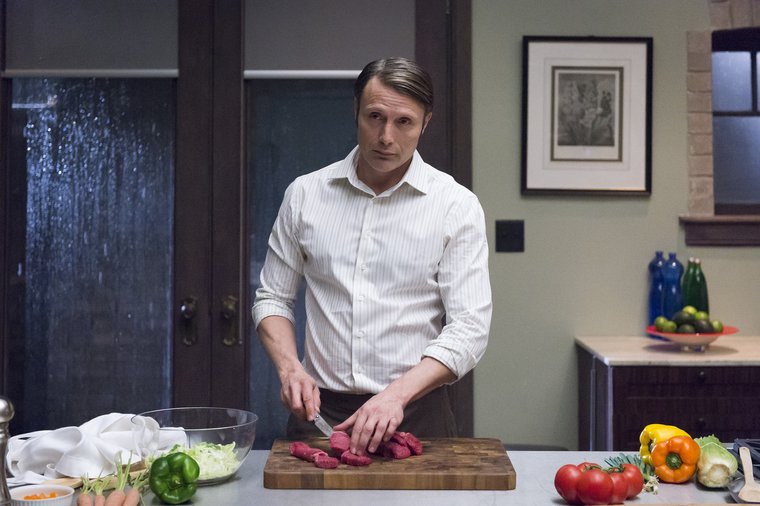 [UPDATE July 4] Hannibal producer Loretta Ramos announced on Twitter that Hannibal will indeed be getting a room upgrade — all the way to Ballroom 20. The only question left is what cast members will be attending on Thursday. Could we finally get Mads Mikkelsen and Hugh Dancy on a Comic-Con stage together?
Hey #Fannibals! Did u hear this year's #Hannibal #Pannibal will be in Ballroom 20? Dang! Be there or be eaten. Comic-Con. July 24 at 4:45pm

— Loretta Ramos (@lorettaramos) July 3, 2014
[UPDATE June 20] We just received official notification from the show's PR that there will be a Hannibal panel on Thursday, July 24. The message read:
Hannibal is on the menu once again at ComicCon! The panel date is July 24th.
Original story as follows…
Fans of the NBC series Hannibal have spent a lot of time recently worrying if the well-loved, but low-rated, perennial-on-the-bubble show would get renewed for a third season (and it did, earlier this month). One thing that fans won't have to worry about? It's whether or not they'll be seeing their favorite serial-killer-cannibal show at Comic-Con, because Hannibal is definitely returning to SDCC in 2014.
At an Emmy screening of the series on Wednesday, May 28, creator Bryan Fuller announced to a room full of press, Emmy members, and fans, that the show will be returning to San Diego this summer. Several attendees shared the news on Twitter, including Hannibal's production company, The De Laurentiis Company:
So … @BryanFuller just announced that #Hannibal will be at @Comic_Con this year!

— DeLaurentiis Co (@DeLaurentiisCo) May 29, 2014
.@BryanFuller just confirmed #Hannibal is coming back to Comic-Con this summer – as it must! #SDCC

— Eric Goldman (@TheEricGoldman) May 29, 2014
https://twitter.com/Tattle_Crime/status/471853020397846528
There's no official word on if this includes a panel, but the odds are high considering the show has had a panel presence the last two years. In 2013, Hannibal saw its first full panel, after splitting time in 2012 with another Fuller series, Mockingbird Lane. Although last year saw series star Hugh Dancy and Fuller on both a panel at Comic-Con and across the street at Nerd HQ, co-star Mads Mikkelsen has yet to make an appearance at the convention. Could 2014 be the year both stars finally grace the same Comic-Con stage? And will Hannibal get a room upgrade to Ballroom 20?
Fans who can't get enough of Hannibal can also plan on grabbing the previously announced Hannibal Funko SDCC exclusive — a blood-spattered Hannibal Lector.
Are you excited about this news? Let us know in the comments.