Fans of Hannibal have long been craving some exclusives (or any official merchandise) for the popular NBC series, but they won't have to wait much longer.
The creator of the series, Bryan Fuller, revealed on Twitter that Funko's Pop! vinyl line will soon feature several Hannibal characters. The normal variations for the line include Hannibal Lector, Will Graham (including a 'normal' and a 'straight jacket' version), Jack Crawford, and even a Stagman. In addition, Funko will produce a special SDCC exclusive, featuring a blood-spattered Hannibal Lector. Here's a look at all the figures: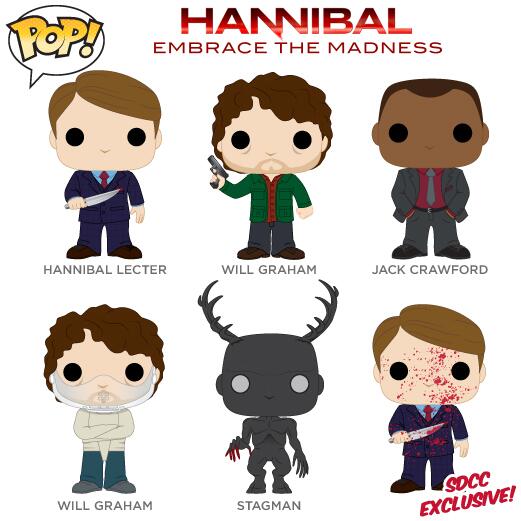 Funko always pleases attendees with a wide range of exclusives (last year saw the retailer offering 57 items), and this Hannibal figure joins the previously announced Firefly Jayne Cobb (with his famous hat) ReAction figure we learned about at Toy Fair last month. We're sure we'll be seeing a lot of other exciting exclusives from Funko in the coming months.
Does this whet your appetite for Comic-Con exclusives? Let us know in the comments.