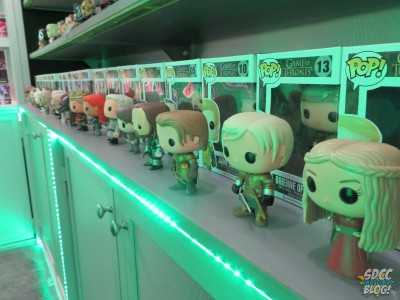 When we were making our short list of booths to visit during Toy Fair 2014, Funko was at the top. The company's line of licensed Pop! Vinyls have always been a big hit with our readers and Comic-Con attendees, and the addition of Super7's ReAction line made Funko hotter than ever.
So we were given a tour of the booth by Funko's Marketing Coordinator, Allison Nehls, on their endless line of adorable Pop! Vinyl figures and new product offerings, including the Marvel Mystery Mini bobbleheads, the stylish Hikaris, the plush Fabrications and the company's new Game of Thrones and Magic: The Gathering figures as part of its new Legacy Collection line.
Funko has always kept attendees happy with a long list of exclusives – which hit an astounding 57 items last year – but it was Funko's partnership with Super7 that really had our attention. Last year's ReAction line of Alien retro figures were one of the most talked-about exclusives at SDCC, and with an expanded line-up of figures from classic film and TV, along with an early-season hint of a Comic-Con exclusive playset, we were on the hunt for what we can expect in San Diego this July.
We were able to chat with Super7's owner, Brian Flynn, on how the ReAction line came to be, what the partnership with Funko might bring to the line, and – most importantly – what SDCC exclusives we'll be able to get our hands on this year.
Flynn spoke to us about how last year's Alien ReAction exclusives came to exist:
When we made Alien, we were doing it thinking people would like it but we didn't know how big it would be. And then once we got to San Diego and it came out, the reaction was way bigger than we thought it would be.

And the whole market at that time, or still, is hyper-detailed, hyper-articulated large-scale figures. And we were like, we're throwing back, it's nostalgia, crude, it's a much higher price point for a small figure. We were like, how many of those guys who, generally very price-point sensitive, are really going to throw down for these things? And so we thought it was a lot smaller than it was, and when we got there, and it was like bananas, we're kinda screwed.
We also asked Flynn about the experience of partnering with Funko on the ReAction line:
We got there and we're like, we can't really take that momentum or that excitement and actually capitalize on that, for lack of a better word. I can only really get so many figures made and so many figures out there. I have a very limited distribution network, I don't really have… I can do maybe two, three lines a year max. And Brian's been right next to us in San Diego for the last eight years and we've become really good friends with him. So after San Diego we were talking about how everything went, and he was just like, "I can help you on this side." We've got a great product and he's got a great team and a great bunch of licenses and is able to get everything out there. So it was a great way for us…you know, we could take something and move a lot faster than we could ever do it before. Plus with his distribution we could order more pieces, we could get the price point down. When we were doing it it was $19.99, when we started working with Funko immediately we were already able to bring it to $14.99, and here we are six months later when we're actually getting him out stuff, and they've got a lot of people behind it, it's like, we're now able to get it down to $9.99. At $9.99 we're the cheapest thing out there. It's actually priced the same as, like, the most mass-market inexpensive toy out there but obviously smaller, and trying to do, you know, what we all missed, and, really just packaging nostalgia in a lot of ways, making the things that we wished would have happened but hadn't happened.
Flynn spoke on his plans for the ReAction line at SDCC this year:
We've got a couple plans for San Diego that should blow people's minds. it's like, we're trying to do some different things that haven't been done, and just – I want to make it so you can come to our booth and have fun. Not run to the other side, stand in line for two hours, give someone your money and then have to run away. I want you to have to come to the booth and actually do something and have fun. So we've got some really fun, different things planned for San Diego. Because we can't go back to San Diego with an early-bird kit, I can guarantee you there's going to be another toy company somewhere, at San Diego this year that has an early-bird kit. We did that last year, this year I want to do something completely different, and I think it's going to be a lot of fun.
And lastly, what about that quote from Funko CEO Brian Mariotti saying the company would have a ReAction playset available at Comic-Con this year? Flynn says:
Everybody is asking about vehicles and playsets. Obviously, we would love to make vehicles and playsets. Right now, it's very much like, we're just getting these figures in front of people this last week. If enough people buy these, then yeah, if I have the numbers to make vehicles and playsets, are you kidding? Somebody was just asking me a second ago, it's like, do you not think that I want to make a DeLorean with fold up wheels for Back To The Future? Of course I do. But, you gotta buy Marty McFly first.
He was able to share with us specifics on one SDCC exclusive: The ReAction Firefly Jayne Cobb figure with his famous hat, which we reported on last week.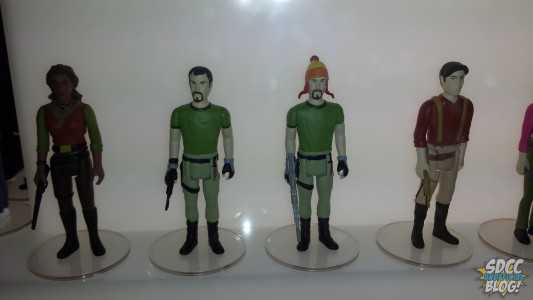 The ReAction figures will be released starting in May, and running through October. Funko's plan is to have a new line of figures released each month, and will total over 60 figures by the end of that timeframe. You can pre-order the figures now through Entertainment Earth, and check out the figures on display at Toy Fair in our slideshow gallery below. Note that Flynn and Nehls mentioned some of the figures are subject to be recast – the bodies are pretty much done but the heads might get some tweaking, something Flynn said always happens with action figures at the end of the design process.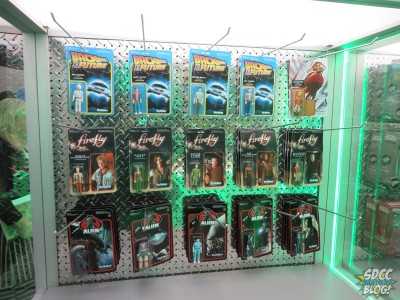 And let's reiterate, because what we wrote above has our geek-senses tingling like crazy: expect over 60 ReAction figures in 2014, from licenses like Firefly, Terminator, Pulp Fiction, Escape from New York, Buffy the Vampire Slayer, and pretty much every other license you can dream of.
"If you can imagine like any of us, if you sat down for a half an hour and were like, oh man what would I make? You're list would be like, 800 things long," Flynn said.
When we said it seemed like he had everything covered, he teased:
Oh no. Tip of the iceberg.
Check out the complete interview in our video of the Funko booth tour above. You can also check out the audio of our interview with Super7's Brian Flynn on Stitcher or by subscribing via our podcast feed or on iTunes.

If this doesn't get you excited for Funko's 2014 SDCC exclusive lineup, you are probably undead. Let us know in the comments which figures you'll be pre-ordering.
[portfolio_slideshow id=11661]