Oni Press, home of Scott Pilgrim and several other titles, has announced its "avalanche of awesome Oni Press wares" headed for SDCC. The company will be bringing lots of exclusives and product debuts ahead of their normal launch, featuring titles like Scott Pilgrim and I Was The Cat, as well as others. You can find Oni Press at Booth #1833.
There will also be a Ramona Flowers Preview Night Extravaganza special, where anyone who purchases the Ramona Flowers Bag on Preview Night will receive two free enameled metal charms featuring Scott and Ramona. Other festivities throughout the weekend include a Kids' Coloring Contest, and the chance to bring an item by the booth to put into Oni's "Bunker Time Capsule" to receive a special item from Oni like t-shirts, stickers, comics, books, posters, and more.
Here's a look at what Oni Press is bringing:
SCOTT PILGRIM VOLUME 5: EVIL AND COLLECTOR'S EDITIONS. By Bryan Lee O'Malley.
EVIL EDITION ($40): The penultimate Scott Pilgrim full color hardcover edition is here! There are many questions in Scott Pilgrim's terrible little life. First of all, why did he have to turn twenty-four? Secondly, why do robots keep trying to kill him? And why is Sex Bob-omb falling apart? Why is Ramona acting so weird? And finally, why won't these brilliant and deadly Japanese twins leave him alone? Scott Pilgrim will find the answers to these questions… or die trying! Featuring exclusive bonus content and previously unpublished extras you won't find anywhere else in the Universe!
COLLECTOR'S EDITION: $100 – The Collector's Edition includes a SCOTT PILGRIM VOLUME 5 EVIL EDITION PLUS:
-5 prints
-10 vinyl stickers
-1 code for a digital copy of the book via ComiXology
-1 signed card
-2 scout-style patches
-A PAIR OF KIM PINE DRUMSTICKS!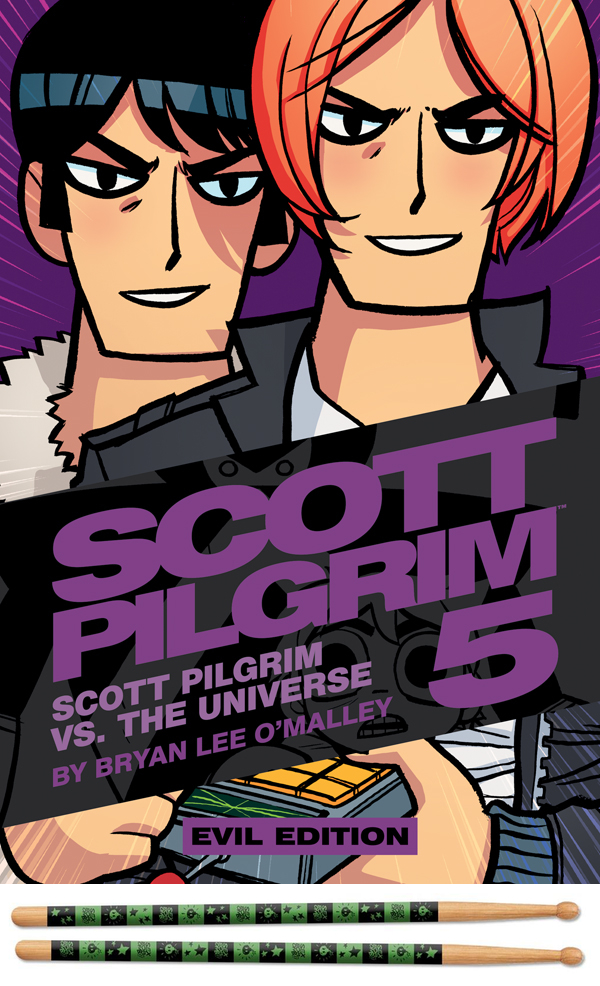 OFFICIAL RAMONA FLOWERS BAG ($60). Become a stylish subspace courier with the very first ever OFFICIAL Ramona Flowers bag!  It's got a number of pockets, an epic inner lining of Scott Pilgrim art, and a heavy metal pull of Ramona's hammer!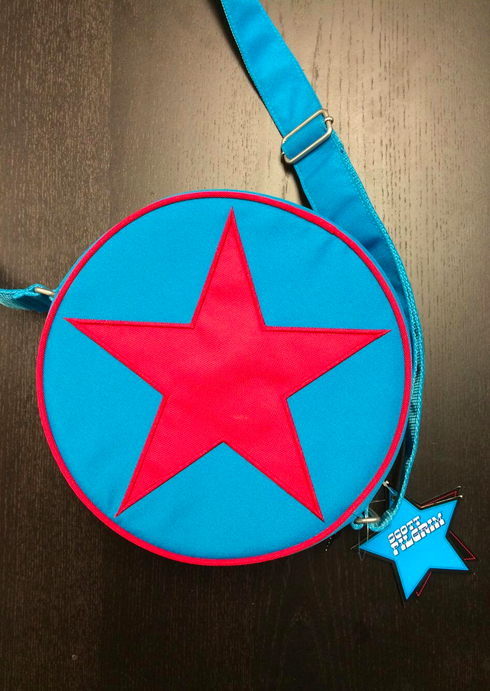 I WAS THE CAT (HARDCOVER) ($24.99). Written by Paul Tobin, Illustrated by Benjamin Dewey. Allison Breaking is a talented journalist with her own blog and a lot of bills to pay, so when she receives an offer from a mysterious stranger named Burma to write his memoirs, it's an offer she can't refuse, not even with all the red flags popping up. But Burma is quite literally unlike any man Allison's ever known – because he's a cat. And this cat has stories to tell about how he (over the course of a few lifetimes) has shaped the world – and another, darker story that Allison must risk all to uncover… a story of what this particular cat has been doing with the LAST of his nine lives.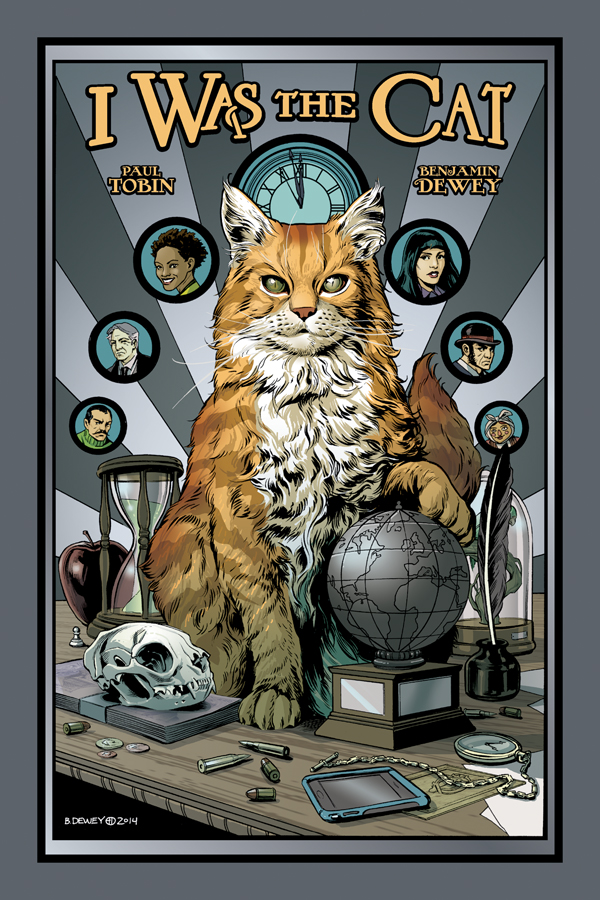 I WAS THE CAT: THE TREATS! Attendees that purchase I WAS THE CAT during SDCC will receive a free 11 x 17″ copy of Benjamin Dewey's incredible "I WAS WHAT KIND OF CAT?" infographic flowchart!  We'll also be giving away masks of Burma, I WAS THE CAT's shadowy feline co-lead all weekend long!

LETTER 44 VOLUME 1: ESCAPE VELOCITY ($19.99). Written by Charles Soule Drawn by Alberto Jiménez Alburquerque Colored by Guy Major and Dan Jackson Lettered by Shawn DePasquale. On Inauguration Day, newly elected President Stephen Blades hoped to tackle the most critical issues facing the nation: war, the economy, and a failing health care system. But in a letter penned by the outgoing President, Blades learns the truth that redefines "critical": seven years ago, NASA discovered alien presence in the asteroid belt, and kept it a secret from the world. A stealth mission crewed by nine astronauts was sent to make contact, and they're getting close–assuming they survive the long journey to reach their destination. Today, President-elect Blades has become the most powerful man on the planet. This planet.  Issues #1-6 of the acclaimed creator-owned sci-fi series are collected in this trade paperback with a futuristic holofoil cover!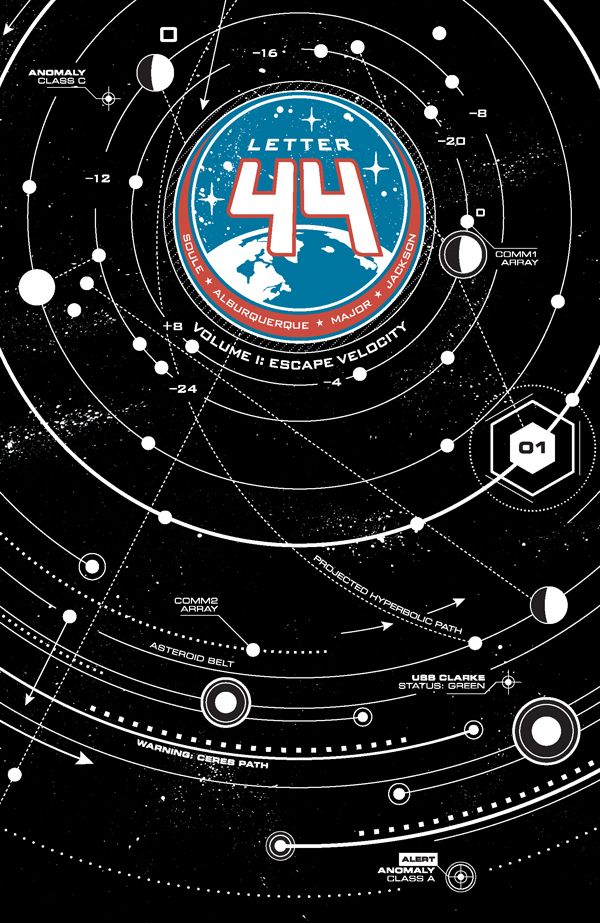 LETTER 44 #8 ($10). Written by Charles Soule Illustrated by Alberto Jiménez Alburquerque Colored by Dan Jackson Lettered by Crank! Six months into the presidency, President Blades has deployed sci-fi superweapons to end wars in the Middle East, opening him to attacks from all sides, including a Congressman once romantically linked with the First Lady. Meanwhile, in space, as construction on the alien Chandelier is finally completed, the crew of the Clarke will truly understand what they're facing.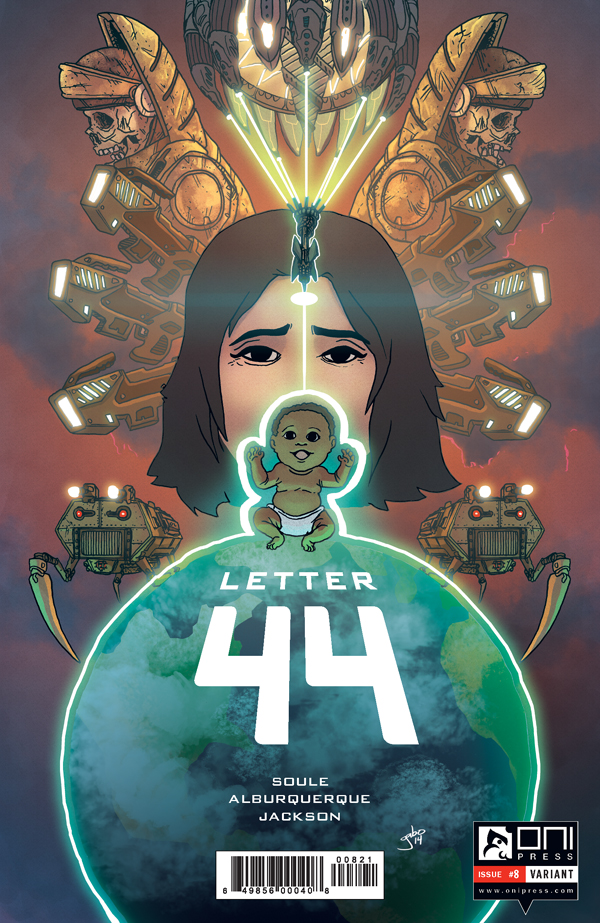 LETTER 44 MISSION PATCH ($5). Become a crew member of the USS Clarke with this high-quality, spaceworthy mission patch!  Iron it on wherever you like, but pro tip: it looks great on a spacesuit.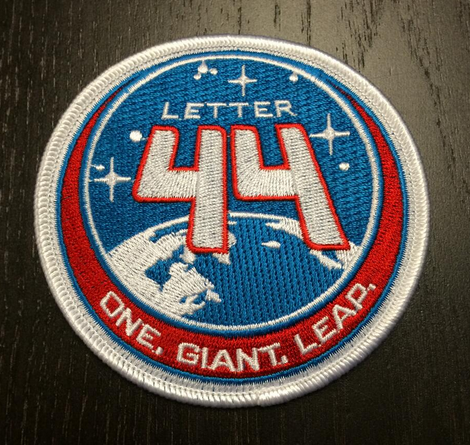 THE BUNKER VOLUME 1 ($19.99). Written by Joshua Hale Fialkov Illustrated by Joe Infurnari. On their way to bury a time capsule, five friends – Grady, Heidi, Natasha, Daniel, and Billy – uncover a metal bunker buried deep in the woods. Inside, they find letters addressed to each of them… from their future selves. Told they will destroy the world in the very near future, the friends find, over the next few days, growing further and further apart. Though they've been warned against making the wrong choices, how do they know what the right ones are? Can the future really be changed, or will an even darker fate engulf the world? Collects the first four issues of the ongoing series.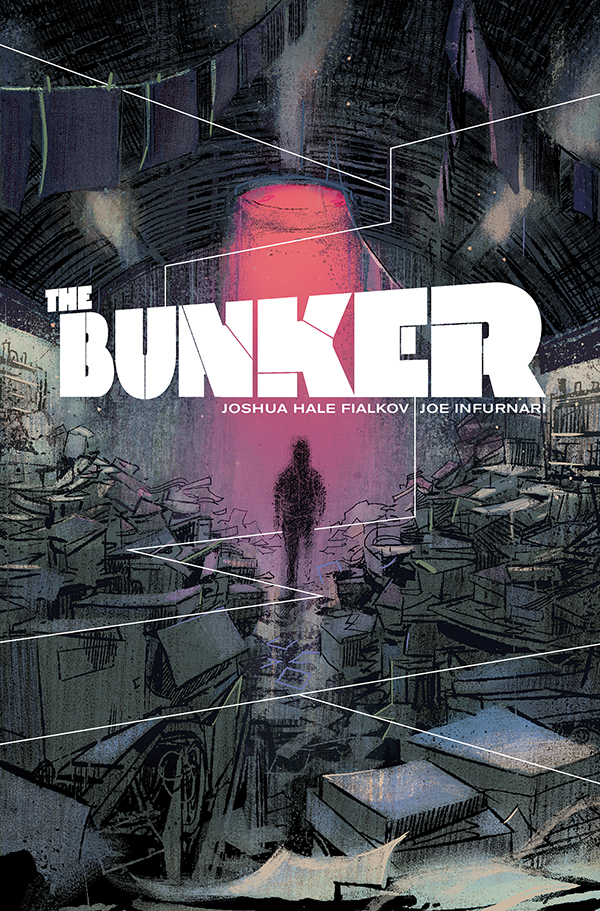 THE BUNKER #5 CONVENTION VARIANT ($10). Written by Joshua Hale Fialkov Illustrated by Joe Infurnari. Convention exclusive variant by Letter 44's Alberto Jimenez Alburquerque.  Battle lines are being drawn, as Grady begins his ascent, and truth of his actions hits the other friends. But, can they confront him and change his path?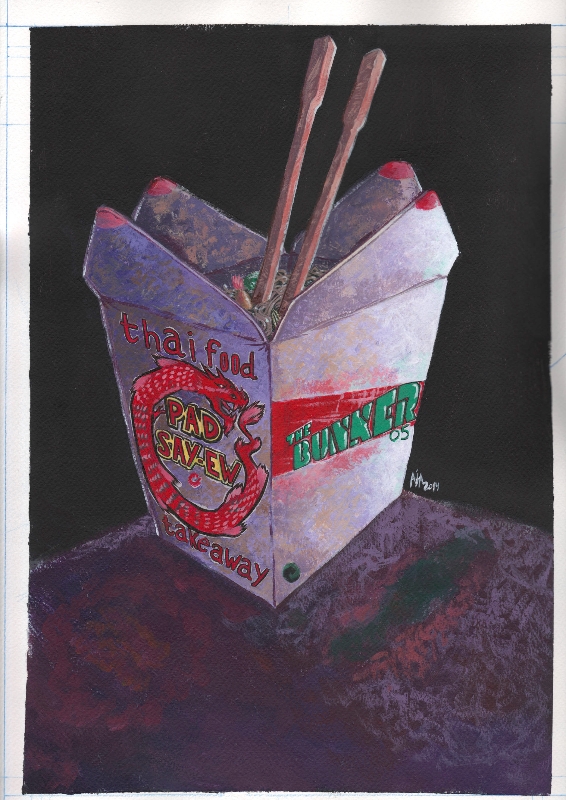 THE BUNKER BUTTON SET ($2). Represent your side of the post-apocalypse and your love of Fialkov and Infurnari's THE BUNKER with these ominous 1 1/4″ buttons. Button sets will be free while supplies last to fans who purchase The Bunker Volume 1 during Joshua Hale Fialkov's signings.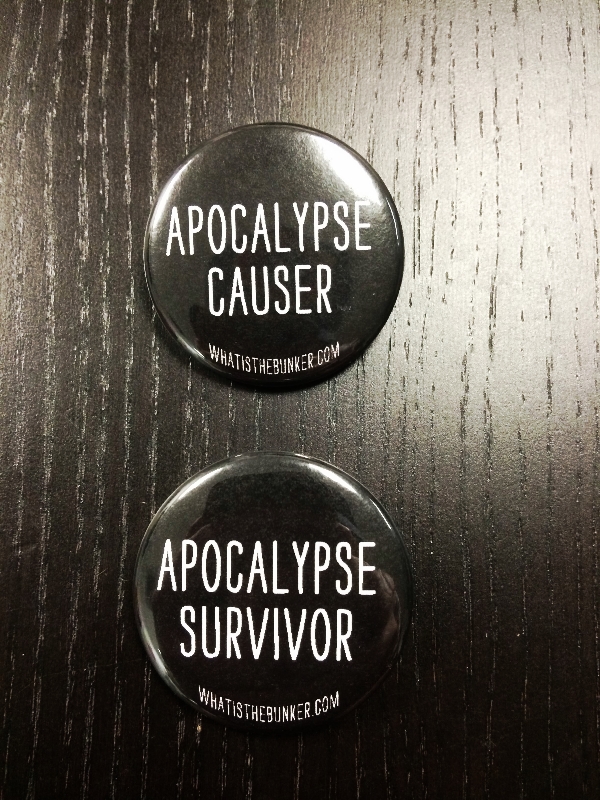 THE PEOPLE INSIDE ($24.99). By Ray Fawkes. A new original graphic novel from the Eisner-nominated cartoonist of ONE SOUL! This ground-breaking new book looks at the lives and relationships of 24 individuals in a way only the medium of sequential art could. Relationships change, grow, and end but the one thing that always remains is the people inside who define both ourselves and our liaisons.  This edition of THE PEOPLE INSIDE will include a special, convention-only bookplate fans can get signed by the creator!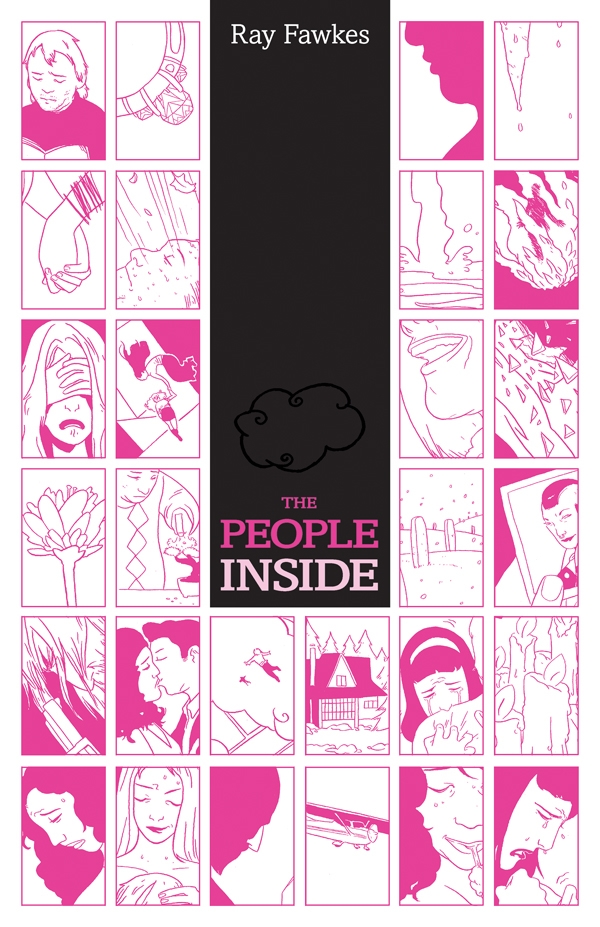 PRINCESS UGG #1 BATTLEPUG CONVENTION VARIANT ($10). Convention Exclusive Variant by Mike Norton featuring BATTLEPUG! A new series from Courtney Crumrin's Ted Naifeh! Within the fairy-tale kingdom of Atraesca lies the prestigious Princess Academy, where young royals from all the five kingdoms come to get their education. But they've never before seen the like of Princess Ülga of Grimmeria. Armed with axe and sword, riding her war mammoth through the city gates, Ülga has come in search of schooling. But this barbarian princess might just end up schooling the people of Atraesca before that happens!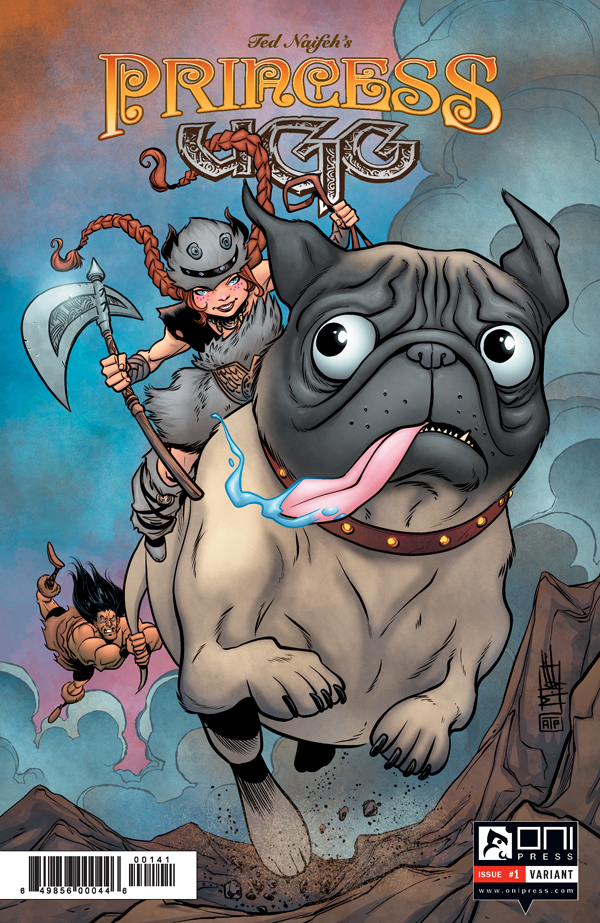 THE LIFE AFTER #1 VARIANT ($10). Written by Joshua Hale Fialkov, Illustrated by Gabo, cover by Joe Infurnari. In an infinite city built on infinite sadness, there is one man capable of breaking free.  He will go through Heaven and Hell to save us all. Literally. A fantastical coming of age journey through the afterlife and beyond from Joshua Hale Fialkov (THE BUNKER, THE ULTIMATES) and breakout artist Gabo!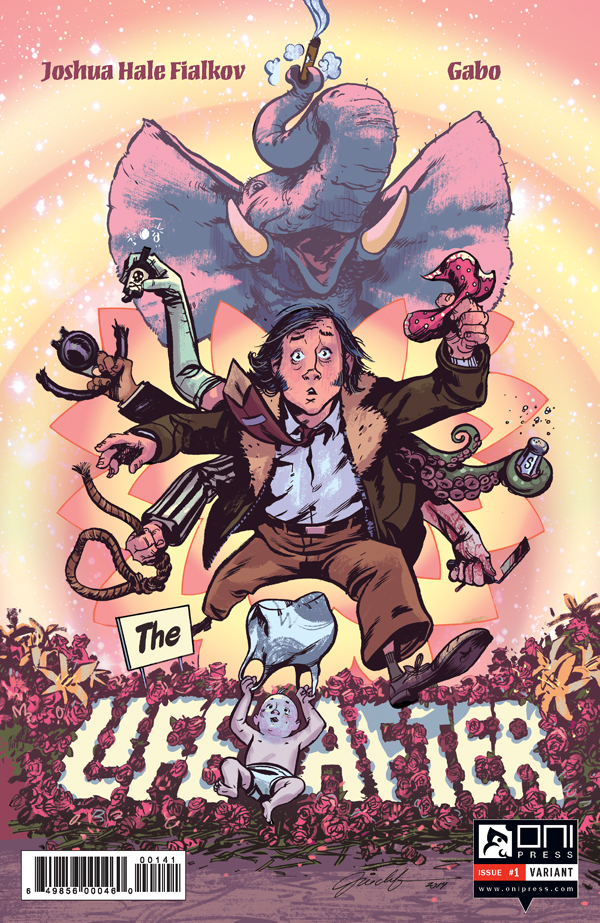 Are you excited about Oni Press? Let us know in the comments.