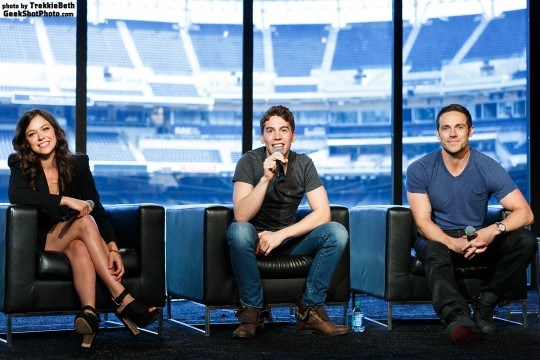 Clone Club is once again in session at San Diego Comic-Con. With only a few hours to go before Comic-Con International unveils the official programming schedule for Friday, the BBC America tumblr account for the series and the Twitter account have revealed some of the details about this year's Orphan Black Comic-Con panel.
Orphan Black will be returning to the convention on Friday, July 25, at 6PM — once again in Room 6A. The details on tumblr only state that the panel will feature "cast and creators", so we're hopeful that Comic-Con's official program release will tell us more about this year's panelists. No matter who attends, there will be a lot to discuss after the series' surprise season two finale, and recent season three renewal.
Thrilled to announce #OrphanBlack is returning to San Diego Comic-Con! Panel July 25 @ 6pm PT, hosted by @DaltonRoss. pic.twitter.com/PBNNRA6rh3

— Orphan Black (@OrphanBlack) July 11, 2014
Last year's panel was attended by series star Tatiana Maslany, as well as co-stars Jordan Gavaris and Dylan Bruce, and the line for Room 6A was said to already be huge for the series hours before the panel was even set to begin. The trio also headed to Nerd HQ for a panel across the street as well.
The post on tumblr promised that attendees should stay tuned for "an extremely comprehensive schedule of all Orphan Black events at Comic-Con", including a "top secret event". With no Doctor Who series panel this year, could Orphan Black be getting a tumblr fan meet-up, similar to the one BBC America threw last year for Who? Or do they have something even more exciting planned? We'll update once we have more information.
Are you excited about Orphan Black's return to San Diego Comic-Con? Let us know in the comments.