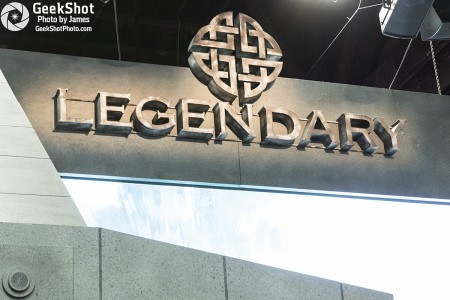 Legendary Entertainment has really rocked the Comic-Con crowd in Hall H the past couple of years, with Godzilla, Pacific Rim, 300: Rise of an Empire and more. But now the studio, which has changed distribution partners from Warner Bros. to Universal, will go on its own for a big Hall H panel scheduled for Saturday July 26 at 12:25pm.
The official panel description didn't go into specifics, only saying the studio would bring "their upcoming slate of highly anticipated films." What could that slate be? We took a few guesses of our own on our annual schedule breakdown Sunday night, but according to a report on The Wrap, none of those will be coming true.
The report states the full slate of Legendary films presented in the short, 45 minute Hall H presentation next Saturday will be Guillermo del Toro's October 2015 horror film Crimson Peak and the psychological thriller As Above/So Below. Per the report:
Del Toro himself will be on hand for "Crimson Peak," while director John Erick Dowdle and his brother, co-writer Drew Dowdle, will tease "As Above/So Below," which hits theaters on Aug. 29.
There was also mention that the studio could a tease the Godzilla sequel, per insiders familiar with the Comic-Con presentation. However, there's no date announced for Godzilla, and with Gareth Edwards slated for the first Star Wars stand-alone film in 2016, such news may be premature. However, last year Warcraft was announced despite a release date of March 2016, so Legendary does have a track record of giving its films a big lead.
We were crossing our fingers for Jurassic World to be one of the films included, but that got dashed when Slashfilm heard it wasn't coming to Comic-Con next week, despite a release date in advance of next year's convention. We had also been going off a hint from Legendary CEO Thomas Tull a few weeks ago when he teased the possibility of some Warcraft footage, which may still have a glimmer of hope as a teaser trailer.
Excited for this lineup up films from Legendary? Let us know in the comments.