Comic-Con is officially this week, which means that our news-diggers have been hard at work finding all the last minute San Diego Comic-Con news. They've found information on how to score entry into the HitFix Star Wars party, exclusives from Aspen Comics, Welcome to Night Vale, Willie Ito, Felix Comic Art, 3D Retro, and more.
Don't forget to check our Offsite Event calendar, presented by Eventbrite. New events added daily, like Game of Thrones Survive the Realm.
If you're interested in getting a few autographs while in San Diego, check out our Announced Autograph & Signing Schedules page, compiling all the announced autographs at the booths and tables.
Here's the news you might have missed:
Are you dying for entry into HitFix's Star Wars Rebels Comic-Con party? The event is invitation only, but HitFix is granting five attendees with VIP entry (and a plus one) to the party, along with a Santa Cruz skateboard and an action figure from Jakks. To win, just show off your best Star Wars cosplay. You can find more details on how to enter on HitFix's site.
Aspen Comics is bringing its largest gathering of creators and exclusives of the year to Comic-Con, and you can find them at booth #2320. Here's a peek at some of this year's exclusives, with more information on their site: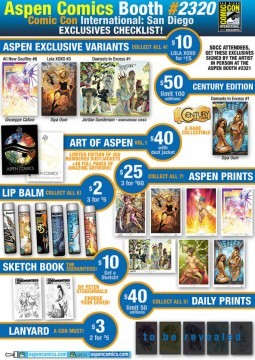 Artist Jason Edmiston revealed a new toy headed for Comic-Con: Frankenberry. The piece is limited to an edition of $50, and will be available for $65 at booth #5015.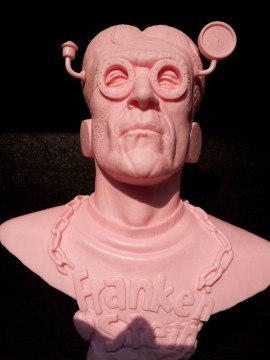 While you may not be able to attend a Welcome To Night Vale panel inside the convention center, you can pick up an exclusive WTNV poster at the TopatoCo booth #1229.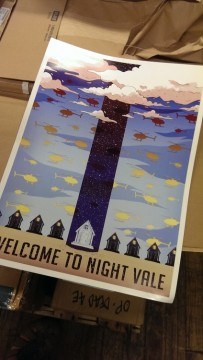 ArtInsights Animation and Film Art Gallery has teamed up with Hanna Barbera, Warner Bros., and Clampett Studios to released limited edition art from some of artist Willie Ito's most famous works, including The Flinstones, Yogi Bear, and more. The four limited pieces will be available for $125 each at Ito's booth HH-11. Here are the four prints:
Felix Comic Art announced three exclusives headed for Comic-Con. There will be two versions of a Seconds print from Bryan Lee O'Malley, limited to 150 per print, as well as an exclusive print for the Eisner-nominated East of West and The Manhattan Projects. You can find the prints, and the artists, at booth #701 where they will also be signing.
3D Retro has announced two of their Comic-Con vinyl exclusives: Lavabear by Nathan Hamill, an 8″ figure which retails for $80, and Shadow Ralf by Greg "Craola" Simkins, which retails for $70. You can pick up both pieces at booth #5049.
Flyguy Promotions will be holding performances for their flying Tardis on the Bayfront lawn on Wednesday (2:30PM, 3PM, 3:30PM, 5PM, 5:30PM & 6PM) and Thursday (8:30AM, 9AM, 9:30AM, 10AM, 10:30AM, & 11AM). Attendees can stop by during those times to catch a demonstration, or watch the Youtube video:
For a chance to attend The Walking Dead BBQ (because really, who doesn't think that sounds amazing?), you can tweet a selfie tagged with #TweetToEat in front of a Comic-Con Termius map for a chance to enter, according to The Walking Dead's Twitter account.
Those who arrive, imbibe. Tweet a selfie tagged #TweetToEat in front of a #SDCC Terminus map for a chance to enter the #TWD BBQ. Cont'd.

— The Walking Dead (@WalkingDead_AMC) July 19, 2014
Microsoft has partnered with game studios and companies to create 21 limited edition Xbox One consoles, featuring designs from everything from Titanfall to Sunset Overdrive to Disney Infinity's Marvel Super Heroes. The consoles will be on display in the Xbox Gaming Lounge, where, according to IGN, "eligible contestants can take a photo of their favorite console, follow, and tweet their picture with the hashtags #XboxOne and #XboxSweeps to the official Xbox Twitter to enter". You can find more information, and more of the console designs, on IGN's site.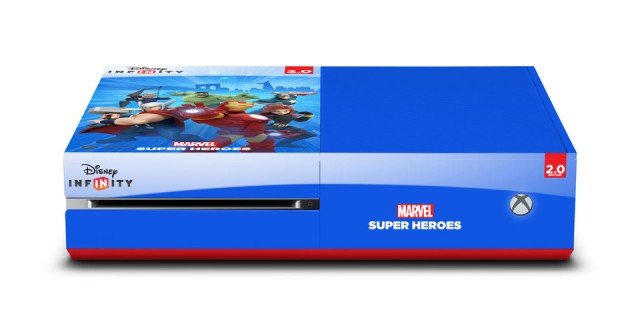 Anything we missed? Let us know in the comments, drop us a line or tweet us at @SD_Comic_Con.