The countdown clock to Comic-Con is ticking – so there's no time like the present to get caught up on the latest news with this edition of "Under the Tents." We've got news on Ubisoft's new game previews, an exclusive Gravity Falls print, Tokidoki's slate of SDCC debuts, Yaya Han's new comic book, ThinkGeek's new Star Trek exclusive, countless custom toys, and much more.
Don't forget to check our Offsite Event calendar, presented by Eventbrite. New events added daily, like the Diamond Select Toys Lounge.
If you're interested in getting a few autographs while in San Diego, check out our Announced Autograph & Signing Schedules page, compiling all the announced autographs at the booths and tables.
Here's the news you might have missed:
Ubisoft will preview open-world driving game The Crew at their booth (#135) and at the Xbox Gaming Lounge. Comic-Con attendees who pre-order The Crew will receive a free t-shirt. The Nintendo Gaming Lounge will host previews of another Ubisoft game, Just Dance 2015.
Gravity Falls creator Alex Hirsch unveiled the show's Comic-Con exclusive poster, drawn by artist Paul Robertson, on Twitter:
Behold, the 2014 exclusive Comic Con Gravity Falls poster, by pixel wizard @probzz! #SuperMabeloWorld #BetterRez pic.twitter.com/MjUpphVsUs

— Alex Hirsch (@_AlexHirsch) July 14, 2014
Action Lab Entertainment announced their SDCC exclusives, which include Zombie Tramp #1 (cover by Dan Mendoza), Nutmeg #1 (Comic-Con Edition), Vamplets: The Nightmare Nursery Book Two (Comic-Con Exclusive), SKYWARD #8 (sketch cover edition). All four are limited to 1000 copies each and will be available at booth #2006.
Artist Matt Perez (also known as Obscure) will release a custom pair of Frozen dolls at Comic-Con. The set will be part of Perez's series of Dia de los Muertos (Day of the Dead) Disney Animator dolls and will feature Anna and Kristoff dressed for their wedding day. Perez shared a teaser image of the dolls, which will be available during his signing at the Beefy & Co. booth (#5456) on Friday, July 25 from 12:00 PM to 1:00 PM.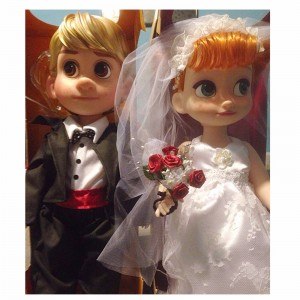 The Comic Book Legal Defense Fund will have an SDCC exclusive signed print available at their booth (#1920). The print, by J.H. Williams and Todd Klein, is numbered and signed by both artists. Limited to 125 pieces, the print will be $50 for CBLDF members and $75 for non-members.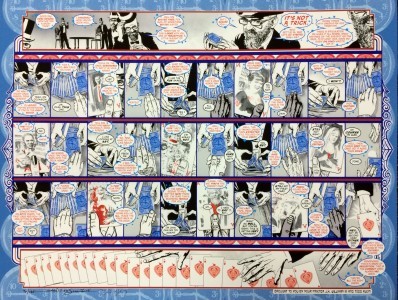 Artist Reactor-88 (real name Ryan Crippen) will be bringing these custom Totem Wandering Misfit collectibles to Comic-Con. The vinyl figures will be available at the Cardboard Spaceship booth (#5638).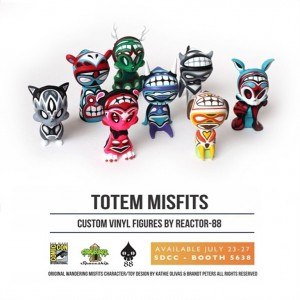 Fantagraphics announced their full slate of SDCC debuts, including How to Be Happy by Eleanor Davis, Walt Disney's Uncle Scrooge and Donald Duck: The Son of the Sun (The Don Rosa Library Vol. 1) by Don Rosa, Heroes of the Comics: Portraits of the Legends of Comic Books by Drew Friedman, Hip Hop Family Tree Vol. 2 and Hip Hop Family Tree Box Set by Ed Piskor, Jim by Jim Woodring, and Walt Disney's Mickey Mouse Vol. 5: Outwits the Phantom Blot by Floyd Gottfredson. The full line-up will be available at booth #1718.
Professional cosplayer Yaya Han will be at San Diego Comic-Con, appearing at the Lion Forge Comics booth (#1903) to promote her upcoming comic book.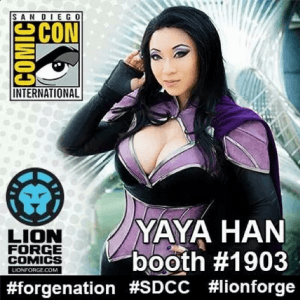 Though he isn't set to appear at the show's panel, Keahu Kahuanui from MTV's Teen Wolf will be at Comic-Con. Catch him at the Holzheimer's Distribution booth (#3745) on Saturday, July 26 from 1:00 PM – 5:00 PM.
For those of you coming to @Comic_Con, there will be #moredanny at booth 3745 from 1pm-5pm on Saturday, July 26th! Come hang out and say hi!

— Keahu Kahuanui (@KeahuKahuanui) July 15, 2014
Day Two of #SDCC debuts! "The Spartan" by Chase Kunz @SpoonsKunz #Halo pic.twitter.com/0Nk2LGN87Z

— Acme Archives Ltd. (@AcmeArchives) July 13, 2014
Day Four of #SDCC debuts "The Gender Bender" silkscreen #Futurama -Exclusive ordering ends7/16 http://t.co/G1QE8h1dyz pic.twitter.com/brARyzJ9wZ

— Acme Archives Ltd. (@AcmeArchives) July 15, 2014
ThinkGeek will premiere their latest replica remote, the Star Trek Phaser Remote Replica, at Comic-Con. The remote is fully functional and can control "many home entertainment systems and IR controlled devices". While the remote won't be available to purchase until November 2014, fans can get a preview of the remote at the ThinkGeek booth (#3849).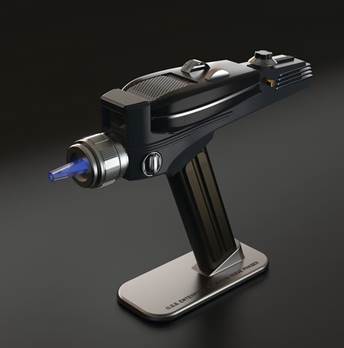 3D Retro announced two exclusives. The first, The Suited Birdies Toxic Glow Edition by Nathan Ota, will cost $60 and  is limited to 100 pieces and will be available at the 3DRetro booth (#5049). The artist will also be signing at the booth on Saturday, July 26 from 1:00 PM to 2:00 PM. The second exclusive will be a Wild Girls two-pack, which includes a 6 inch "Beverly" and a 3.5 inch Chou Chou designed by Gary Baseman. Each set will retail for $70.Take a look at the figures below:
The Toucan Blog released the annual Comic-Con restaurant guide and also shared details of food & drink discounts available to Comic-Con attendees.
The Profiles in History Booth #1605 will feature The Munsters actor Butch Patrick on Thursday and Friday, from 10AM to 4PM. Stop by and say hello to him or to Sean Astin on Saturday and Sunday as we reported yesterday!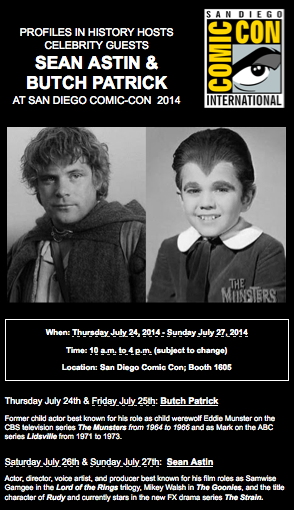 Game of Thrones will be holding a private beer tasting event with Brewery Ommegang during Comic-Con. For a chance to win, check out the show's official Twiter account.
Heading to #SDCC? Tweet using #ValarHourSDCC & our ravens may invite you to a tasting of the next @HBO @BreweryOmmegang #GoT beer (21+ only)

— Game of Thrones (@GameOfThrones) July 15, 2014
Linkin Park announced on their site that Mall, the debut feature film directed by Joe Hahn, will screen at Nerd HQ on Thursday, July 24. There's no word yet on tickets, but we expected announcements from The Nerd Machine any day now. Hint hint.
Exclusive screening of MALL at 5th Annual Nerd HQ event on July 24. More info here: http://t.co/N9LUfSDxNV @joehahnLP @MallMovie

— LINKIN PARK (@linkinpark) July 15, 2014
Anything we missed? Let us know in the comments, drop us a line or tweet us at @SD_Comic_Con.