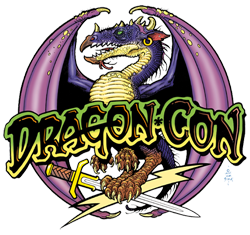 Atlanta's staple Sci-Fi and Fantasy convention, Dragon*Con (August 29 – September 1), is less than two weeks away. Despite the fact the official schedule of panels has yet to be released, the guest roster and off-site event list pack quite a punch. Badges are still available at the Dragon*Con Store for anyone who might be looking for some last minute fun on their long Labor Day weekend.
Here are some things to look forward to while you gear up for (or plan) your trip to the land of peaches and Coca Cola:
Guest Highlights:
James Gunn, fresh from the massively successful Guardians of the Galaxy, is headed to Dragon*Con.The screen writer/director will make an appearance at Dragon*Con this year and is sure to be a huge draw for Marvel fans. His brother, Shawn Gunn (likely best known from The Gilmore Girls, but who also stood in for Rocket Raccoon on set and one of Yondu's goons in the film) will also be appearing.
Tolkien fans rejoice: Jed Brophy, Adam Brown & Dean O'Gorman or, Nori, Ori & Fili of Peter Jackson's Hobbit films will be in attendance this year along with Billy Boyd (Pippin Took) and Manu Bennett (Azog).
Karl Urban will be at Dragon*Con for the first time. Fans will recognize him as Leonard McCoy in J.J. Abram's rebooted Star Trek series, as well as John Kennex in the wildly popular (and recently canceled) Almost Human.
Trekkies and X-Men fans alike will be excited to see Sir Patrick Stewart.
Firefly's Ron Glass (Shepard Book) and Adam Baldwin (Jayne Cobb) will be a big draw for fans of the Whedonverse.
ABC's popular TV show, Once Upon A Time will have several cast members in attendance: Lee Arenberg (Grumpy), Sean Maguire (Robin Hood), Rebecca Mader (Zelena), Robbie Kay (Peter Pan), and Giancarlo Esposito (Sidney Glass).
HBO's True Blood, currently airing its final season, will also be well represented: Michael McMillian (Steve Newlin), Nelsan Ellis (Lafayette Reynolds), Grant Bowler (Cooter), and Kristin Bauer (Pam) will all be at the convention.
The convention's roster also includes many other fandom favorites, from the worlds of Sci-Fi and fantasy. You can find the complete list of Featured Guests on Dragon*Con's site.
Many of the celebrities who attend D*C also offer photo ops and autographs, for a fee. Autograph and photo op pricing, availability, and schedules will vary based on each guest, but some guests allow for advanced photo op tickets to be purchased via Froggys Photos.
Off-Site Events:
Dragon*Con's annual Night at the Aquarium is scheduled for Saturday, August 30 from 7 to 11PM. During this time the Georgia Aquarium will be closed to the public and transformed into a Dragon*Con only party with a costume contest, cash bar, and DJ.
Tickets for this event start at $25 and can be purchased online now.
Saturday also marks the 13th Annual Dragon*Con parade, starting at 10AM. This event is free and open to any and all spectators. It will feature costumers, floats, celebrity guests and plenty of surprises. Information on the parade route as well as advice for spectators can be found on the Dragon*Con website.
Also, during the con the Atlanta Braves baseball team will be providing discounted tickets for games starting at $8. Ticketing information and prices are available here.
There are many other events throughout the convention – including the National Puppet Slam, The Rocky Horror Picture Show Live, and a Guest of Honor Awards Banquet. Find the complete listing on the site.
Considering Dragon*Con and wondering what to expect? Check out how D*C stacks up against Comic-Con.
What are you most looking forward to at Dragon*Con this year? Let us know in the comments!