Over the weekend, we asked our readers to vote for their #1 hotel choice for San Diego Comic-Con, to get a very rough, completely un-scientific idea of what the most popular hotels in Tuesday's General Hotel Sale will be.
Although several of the results seem like common sense (the closest hotels to the convention center are very popular!), some of the results did surprise us a bit. So first, let's take a look at the downtown hotels (click for larger):
Most hotels have at least one vote, but the top four (all with over 20 votes) are probably pretty obvious: the Hilton San Diego Bayfront, Omni San Diego Hotel, San Diego Marriott Marquis and Marina, and the Hard Rock Hotel. These are the four closest hotels to the convention center, meaning the shortest walk, and they're all also close to the Gaslamp District. Shocking, right? Let's look at the top six hotels though: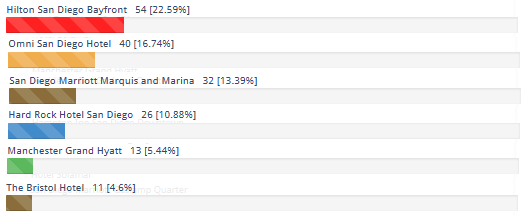 Then you add in the Manchester Grand Hyatt (also very close), and the Bristol Hotel, which holds the honor of being the cheapest downtown hotel option, with prices starting at just $188/night for one or two people.
What does that mean for you though?
As you're hopefully already aware, when the General Hotel Sale goes live on Tuesday at 9AM PT, you won't immediately know which hotel you got. That's because the folks at Travel Planners place you in a hotel based on the time stamp of when you submitted your form (though forms received within three seconds of each other are considered to have arrived at the same time and will be processed in a random order within that three-second grouping). On the form, you'll be ranking your top six hotels, in order of preference. If when they get to your form, your first choice is full, they'll move on to your second choice hotel. If that hotel  is full, they'll move on to your third, and so on.
Although the form gives you the option to select to be booked into any available downtown hotel, or any hotel that's available, no one but Travel Planners really knows how they select your next hotel. It could be that they simply slot you into the least full (and potentially least desirable) option. For that reason, we recommend that on your list of six, you select at least one hotel that isn't one of the top six hotel choices above. Our theory being that if most people are going to choose those six, at least by choosing a slightly less popular option, you've got a potentially higher chance of getting it.
Obviously, the best way to get a hotel is still just to type like a man-eating bear is going to devour you if you don't finish immediately, and to check out our Visual Guide so you know exactly what information will be asked of you tomorrow, but every advantage helps when it comes to Hotelpocalypse.
We also asked our readers to rank their most popular options in Mission Valley (unsurprisingly, Town and Country came in at #1 with 31% of the vote, followed by the Hilton San Diego mission Valley with 14%, and Doubletree San Diego Mission Valley with 12%), and the other areas (Sheraton San Diego Hotel and Marina proved popular with 24% of the vote, followed by a distant Holiday Inn San Diego Bayside with 11%, and Hilton San Diego Airport Harbor Island with 9%).
Do any of these choices surprise you? What hotel are you most hoping for tomorrow? Let us know in the comments.