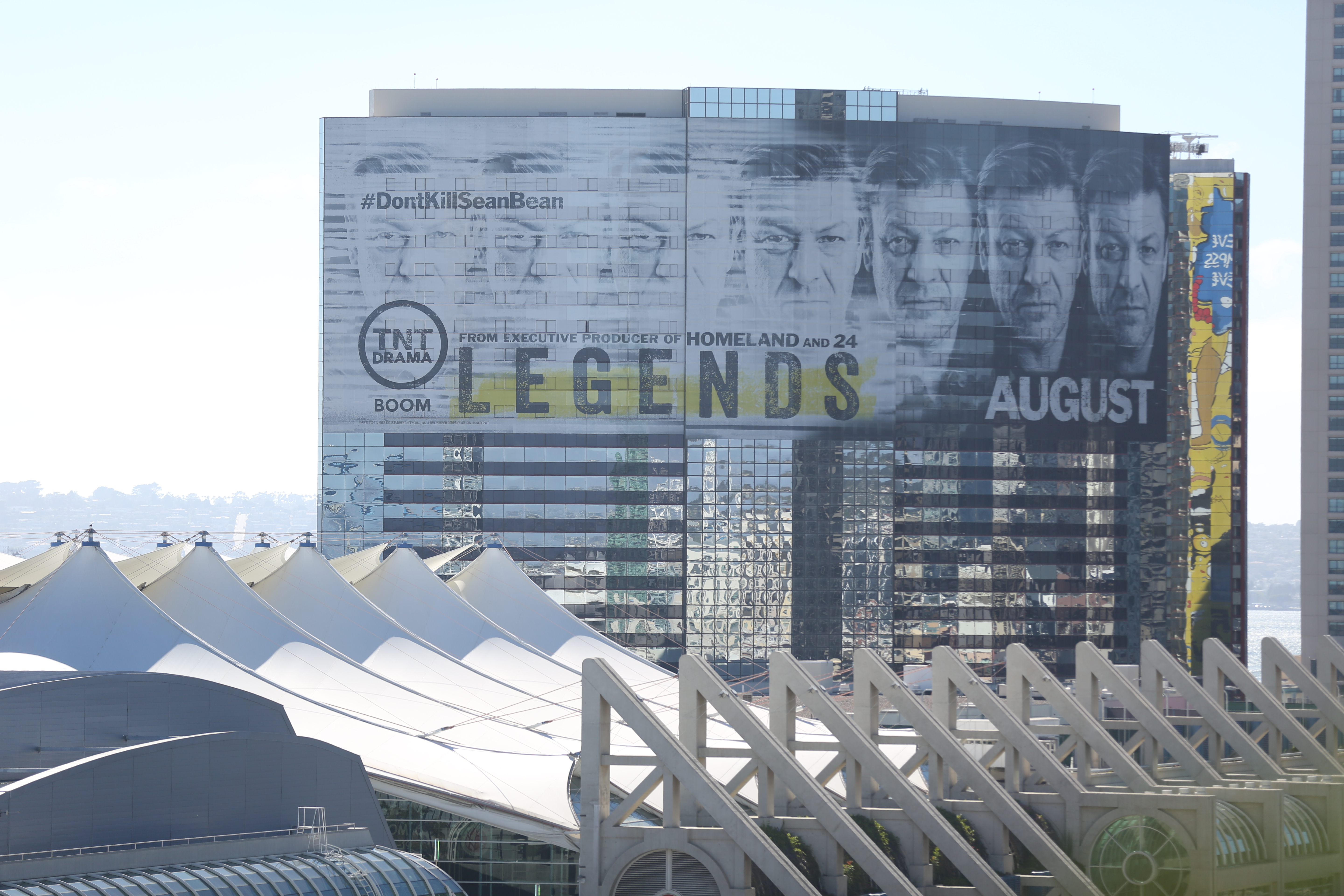 San Diego Comic-Con may be one of the few places where thousands of people get really excited about advertising. What movie will be featured on the downtown Comic-Con International banners? What will the trolley wraps be this year? What property is going to be gracing the side of your downtown hotel?
Companies go all out during the convention to try to get the attention of attendees on the show floor, in the panels, and on every available surface — but nothing stands out quite as much as the downtown wraps, which cover the sides of hotels, downtown buildings, and even Petco Park during the convention.
These wraps, which in the past have featured everything from Batman: Arkham City to The Simpsons to Once Upon a Time, are impossible to miss as they tower over San Diego Comic-Con, and help make the rest of downtown feel like one big extension of the convention center.
"Last year I really loved the Marriott — we call it the north wall, it's the tall wall on the south tower, but it's facing north — and it was for The Simpsons," Danny Peterson, the President of Above All Media, one of the companies who installs the wraps, said. "I just loved how artistic and how bright it was and just it really stood out amongst all the other art for Comic-Con that year."
Although to most Comic-Con attendees, the wraps just magically appear — they're up before out-of-towners get there, they're still up when they leave — it takes hours of manpower and months of planning to pull it all off.
Companies like Above All Media and Off the Wall Signs & Graphics have contracts with hotels like the Marriott Marquis & Marina to utilize the space, and go out and sell the advertising on their own. Once they have a client, they then get vetted by CCI, to make sure that the wrap makes sense for the convention.
"Once I have the advertising, the Marriott gets the okay from Comic-Con to proceed with that vendor. They have strict guidelines where this whole thing has to be part of the Comic-Con experience, so like they'll never let in a third party vendor like an energy drink. Nothing like that is allowed, it has to be Comic-Con related."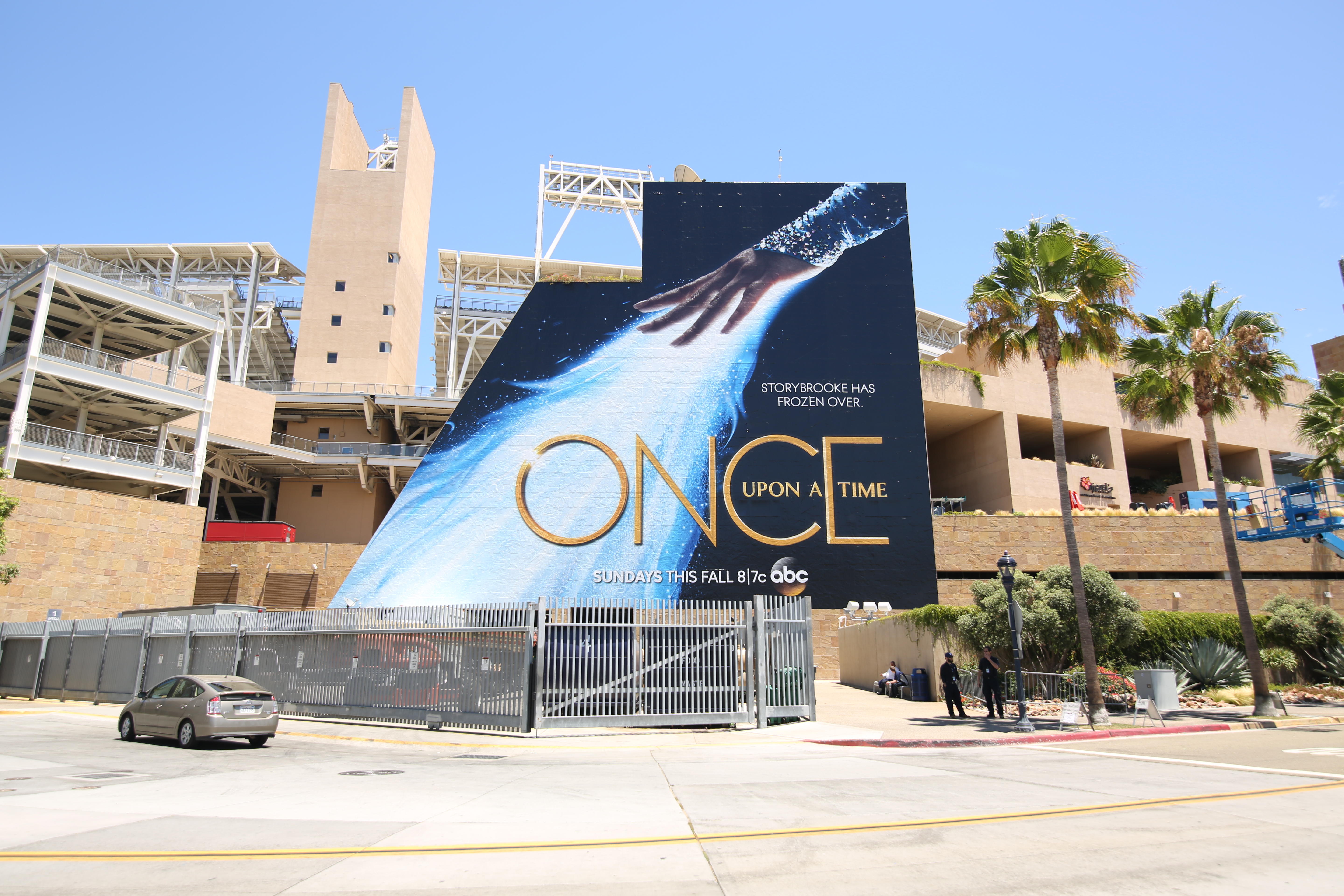 Once they have the okay, the real work begins.
According to Off the Wall Signs' owner Rocky Faith, something like the 34,000 square feet along the back wall of the Marriott takes about seven days of printing alone. Then they have to tile the pieces.
"It's almost like putting together a big puzzle," Faith said. "You have color proofs to follow to make sure that you're hitting all of the points you need to hit. We print that on an HP Latex 3000, and we can print about 1,700 square feet in about two hours, so we're pretty fast on one machine. Typically for each wall we'll be using the same machine. Once it's all produced and we make sure all the panels match up and everything is how it's supposed to be, we patch it all up and drive it out there."
Once they're on the ground in San Diego and have their crews settled in, they set up rigging — and can have as many as three stages going at the same time, to beat the time constraint. Not only are they only allowed to work certain hours so as not to disturb the hotel guests, but there's a time crunch as thousands of Comic-Con attendees will be descending upon the city any day. Faith estimated that they probably get, "about two-three weeks worth of work done in a two and a half day period."
"We have a large amount of vinyl, a large amount of square footage to install in a very short amount of time. So it makes us bring double the amount of manpower that you'd probably need if you didn't have such a short time frame," Peterson said.
The massive advertising wraps have only been allowed at Comic-Con since 2010, but in that time, they've already made a huge impact on both the convention, its attendees, and sometimes even the people putting them up. In 2011, Faith recalls being particularly excited about wrap on Petco for the then-upcoming video game Batman: Arkham City.
"Batman's such an iconic character, and to be putting a 200-foot-tall Batman on the side of a building is pretty cool. That's kind of what our job is – our job is to kind of play with these large stickers," Faith said. "I don't know many kids who didn't run around pretending to be Batman or Superman at some point, so it was pretty cool."
Faith is such a fan of both comics and video games that not only has he plastered the office walls at Off the Wall in comic book and pop culture wraps, but he's also attended Comic-Con several years.
"I love this event," Peterson said. "We just have that pride of doing this event each year for the people who put their trust in our companies to make this happen in such a short amount of time."
This year's wraps will be up before the 4th of July, and will stay up through the end of San Diego Comic-Con.