[UPDATE] There's been some confusion about whether you'd be able to leave the line and re-join your colored wristband section, or simply the back of the overall line. Thanks to Twitter user @LostTribe, we have some clarification, as someone at Comic-Con International informed her that "if you do not have anyone holding your spot in line with the same color wristband, you will go to the end of all color wristbands line". So it sounds like there will be a general mixed-colored-wristbands section at the very end that those who don't have friends holding their spots who chose to sleep in the warm comfort of their beds can join.
@SD_Comic_Con Here's some clarification on a point I think I've seen some people get confused about. #SDCC #HallH pic.twitter.com/SA1VlpM3sm

— Caitlin The Chronicler (@thecaitsith_) July 1, 2015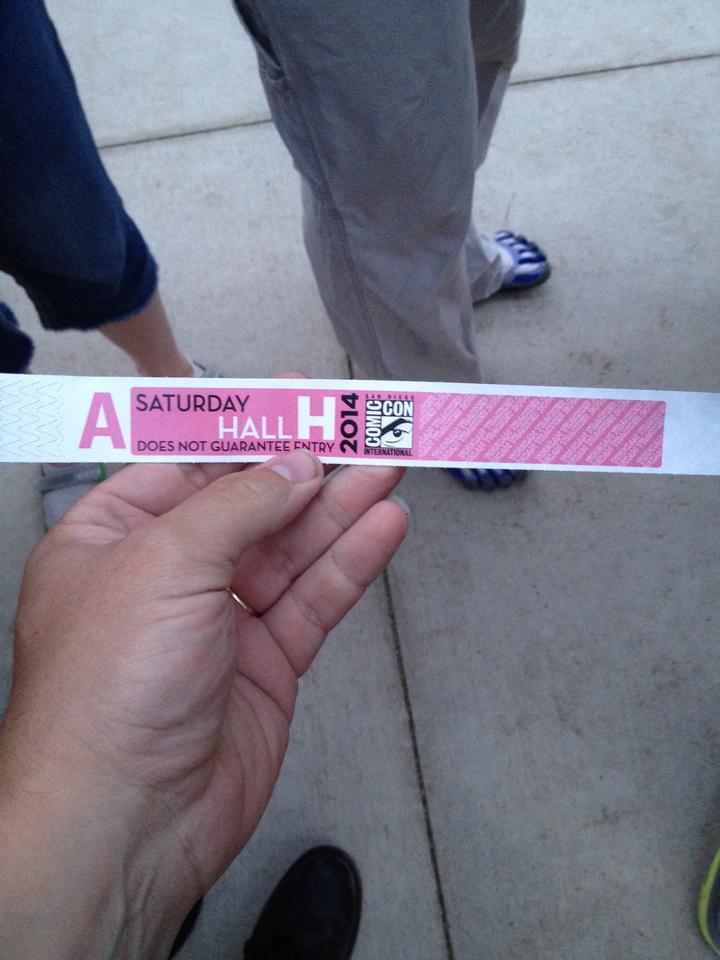 [PREVIOUS]Just as we announced last week, the Hall H wristbands are back this year — but there's going to be some big changes to the program.
The wristbands, which theoretically serve two purposes, are meant to be a way to let attendees know where they are in the line for the massive Hall, as well as cut down on line-cutters.
However, after last year when the line for Marvel was basically capped at 7PM — around the time they started even handing out wristbands — it became apparent that whether you loved or hated the system, it had some flaws.
Comic-Con International has changed things up this year, and just like always, we anticipate people will be on both sides of the fence on this new system.
The basics: Once you have your wristband this year, you don't have to stay in line.
You have three options, as Comic-Con International puts it:
1. You may immediately line up for the following day's first panel in Hall H.

2. You may leave someone to hold your place in line, and return before 7:30 AM to meet them. You will be allowed to join them in line as long as you have your wristband. Please keep in mind that all members of your group will need to get your wristbands at the same time, so plan accordingly.

3. You may leave, get a good night's rest, and return to the end of the wristband line before 7:30 AM. Please keep in mind that you must be there before 7:30 AM.
So long as you return before 7:30, you'll be able to re-join at the end of the wristband line. Although CCI does not break out how big each colored wristband section will be, last year, the groups were divided into 1/4 of the room – and we wouldn't be surprised if that stayed the case.
Wristband distribution starts late again, starting at 10PM on Wednesday for Thursday's panels, 8:30PM on Thursday for Friday's panels, 9:45PM on Friday for Saturday's panels, and 11PM on Saturday for Sunday's panels. Unlike last year, wristband distribution will continue all night, meaning that those who spent hours last year feeling like they couldn't leave to even run to the bathroom for fear of wristbands being handed out, can rest easy this year.
You'll get these wristbands at the Next Day Line, which will be back behind the convention center, with the exception of Thursday's wristbands, which will be handed out in the general Hall H line in Plaza Park..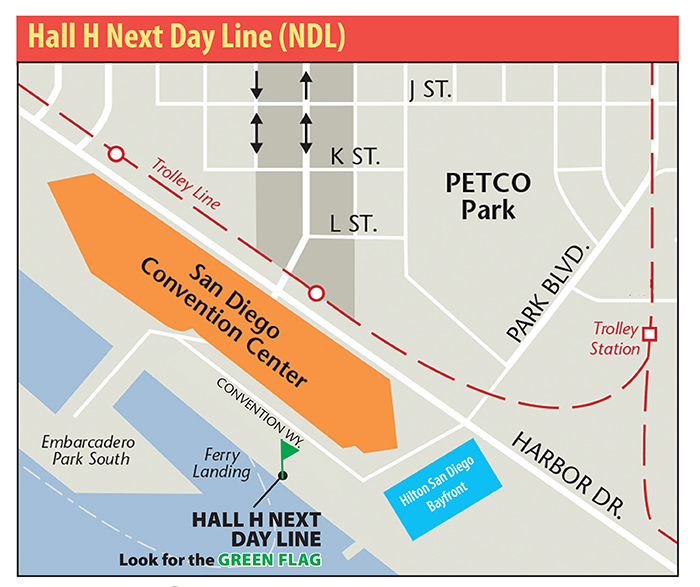 While several of these rules look to be designed to encourage attendees to feel like they don't have to sleep on the Hall H lawn all night, because the wristbands don't guarantee you keep your exact spot, only that you make it into the hall, it will be interesting to see what, if any, impact this has on camping out.
You can read all of the rules and information about this year's Hall H wristband policy on their site.
What do you think of the changes to the Hall H wristband system? Let us know in the comments.