So you have a badge – great! But, uh, where do you turn that barcode in for the actual badge?
Let's start with the basics – there are two locations to pick up your badge: the San Diego Convention Center on the upper level, and the Town & Country hotel in Mission Valley, though the latter is only used on Wednesday. For the most part, you only need to be concerned with the convention center – unless you fall into the dreaded category of "Thursday Daily" or "4-Day with No Preview Night".
Here's a quick chart from last year – though all of the information is the same except the dates: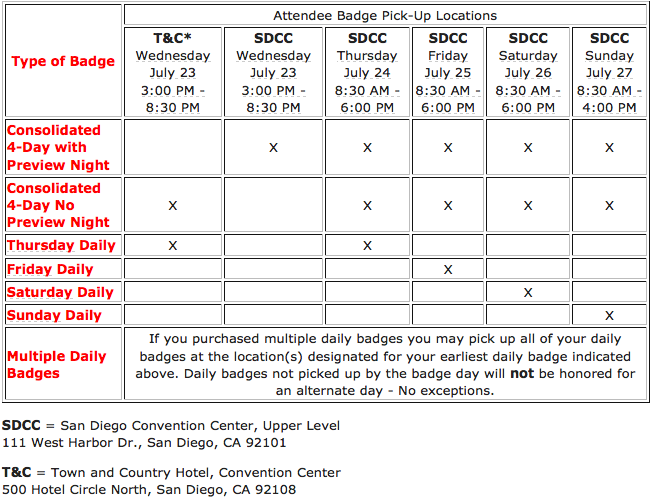 In that case, you'll be headed over to the Town & Country in Mission Valley if you want to pick up on Wednesday. If you're picking up Thursday, you'll head to the convention center anyway.
The official schedule states that T&C open at 3PM, but in our experience, they really start handing out badges around 1PM. The lines get very long here, so we recommend taking the trolley, your car, or a taxi over to the T&C as early as you can. The shuttle buses usually don't start running until closer to 2 or 3, so if you're taking our advice, you won't be able to use those to get there. If you go over later, hop on the shuttle! It's free!
If you have any other badge combination (4-Day with Preview Night, or Friday, Saturday, or Sunday stand alone badges), then you'll be headed over to the convention center instead. In our experience, this line moves a lot faster than T&C.
Above all else, don't forget your barcode e-mail when picking up your badge. We recommend a physical copy as backup, as who knows what can happen if you keep it on your phone – poor reception, your battery could die, etc. And if you don't already know where your barcode e-mail is, find it. Now.