UDON Entertainment, which publishes some of your favorite comic books, graphic novels, and manga, is headed back to San Diego Comic-Con this year in a big way. The company is well known for their work with several Capcom properties, like Street Fighter, and their popular "The Art of" books for Capcom, Mega Man, and more – so expect big things from the company, as they always bring it at the convention. You'll be able to find them this year at Booth #4529 on the show floor.
So just what does UDON have up their sleeve for San Diego Comic-Con 2015? Let's take a look:
[UPDATE June 30] For those of you who have been hoping for UDON to offer pre-orders for at-show pickup, you're in luck. This year, they're offering pick-up on three exclusives:
Capcom Fighting Tribute Exclusive Hardcover Edition with cover art by Long Vo
Street Fighter V: The Life and Death(s) of Charlie Nash Hardcover
Street Fighter 25 Akiman Hardcover Limited Edition
Plus, they also announced some exciting bonus round exclusives:
STREET FIGHTER LIMITED EDITION METAL CARDS COLLECTION – SERIES 1
UDON is proud to bring you the next level of STREET FIGHTER collectible at Comic-Con! Introducing the debut of our STREET FIGHTER
LIMITED EDITION METAL CARDS! These cards will be included as a bonus with each $60 purchase or more at the UDON booth at Comic-Con. Precisely crafted with special laser etching, printing, and die-cut technology, these metal trading cards feature brand-new artwork by SUPER STREET FIGHTER II TURBO HD REMIX artist Long Vo. Did you say "surprise bonus with each purchase?!"  We can definitely do that! STREET FIGHTER LIMITED EDITION METAL CARDS SERIES 1 includes 4 silver cards (Ryu, Chun-Li, Dhalsim, and E. Honda) to be RANDOMLY given out to fans who make the qualified purchases. A bonus 5th gold Evil Ryu card will be available only with the purchase of CAPCOM FIGHTING TRIBUTE! Beat this bonus stage with a perfect score and collect the whole set!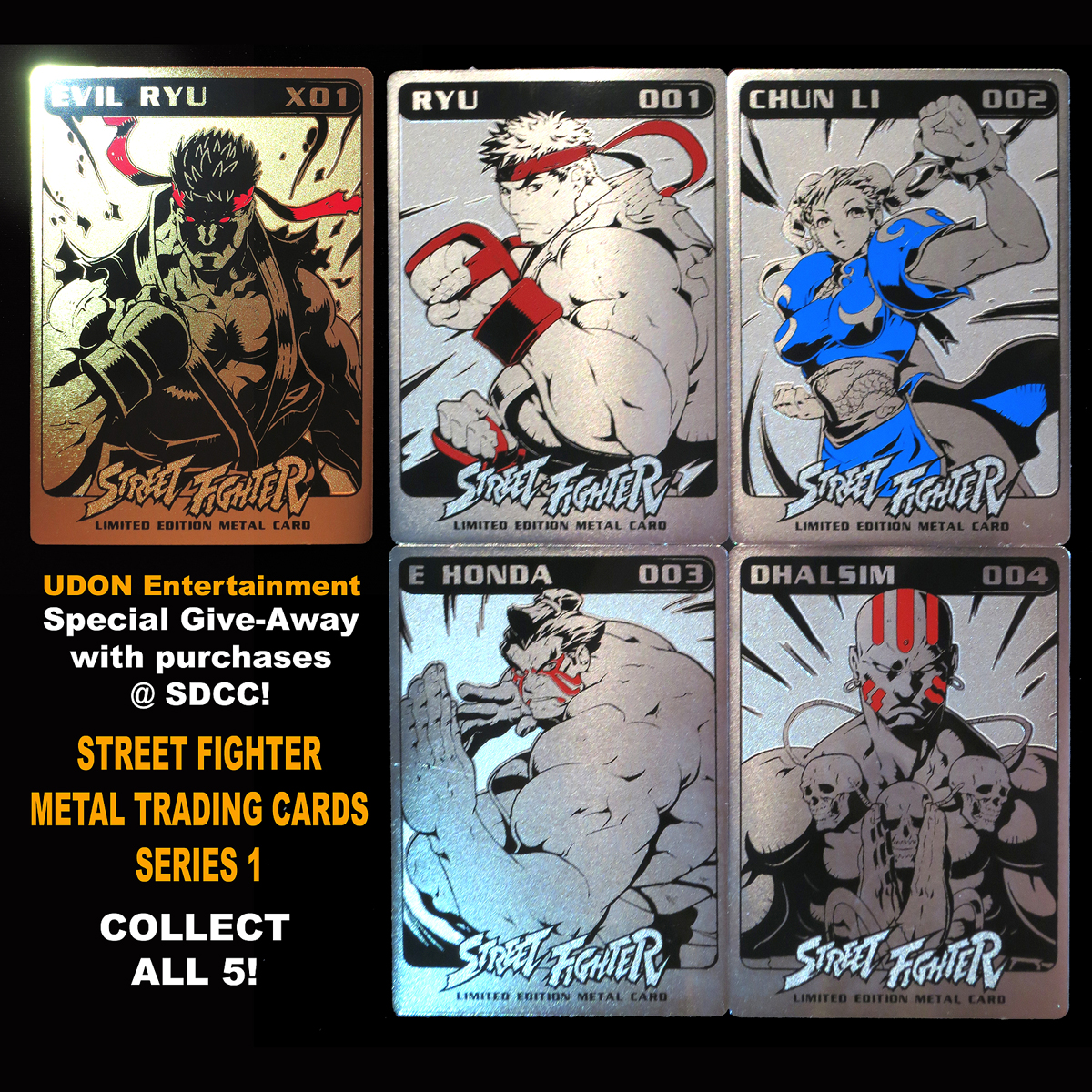 Bonus items also applies to the Show Pick Up Pre-Orders.  Metal Cards will be given out to customers when you pick up the books at the UDON Entertainment Booth
[UPDATE June 25]  UDON's third round of Comic-Con exclusives feature some awesome new dust covers for your favorite Street Fighter works – and best of all, inside each book is a mystery pin-up girl. Here's a look:
STREET FIGHTER WORLD WARRIOR ENCYCLOPEDIA – CONVENTION EXCLUSIVE VS SPECIAL EDITION
Street Fighter Fans, this is YOUR bible!  If you want every detail about all of your favorite Street Fighter characters, this is a must have book!  This special edition convention exclusive features a KEN VS BLANKA dust jacket that matches the entire VS series of previously released UDON Convention Exclusives. Be sure to check out the hidden Beach image inside dust jacket!
Price – $35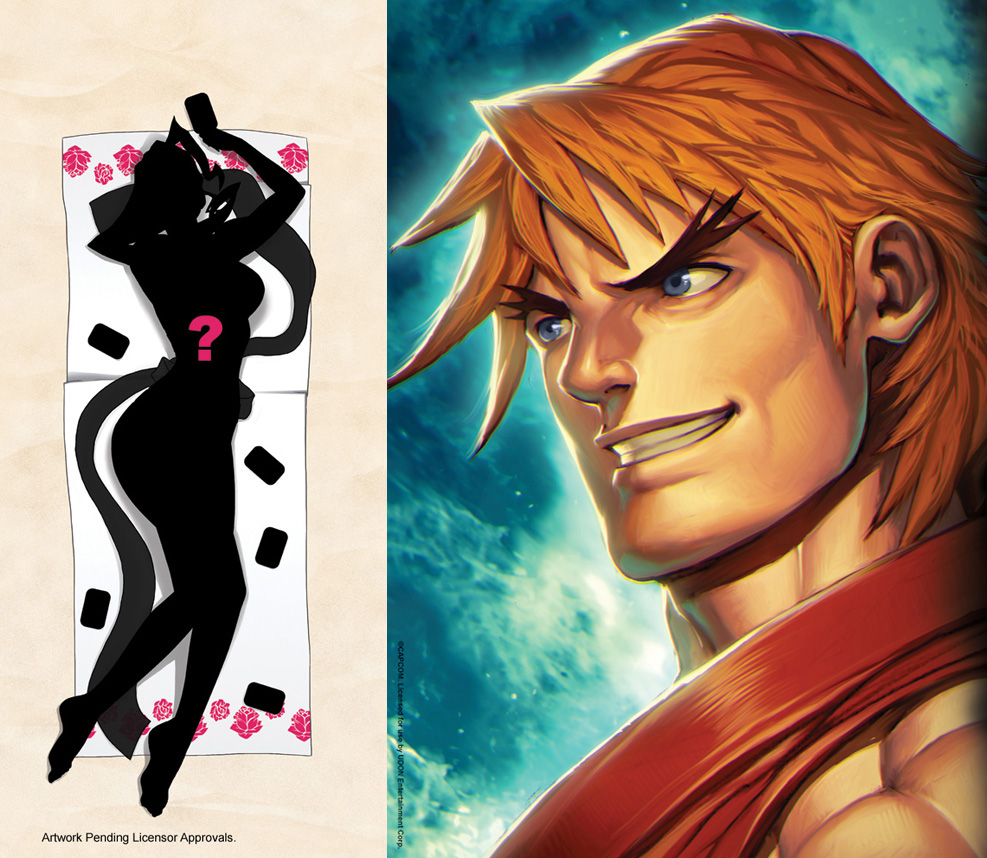 STREET FIGHTER LEGENDS: CHUN LI – COMIC-CON EXCLUSIVE VS SPECIAL EDITION
The long out-of- print, STREET FIGHTER LEGENDS: CHUN LI returns as an over-sized hard cover to join the rest of the current Street Fighter collection!  Also featuring a brand new short story made exclusively for this volume.  This new edition is making its debut at Comic-Con International with an exclusive dust jacket featuring SF ALPHA CHUN-LI VS FEI LONG and a hidden Beach image inside!
Price – $35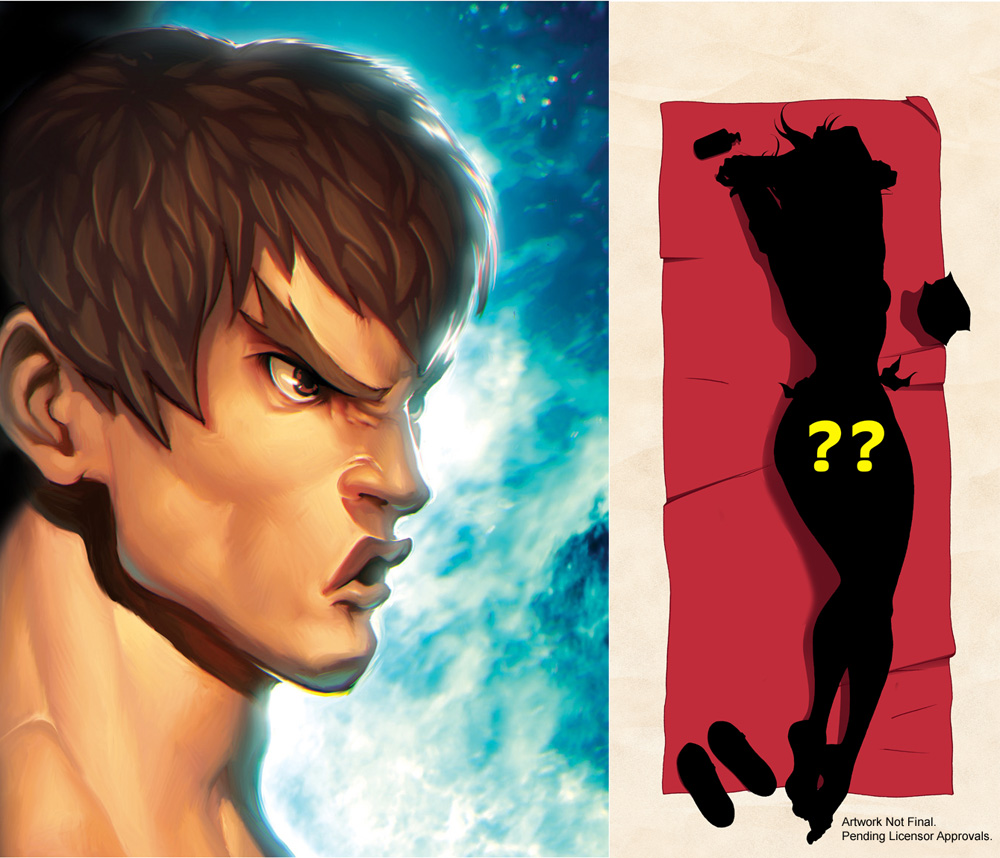 SUPER STREET FIGHTER VOL.2 – COMIC-CON EXCLUSIVE VS SPECIAL EDITION
Continue your collection of UDON's Exclusive VS Special Edition Street Fighter hardcover graphic novels! This convention exclusive edition features a POISON VS ALEX dust jacket to match all previously released VS editions and includes the hidden Beach image inside!
Price – $35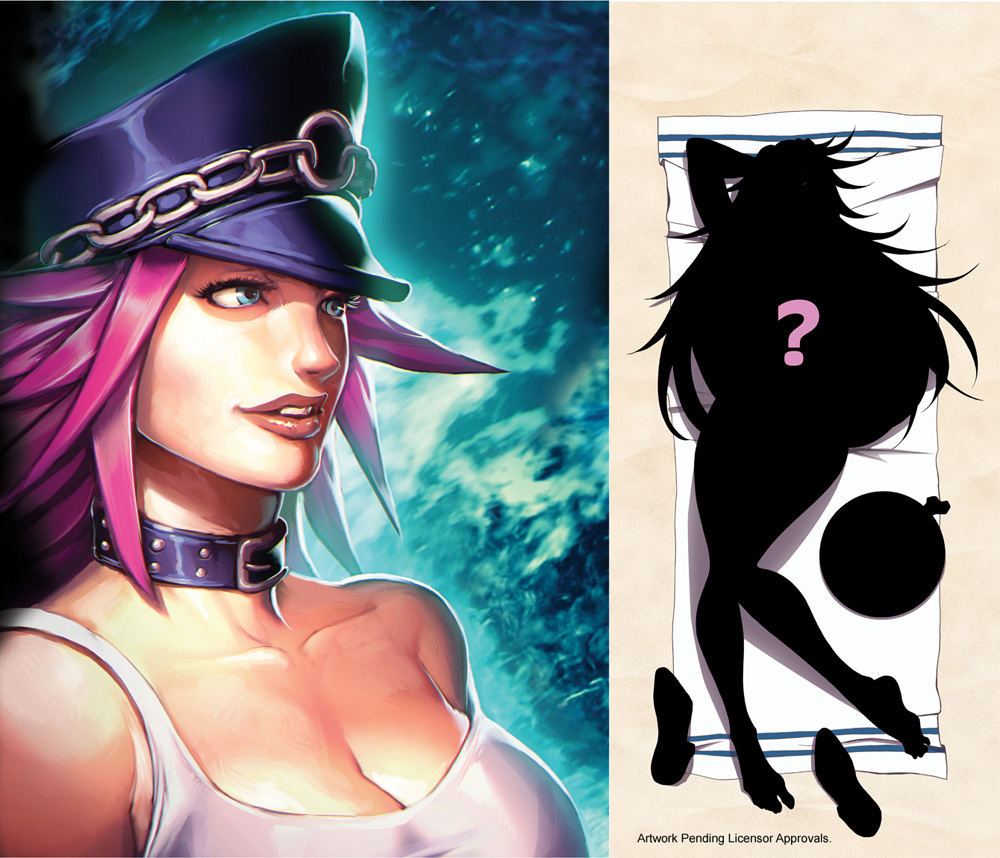 [UPDATE June 19] UDON rolled out another exclusive for Comic-Con today – Street Fighter 25 – Akiman Limited, which are individually numbered and available in a hard-cover edition. From UDON, here's the description, as well as details on how to win a one-of-a-kind drawing from Akiman:
AKIMAN, the legendary Street Fighter artist, is coming to San Diego Comic-Con! Best known as the creator of Chun Li and other Street Fighters, Akiman will make a very rare appearance at Comic-Con this year at the UDON Booth.  To celebrate this event, UDON is offering a very limited edition of the SF25 art book in hard cover format with Akiman's Chun Li artwork gracing the cover!  Strictly limited to 200 copies, each copy will be individually numbered.  Fans purchasing this extremely limited collector's edition will be guaranteed the opportunity to meet Akima-sensei for autographs (certain restrictions apply)!  Fans will also have a chance to win a one-of-a-kind original drawing of Chun Li on a Japanese signing board from Akiman!  Do not miss out on this once in a life time chance and be one of the 200 lucky fans!!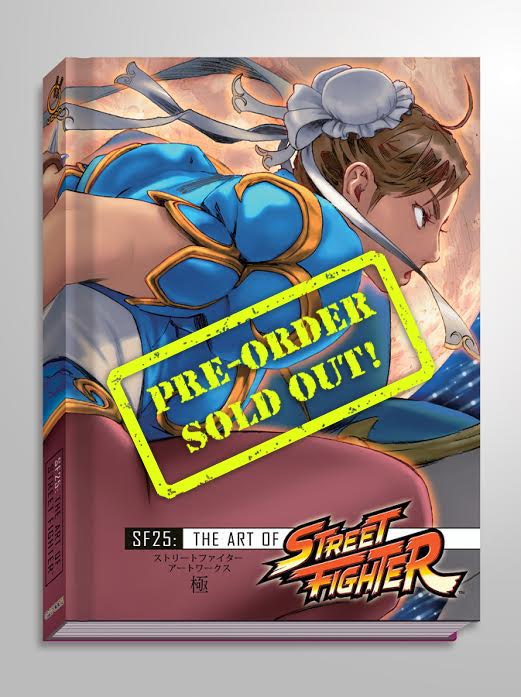 The highly respected Street Fighter artist, Akiman, will also be at the UDON booth.
They also unveiled another exclusive – an UDON and Squid Kids Ink collaboration: the Mini 10-Doh! figure with art by Jeffrey "Chamba" Cruz. You can purchase this exclusively at the Squid Kids Ink Booth #5051, then bring it over to the UDON Booth #4529 to get it signed by Chamba.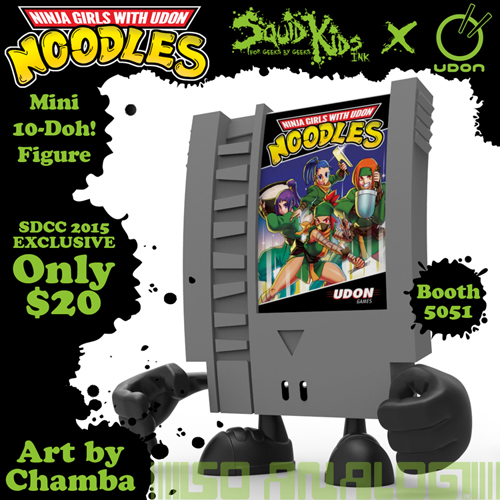 [UPDATE June 11] UDON rolled out their first round of San Diego Comic-Con exclusives today, which includes a beautiful Capcom Fighting Tribute hardcover, and a Street Fighter V: The Life and Death of Charlie Nash hardcover. Here's the details:
CAPCOM FIGHTING TRIBUTE – EXCLUSIVE HARDCOVER WITH COVER ART BY LONG VO
UDON's popular series of tribute projects is back, and it's packing a bigger punch than ever! We are proud to present CAPCOM FIGHTING TRIBUTE! This 280-page art book brings together artists from across the world to celebrate their love for all Capcom fighting games and beat 'em ups, including Street Fighter, Darkstalkers, Rival Schools, Captain Commando, Red Earth, and more!  The Special Convention Edition Hardcover features exclusive cover art by Super Street Fighter II Turbo HD Remix artist Long Vo.  Vo will also be available at the UDON booth for signings all weekend!
Only 300 copies available at Comic-Con International.
Price: $100
STREET FIGHTER V: THE LIFE AND DEATH(S) OF CHARLIE NASH HARDCOVER
The world's most popular fighting game franchise continues with STREET FIGHTER V, coming soon from Capcom! In the meantime, UDON is thrilled to bring you the first Street Fighter V-related story at Comic-Con International! Players around the world were ecstatic to hear of the return of fan-favorite character CHARLIE NASH to the series. Now, find out how he returned in our original comic production, THE LIFE AND DEATH(S) OF CHARLIE NASH! This book gives you the scoop on what Charlie has been up to since his last appearance in our comics! This 48-page, oversized hardcover book contains all brand-new content, and fans buying this sure-to-be-hot item will also get a FREE head sketch from one of the UDON artists present at the show. Oh, and don't worry – this book also matches the rest of the collected edition books in the franchise. THE LIFE AND DEATH(S) OF CHARLIE NASH is a convention exclusive and will not be available in stores!
Only 300 copies available at Comic-Con International.
Price: $30
Cover Art: Steve Mack and Espen Grundetjern
[UPDATE June 4] We've got the inside scoop from UDON, and we're excited to give you a sneak peek at what they've got up their sleeves.
The full reveal of the new figure will be happening in just a few short days, so be sure to keep an eye on this space. But here's a first look: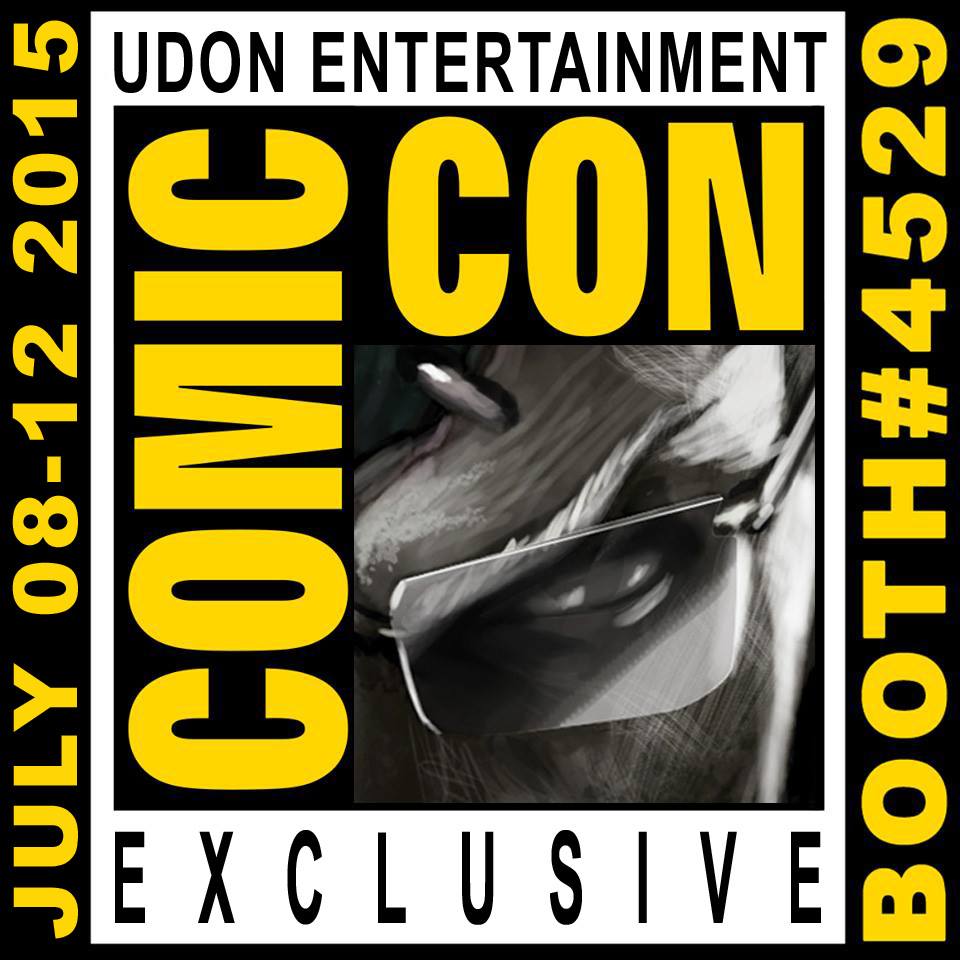 Are you excited about UDON's Comic-Con offerings? Let us know in the comments.