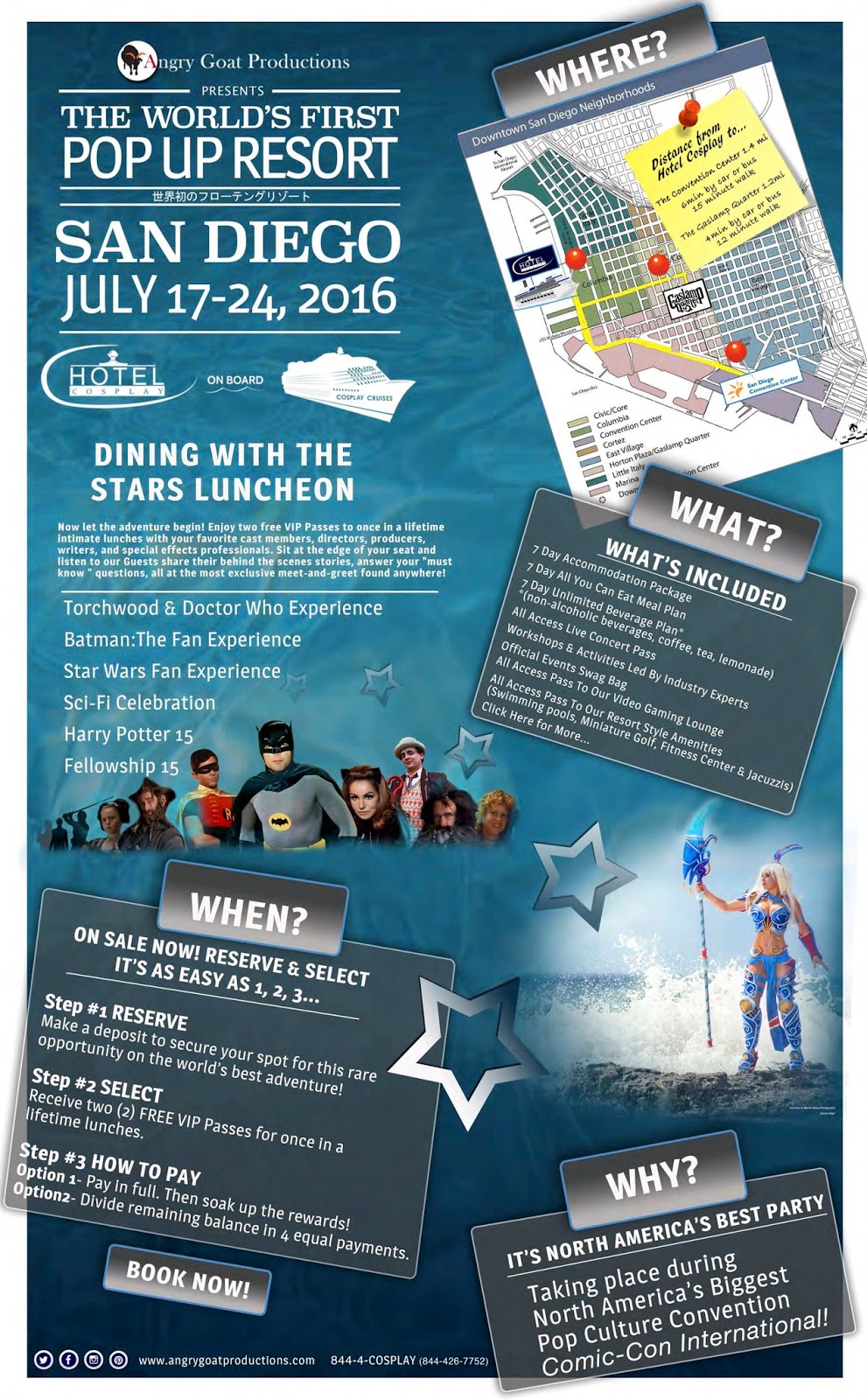 As first reported by The Nerdy Girlie, Angry Goat Productions, which operates a luxury cruise ship offering Cosplay Cruises aboard their Hotel Cosplay, is heading to San Diego Comic-Con 2016. The ship, which will provide up to 2,500 guests with cabins aboard the ship, a 900-seat theater, a gaming lounge, a video game lounge, a swimming pool, miniature golf course, celebrity guests, and even free 24-hour pizza delivery, will be docking in San Diego during Comic-Con.
So that's a new, unique way to experience the convention, and to go ahead and secure your hotel room – assuming, of course, that you and three of your nearest and dearest friends have around $1,700 to blow. Each.
Prices start around $243 per person for a four-person room each night of the seven night cruise as part of the Fantastic Four Friends & Family Four-Pack, which means that in total, the room will cost around $6,804. Now, that does include all you can eat meals for breakfast, lunch, dinner (and that pizza delivery any time of day or night!) for each of the seven days, as well as access to live concert passes for performances by Library Bards, and access to celebrity guests.
William Kircher, who portrayed Bifur in The Hobbit trilogy, will be acting as Director of Entertainment aboard the ship. Other celebrity guests include Adam West, Burt Ward, and Julie Newmar from the original Batman television series, who fans can mingle with during a Dining with the Stars Exclusive Luncheon. Each guest will be granted two passes, to use at either the Batman The Fan Experience, Fellowship 15, Sci-Fi Celebration, Star Wars Fan Experience, Harry Potter 15, or Torchwood & Doctor Who Fan Experience. Guests for those other experiences have not yet been announced. They also promise celebrity Q&A panels.
Also on board, guests can participate in events and workshops like the Quidditch University where they'll learn to ride brooms along with the pros and play a game of Quidditch, the Jedi Knight School, the Swordmaster Academy, the Hollywood Special Effects Workshops, Yoda Yoga, the Cosplay Design Workshop, trivia contests, bingo, Arrow Archery Academy, and much more.
The ship departs from Long Beach on Sunday, July 17, with a stop to Ensenada, Mexico, on Tuesday, before docking in San Diego for the Comic-Con festivities at 7AM on Wednesday, July 20. The ship will head back to Long Beach on Sunday at 1AM (though we're presuming you can probably just get off a day early if you choose to attend Sunday at Comic-Con), and will dock at Long Beach for final disembarkment at 8AM on Sunday.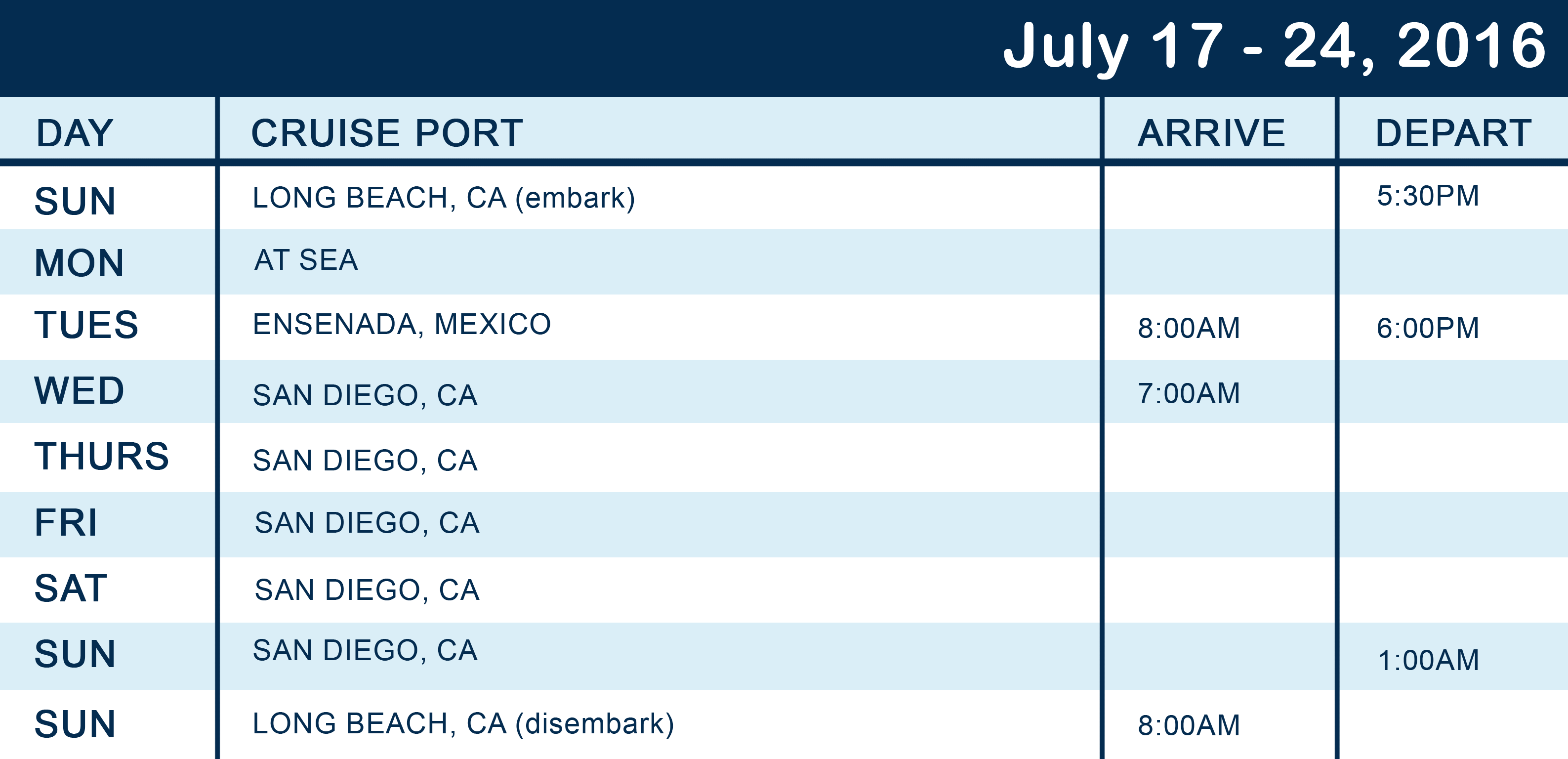 Depending on the celebrity guests the cruise manages to attract, it may be a very cool experience indeed – but at that price point, Angry Goat Productions better really deliver.
You can find all prices on Angry Goat Production's site, and book your cruise there as well.