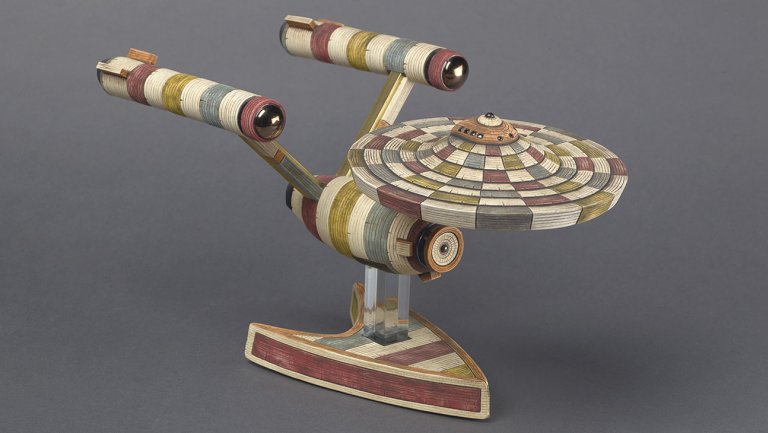 It really is shaping up to look a lot like the year of Star Trek at this year's San Diego Comic-Con, with the first details revealed about the upcoming Star Trek: 50 Artists, 50 Years touring art exhibit that will be landing at San Diego Comic-Con this summer.
The exhibit will make its debut at the Michael J. Wolf Fine Arts gallery in the Gaslamp in San Diego, where the exhibit will be open Thursday, July 21 – Sunday, July 24.
Artwork for the exhibit is a dedication to the franchise's 50-year-history, with pieces by Leonard Nimoy, Tom Whalen, Rocco Malatesta, sculptor Calvin Ma, Joshua Budich, and many more. Additional art pieces will be revealed online leading up to the opening, by artists like Matt Ferguson, Patrick Connan, Derek Charm, and more.
After debuting at San Diego, the exhibit will then head off to the Star Trek Las Vegas convention in August, the Canadian National Exhibition in Toronto in August, and then continue on the road over the next year (including a stop in the UK for the Destination Star Trek Europe convention in October).
Attendees can get their Star Trek fix in a variety of other ways this year, including a Star Trek Trek Talk headed for the convention, and an appearance for William Shatner (which may be related to the Trek Talk). It's also very likely we'll get a panel for the upcoming 2017 untitled Star Trek TV series helmed by Bryan Fuller, considering CBS Consumer Products is behind both the art gallery and the Trek Talk.
Here's a look at some of the pieces:
You can find more information on StarTrek.com.
Will you be stopping by the Star Trek Art Exhibit? Let us know in the comments.