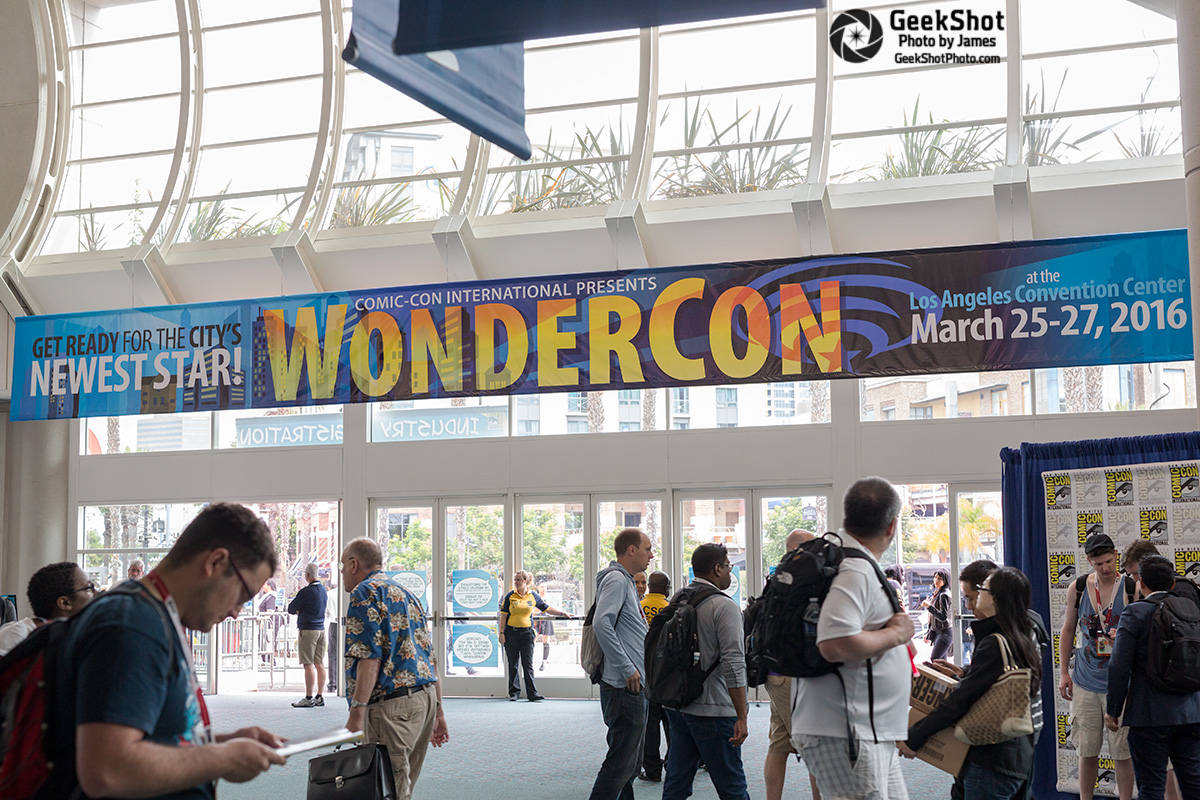 WonderCon, Comic-Con International's sister show to San Diego Comic-Con which has (at least temporarily) moved to Los Angeles this year, is just a couple of weeks away. Earlier today, we all got the whole convention schedule, and it's filled with fan-favorites from TV, comics, and… a little film. It's not the media-crazy event that is SDCC – some say it's more akin to what SDCC used to be – but there's more than enough interesting programming to fill most of the day and still get you time on the Exhibit Floor.
We've combed the schedule for our favorite panels to help you plan your weekend. With that said, bring on the highlights!
Friday, March 25
The convention kicks off Friday at noon with a Spotlight on comics legend Humberto Ramos, best known for his work on Extraordinary X-Men and Nova. Over in the Microsoft Theater at 12:45, we kick off a weekend of TV panels with Freeform(formerly ABC Family)'s Stitchers, with cast and producers.
WonderCon continues to be a great convention if TV is your preferred medium. All day Friday, you can catch panels like Damien or Shadowhunters at 2PM, iZombie at 4:30PM, and Bob's Burgers at 4PM. Plus, you've got your first chance to see several TV series ahead of the rest of the world, including the hotly anticipated AMC series Preacher (with cast Dominic Cooper and Ruth Negga on hand to answer questions), the CW series Containment, and even the upcoming FOX mini-series Houdini & Doyle starring Michael Weston and Stephen Mangan in a story about the friendship between Harry Houdini and Arthur Conan Doyle.
Comics fans have a lot to be excited about on Friday. There's the Spotlight on prolific Marvel and DC writer Charles Soule at 1PM in 515A, a look at DC Comics reimagined classic Hanna-Barbera universe at 2:30PM in Room 403AB, and "Marvel: Next Big Thing", where one of the biggest names in comics makes a rare SoCal appearance as Brian Michael Bendis is featured in a panel that tells attendees the next steps in the Marvel comic universe. First-timers new to the world of Valiant can head to Room 152 for "Valiant 101: New Fans Start Here" to get your first dose on why Valiant continues to be one the buzziest names in comics. Then at 3:30, hop over to the IDW Publishing Panel for a look at their upcoming schedule (and prizes!); at 5:30, stop by 403AB for the Spotlight on legendary DC Entertainment co-publisher Jim Lee. There's also a look at the darker side of protagonists in "Dark Heroes" with Jason Fabok, Terry Moore, and Bill Sienkiewicz.
The main event of the day, though, is definitely over in the Microsoft Theater at 5:45: Paramount Pictures' Teenage Mutant Ninja Turtles: Out of the Shadows panel. Cowabunga!
You could squint and say Netflix is coming with "Streaming Success: Behind the Scenes of Your Favorite Binge-Worthy Shows" at 5:30PM in 515B, which includes VFX artists, composers, production designers, and costume designers behind such shows as Marvel's Daredevil, Marvel's Jessica Jones, Bloodline, and House of Cards. There's also never been a more-appropriate time for the Comics Arts Conference panel "Captain America vs. Iron Man: Freedom, Security, Psychology in Marvel's Civil War and Beyond". And if you're as big of a fan of musicals as we are, you'll want to check out "Rise of the TV Musical" at 6:30PM in 515B with panelists from Galavant, School of Rock, Grease Live!, and more.
Saturday, March 26
On Saturday, set your alarms early to head to Petree Hall at the Los Angeles Convention Center for the unveiling of DC's UNIVERSE: REBIRTH, with entry starting at 7AM and the event kicking off at 9AM.
At the actual convention, things get started a bit earlier, with the first panels at 10AM. If you're a fan of animation, you'll definitely want to stop in for "The TV Animation Story Editors Panel: Breaking In and Staying In", with writers for Star Wars Rebels, Green Lantern: The Animated Series, My Little Pony Friendship Is Magic, and more. Animation fans should take take note of the 5:30PM look in Room 403AB at a documentary about The Iron Giant, with panelists Brad Bird and documentary director Anthony Giacchino.
The biggest question mark on Saturday's schedule, of course, is the 12PM-1PM Microsoft Theater schedule New Line/Warner Bros. panel. As we've written about ad nauseam, the big studios have a habit of not revealing exactly what they'll be bringing the convention when the schedule is released – and this year is proving no exception. There's a lot of potential in that panel – Warner Bros. has Suicide Squad and Fantastic Beasts and Where to Find Them on their slate, but it's more likely to be something along the lines of The Conjuring 2, Keanu, or The Legend of Tarzan – likely with a trailer or some special footage for a larger product sprinkled in. An hour isn't a lot of time, so we're likely looking at only two presentations. Time will tell.
TV continues to be the king of WonderCon, with everything from an 11AM look at the first season of TNT's The Last Ship in 408AB (with cast Adam Baldwin, Rhonda Mitra, John Pyper Ferguson, Charles Parnell, Travis Van Winkle, and Jocko Sims), to Wayward Pines at 12PM in Room 408AB with producer M. Night Shyamalan, a screening of Scorpion at 1PM in 408AB, ABC's Marvel's Agents of S.H.I.E.L.D. in 408AB at 2PM, Sleepy Hollow with cast and producers at 4:30 in 408AB, Orphan Black's male stars Jordan Gavaris, Kristian Brunn, and Kevin Hanchard at 6:30 in Room 408AB… Basically, just stay in 408AB, unless you want to catch Alan Tudyk and Nathan Fillion discussing their web series Con Man in the Microsoft Theater at 1:15PM.
Warner Bros. Home Entertainment debuts their world premiere of the animated feature Justice League vs. Teen Titans in a panel that includes Jason O'Mara, Jerry O'Connell, Christopher Gorham, Sean Maher, Stuart Allan, Jake T. Austin, Brandon Soo Hoo, and Kari Wahlgren.
In the wonderful world of comics, we've got our eye on the Spotlight on Bill Sienkiewicz, the backbone of more comic and multimedia projects than you can imagine and this panel givers the Emmy-nominated and Eisner Award-winning artist/author a well-deserved spotlight. There's also "Mighty Morphin Power Rangers: It's Morphin Time" at 12:30PM in Room 152, the Spotlight on Superman artist John Romita Jr. at 1:30PM in 403AB in a rare SoCal appearance, "Image Comics: Where Creators Own Craft" with Ed Krubaker, Kurtis Wiebe, Tom Neely, Greg Hinkle, and Malachi Ward at 2:30PM in 403AB, and "BOOM! Studios: Discover New Worlds" at 4PM in 515A.
Other panels we're excited about include "Millennium Falcon, X-Wings, and TIE Fighters: Creating the VFX for The Force Awakens", an inside look at the visual effects from the people who brought you the latest Star Wars. There's also "Universal Studios Hollywood: New Attraction" at 1PM in 515A, which promises a behind-the-scenes sneak peek at what's coming next to the popular theme park. And of course, head to the Microsoft Theater at 8:30PM for the Masquerade.
Sunday, March 27
The weekend wraps up with Sunday, and it's relatively light on panels.
No CCI convention is complete without Chris Hardwick, who holds his usual Nerdist panel at 11AM in the Microsoft Theater. Then stick around in the same room, because it's back-to-back TV powerhouses The 100 (with cast Eliza Taylor, Bob Morley, Devon Bostick, Christopher Larkin, Lindsey Morgan, Richard Harmon, Isaiah Washington, and Henry Ian Cusick, with executive producer Jason Rothenberg) and DC's Legends of Tomorrow (with cast Brandon Routh, Caity Lotz, Ciara Renée, Franz Drameh, and executive producers Marc Guggenheim and Phil Klemmer).
Ever wanted to build your own droid? Head on over to "How to Build Your Own R2 Astromech" at 10:30AM in Room 411. And don't miss the uproariously funny Warner Archive Collection podcast hosts Matt Patterson and D.W. Ferranti in Toonstock 4 at 1PM in 408AB, where they'll lead a sing-along to classic cartoon music. Other solid picks include "Fandom in the 21st Century" at 10AM in 502B, "Event and Cosplay Photography" at 12PM in 502B for both photographers and cosplayers, a tribute to the legendary Jack Kirby at 3:30PM in 502A, and a look at how your favorite properties get a second life in the world of comics in "The Importance of Licensed Comics in the Industry" at 10:30AM in 515B.
As always, the convention will close with the WonderCon Talk Back, a sort of town hall meeting where attendees can discuss anything they feel should be addressed with Comic-Con International staff.
Of course, there are tons more awesome panels at WonderCon we couldn't list, so be sure to check out the entire programming schedule. And sign up for MySched, mark your favorite panels and see which ones your friends are going to.
We'll be breaking down the schedule further, including our suggestions for wait times, on our annual WonderCon Schedule Breakdown this Sunday.
Which panels are you looking forward to most? Let us know in the comments.