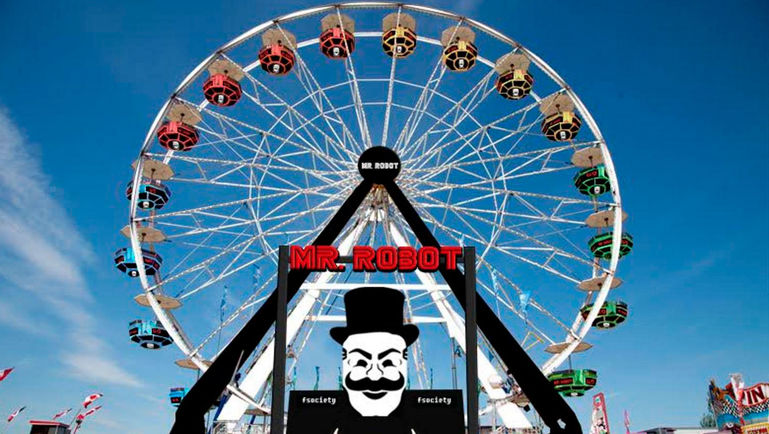 USA made one its strangest decisions at San Diego Comic-Con last year when it chose not to bring Mr. Robot to the official convention, when cast members Christian Slater and Rami Malek were in town for a Nerd HQ panel.
After a stellar SXSW appearance and offsite (which included a re-created Coney Island and fsociety headquarters, complete with ferris wheel), we've got high hopes that USA has realized the potential the show has for San Diego Comic-Con this year.
Yesterday, the network tweeted out some Mr. Robot merchandise, with the tagline, "Get geared up for #SDCC and join the revolution."
When we asked the network about the tweet, they removed it from Twitter, and told us that they couldn't confirm an appearance at this time – but it begs the question of whether or not USA was merely trying to cash in on Comic-Con attendees in need of shirts to wear the convention, or whether they really are planning a Mr. Robot revolutionary takeover of the con this year.
Here's a look at the original tweet: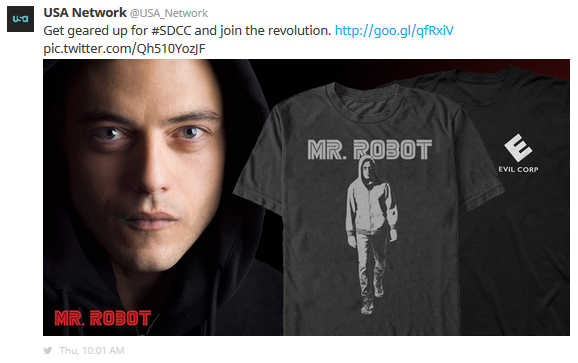 Season two kicks off on July 13, which means the series would have plenty of footage to show at the convention. And while it's not about dragons or aliens, the series – which follows cybersecurity engineer and hacker Elliot Alderson (Malek) – has a large "geek" audience. Plus, it's also just an awesome show – so you should all be watching it.
Would you like to see Mr. Robot at San Diego Comic-Con 2016? Let us know in the comments.