Skybound, Robert Kirkman's company which publishes The Walking Dead and other titles, has started revealing its line-up of San Diego Comic-Con exclusives for 2016. Fans of Skybound and The Walking Dead can stop by Booth #2729 (split with Image Comics) to get their hands on this year's offerings.
Here's a look at what San Diego Comic-Con exclusives Skybound will be bringing to the convention:
[UPDATE July 14]
If you thought that Skybound was finished announcing their Comic-Con exclusives – well, think again! ComicBook.com once again has the exclusive on the next line of exclusives, which includes trading cards and t-shirts. From ComicBook.com, here's a look:
Outcast TV Show Wax Pack Trading Cards: Explore the Outcast TV Show by collecting these vintage style, wax pack trading cards. The set features 81 full-color collectible cards. Available as individual 8 card packs for $5 each, or a 24-pack box for $100 (each box contains a special 1 of 1 printing plate card inside a random pack). The Outcast TV Wax Pack Trading Cards were made in the USA by SideKick.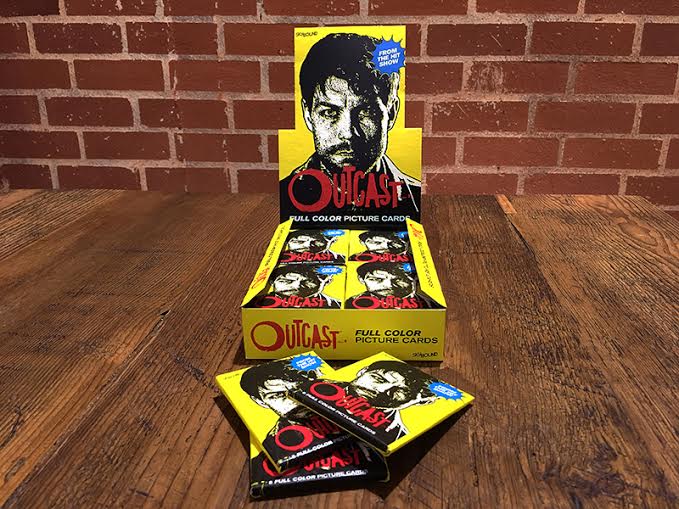 Taking it like a Champ T-Shirt ($20): The Summer of Negan continues! Could you look him in the eye and take a beating from Lucille like a champ? Well, with this shirt featuring his fan-favorite phrase along with his signature blood splatter, you can tell everyone how brave you are.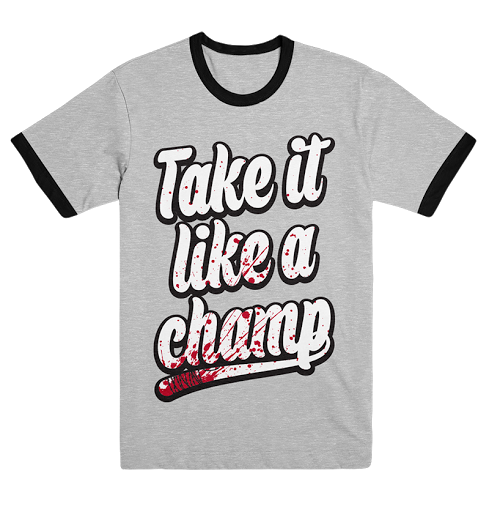 Silence the Whisperers T-Shirt ($20): The War has begun and Rick wants YOU to help defend Alexandria! Everyone has to do their part – wear this shirt to show your support and SILENCE THE WHISPERERS.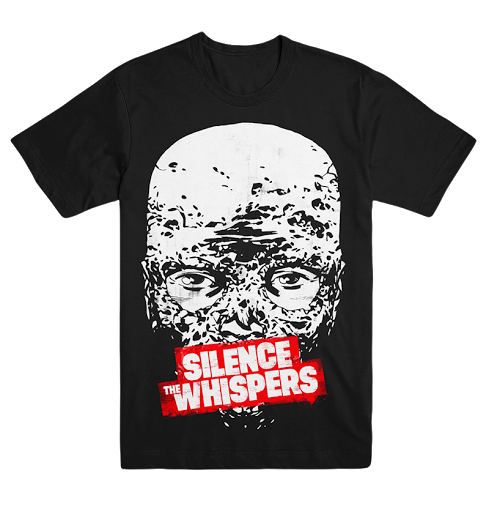 High as F*** t-shirt ($20): The newest shirt from the Saga collection!  Are you tripping on the good stuff? Riding that Fade Away high all the way across the galaxy? Who better to do it with than everyone's favorite stoner, Yuma.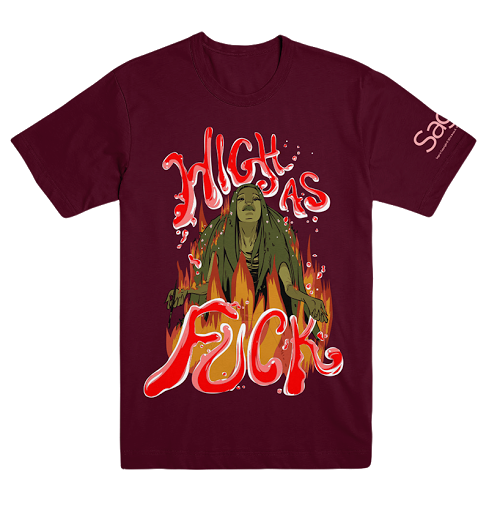 [UPDATE June 30]
Skybound has unveiled another round of San Diego Comic-Con exclusives – and it might be the best one yet.
The Walking Dead Lucille Bracelet ($40): Negan's favorite weapon becomes your next favorite piece of jewelry. Designed by Han Cholo, this stylish bracelet comes in an edition of 200 pieces.
Lying Cat Coming to SDCC ($75):  The pre-order period for the SAGA LYING CAT STATUE, sculpted by Squid Kids Ink and produced by Skybound, has ended. Your next chance to pick up this 8″ recreation of everyone's favorite lie detector is at San Diego Comic-Con, where we will be selling a limited quantity at our Saga Shop booth #2629B.
[UPDATE June 29]
It's a big day of fans of Skybound comics, as ComicBook.com has revealed that Skybound will have exclusive covers, including Negan variants of Birthright #17, Manifest Destiny #21, and Thief of Thieves #33. Three different artists have depicted the iconic character, and each cover will be available for $10. Skybound is also bringing a Horizon #1 variant with cover art by Juan Gedeon and Frank Martin, available for $5.
From ComicBook.com, here's a look at the covers:
[UPDATE June 27]
ComicBook.com revealed several Skybound pins for The Walking Dead, Invincible, and Saga. You'll be able to pick up all 7 pins at the skybound booth for $10, and each one is limited to 1000 pieces. At the Saga Shop Booth #2629B, there will also be a Ghus pin and a special 2-pin set celebrating Lying Cat (Ghus is $10 and the set is $15).
From Skybound, here's a look:
[UPDATE June 23]
ComicBook.com has revealed the next wave of Skybound San Diego Comic-Con exclusives, which five new exclusive The Walking Dead weapons they've created with Buzz Bee Toys. Among the peices are Michonne's Katana ($15), Andrea's Rifle ($30), Abraham's M16 ($30), Carl's Revolver ($20), and Rick's Double-Barrel Shotgun ($30). The weapons are all made out of plastic materials, and the guns have a range of 72 feet. Each include their own suction darts, but Skybound is also offering a refill pack with 14 extra darts for $10.
From ComicBook.com, here's a closer look: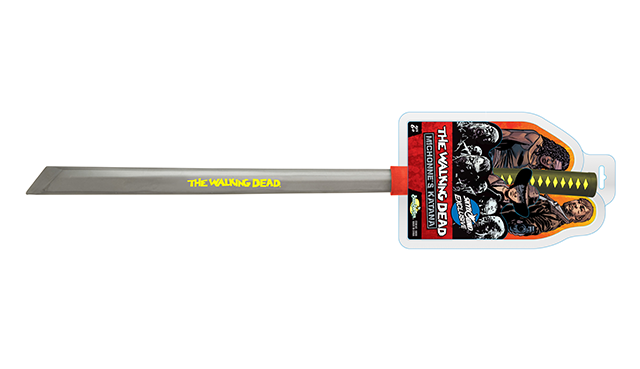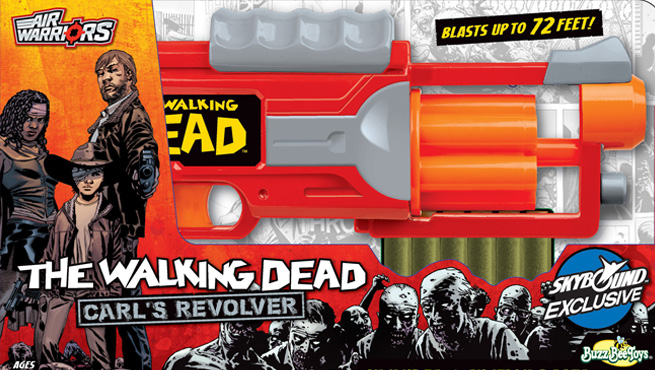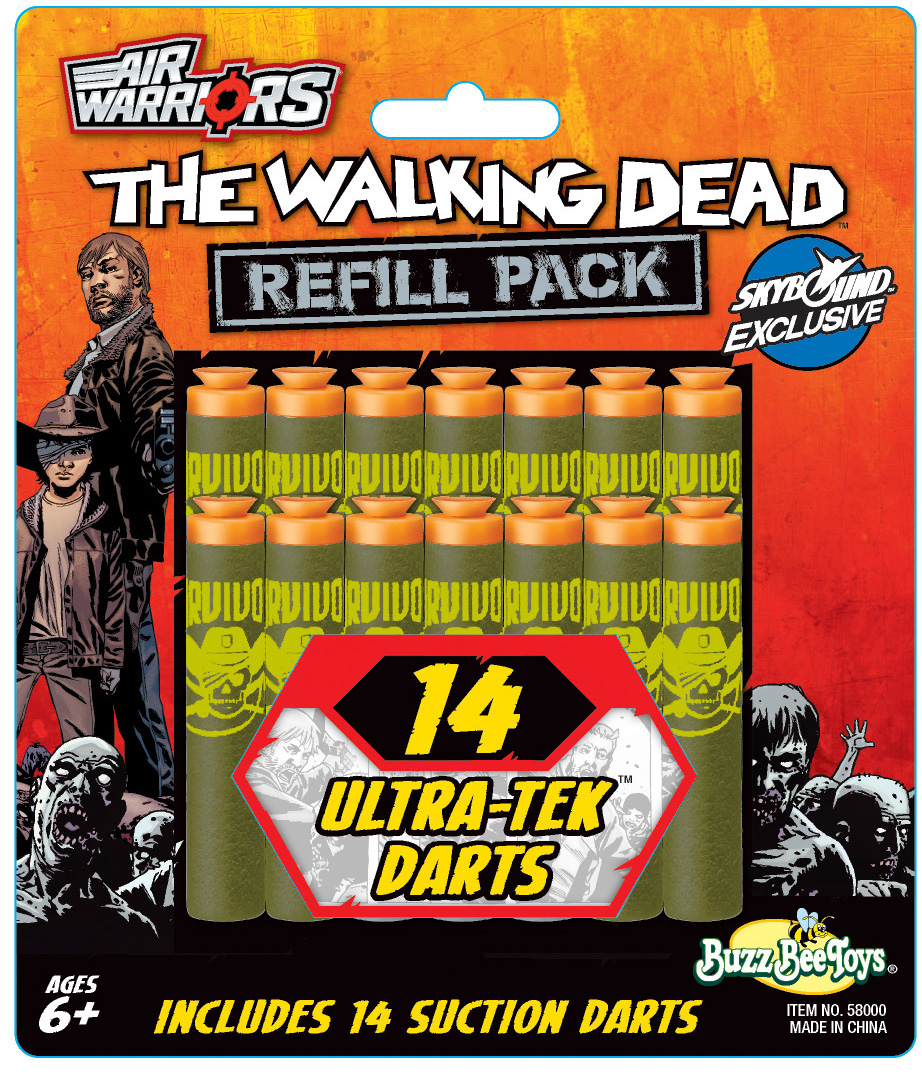 [UPDATE June 22]
As per the last few days, ComicBook.com once again has the exclusive reveal for the next round of Skybound's San Diego Comic-Con exclusives, this time focusing on the tabletop side of things.
Skybound will be bringing four expansion decks for their Superfight game, as well as two new decks for Red Flags.
On the Superfight side of things, Skybound is offering up a Street Fighter themed deck which includes Ryu, Chun-Li, and M. Bison. They're also bringing the Orange Deck 2, which comes with 100 new cards for "nerdy books, movies, comics, and TV shows" for $15. The Red Deck 2 focuses on offensive and vulgar humor, and the Mindcrack Deck adds 24 characters and 76 attributes for you to create with. Each set will retail for $15.
For Red Flags, there will be a Nerdy Reg Flags deck with 75 nerdy perks and red flags, and a Sexy Red Flags, to add 75 inappropriate perk cards to your game. Each set will retail for $12.
You can find more information on ComicBook.com.
[UPDATE June 21]
Lucille 34" Replica Bat- $40
Lucille is back and this time at a full 34 inches Perfect for smashing heads or a quick game of softball (just mind the barbed wire and the zombies). She was immortalized by the death of a certain pizza boy, but she still has so much blood to shed!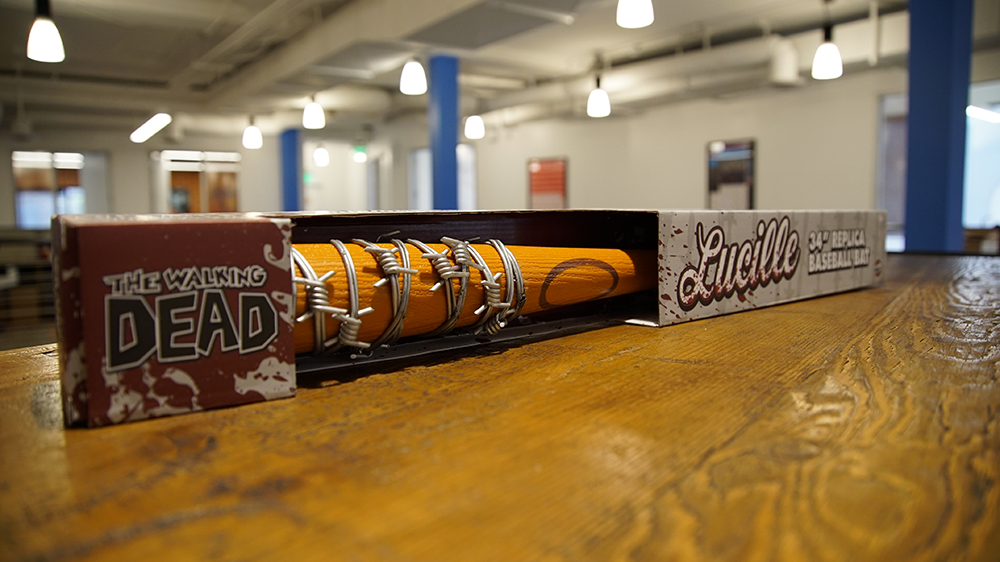 Lucille 4" Keychain Blind Boxes- $10
You can finally take your favorite skull-crushing bat with you everywhere you go! Presenting Lucille in 4-inch vinyl form, and a key ring for easy transportation. Available in multiple colors, both regular and blood splattered, plus a few rare colors.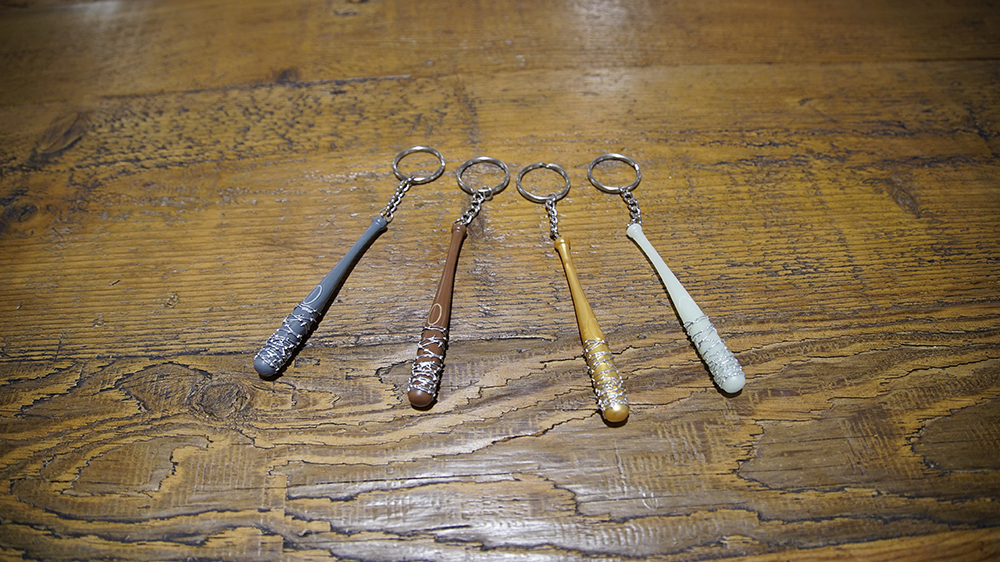 [UPDATE June 20]
From Skybound's site, here's the next wave of Skybound San Diego Comic-Con exclusives, which includes action figures, hardcovers, and more. Here's a look:
Outcast by Kirkman and Azaceta Volume 2 Hardcover ($30)
This convention exclusive edition collects OUTCAST BY KIRKMAN & AZACETA  issues #7-12 in hardcover for the first time.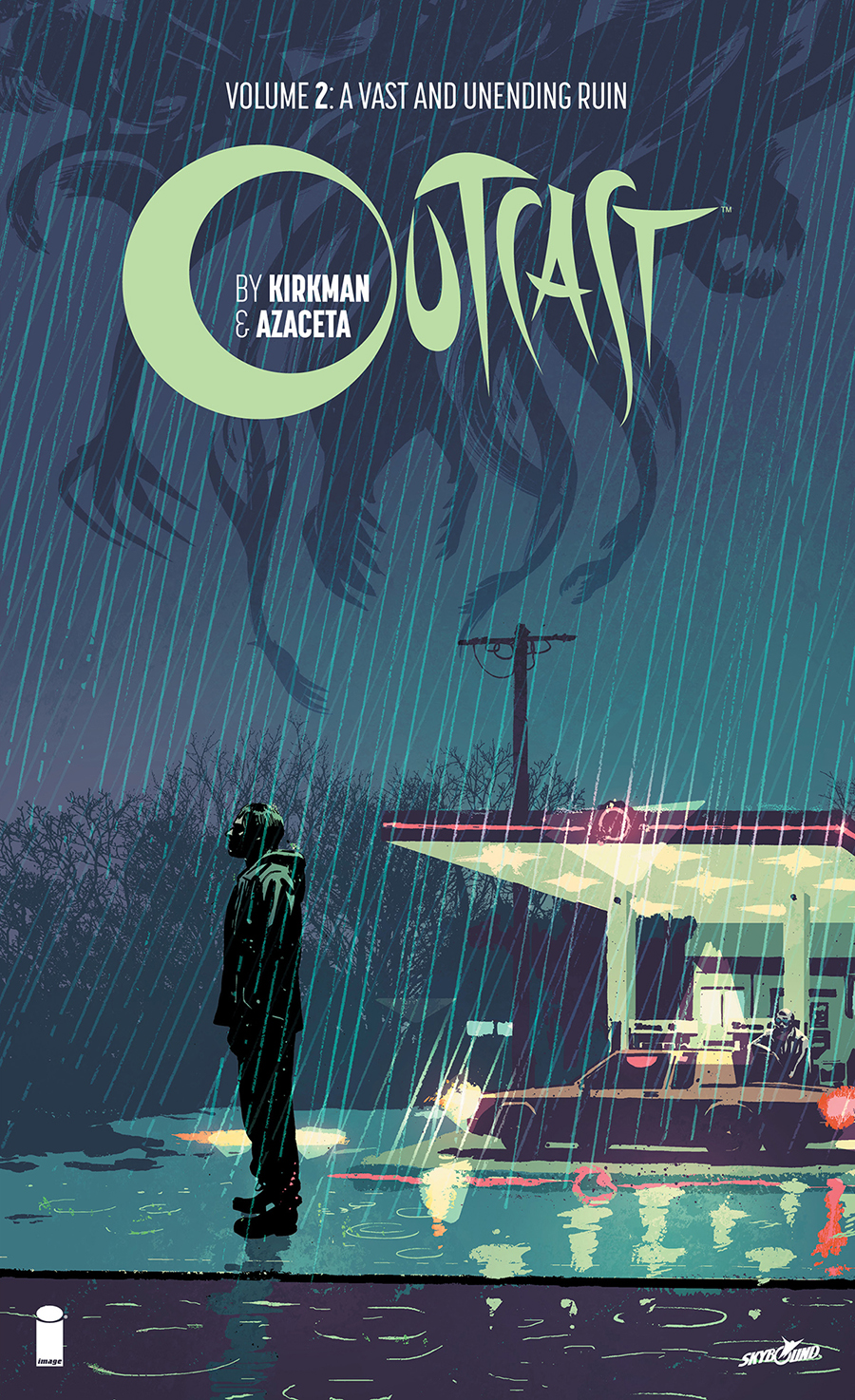 The Walking Dead Compendium Three: Hardcover with Gold Foil ($100): Issues 97-144.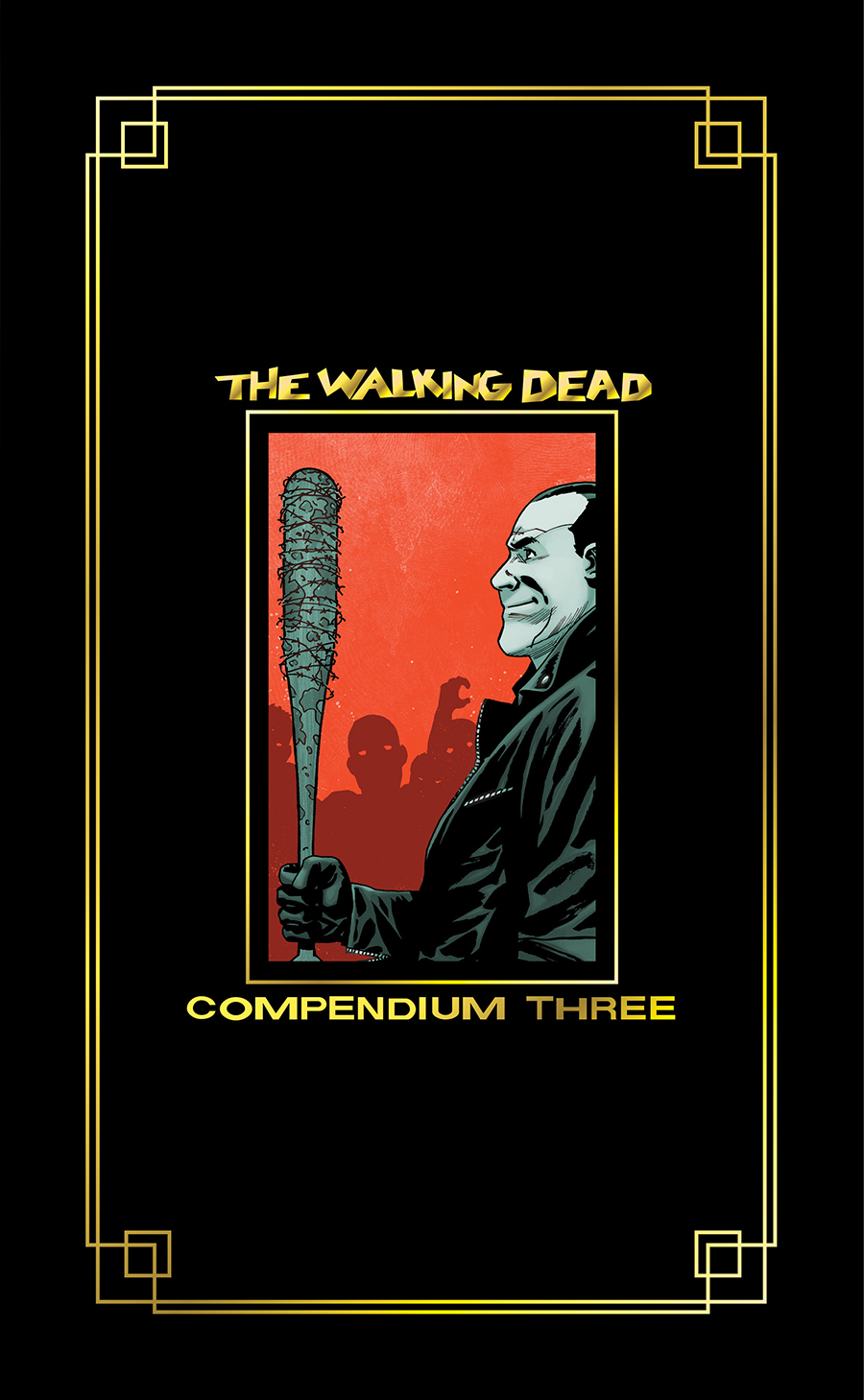 Saga Figure Alana and Marko 2-Pack- $50
Skybound is proud to present Alana and Marko from Brian K. Vaughn and Fiona Staple's groundbreaking series Saga, available in action figure form for the first time! Each figure stands 5 inches and is paired with iconic weapons, like Alana's mace and Marko's sword.  These figures were designed by McFarlane Toys and will be available at our Saga Shop booth #2629B.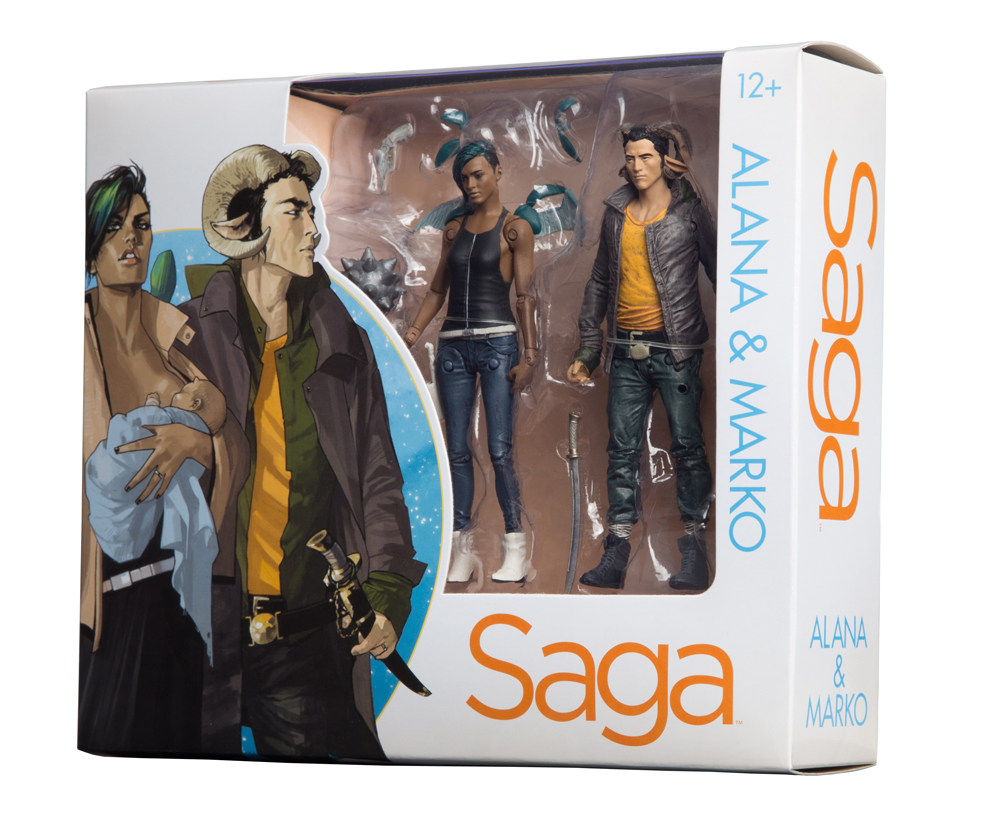 [UPDATE June 14]
ComicBook.com has the exclusive on the first, well, exclusives – which include an action figure two-pack featuring The Walking Dead's Negan and Glenn. Negan comes equipped with his iconic bat Lucille, while Glenn comes with an alternate head sculpt so that you can re-create the events of The Walking Dead issue #100. There's also a black and white, less-blood-spattered version. Each set will retail for $50.
There will also be a limited edition Outcast watch, from Vannen, which will feature full-color artwork on the dial and a glossy finish, and will have the Outcast logo on the inside surface of the crystal. It will also feature special engravings on the back of the watch and on the crown. The watch is limited to just 250 pieces, and will retail for $64.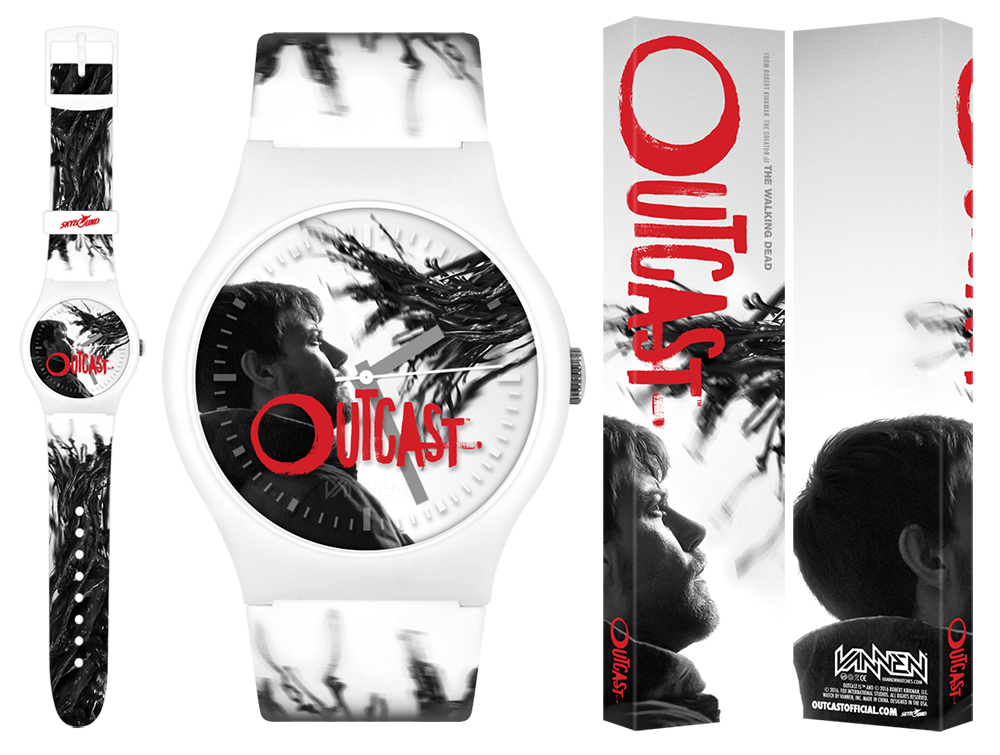 Are you dying of excitement at any of these Skybound exclusives? Let us know in the comments.