When  it comes to San Diego Comic-Con exclusives, it doesn't get bigger than Hasbro. With license to manufacture toys that are consistently at the top of the pop culture want list, this booth is always one of the craziest and has broken the spirits of more SDCC attendees than the Hall H line ever has. That said, if you want the best in Marvel, Star Wars, Transformers, My Little Pony, or the rest of these lines, you must commit to the Hasbro exclusive war.
Take a look at what will be bringing many tears of joy and frustration to this year's Comic-Con:
[UPDATE JULY 20]
Hasbro one one final surprise! Turns out they are bringing the first Star Wars: Rogue One figure to San Diego Comic-Con. Here's a look at the Jyn Erso figure, which will retail for $24.99.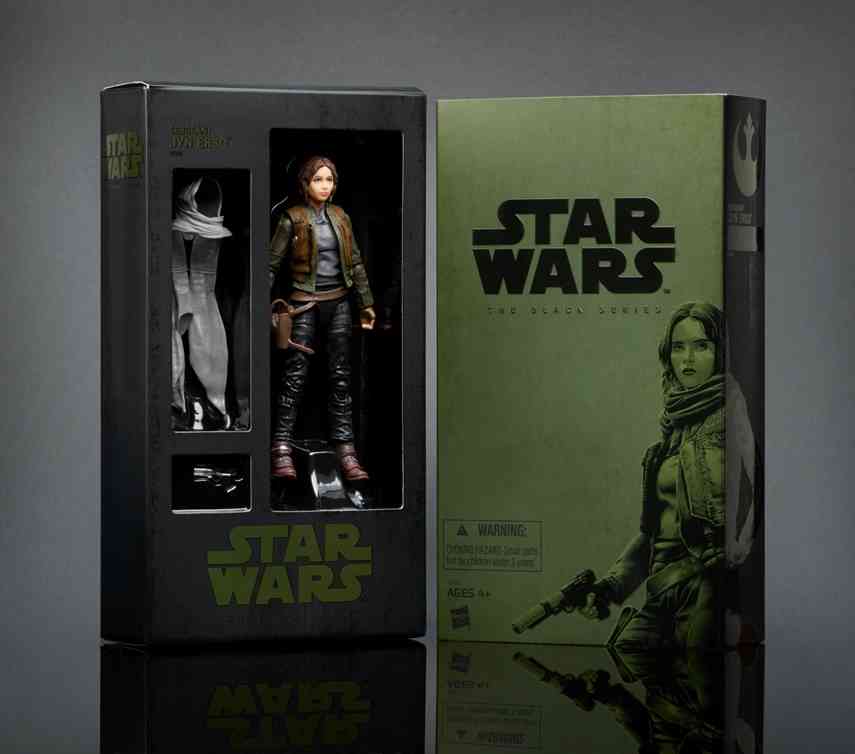 [UPDATE July 19]
We finally have a Magic The Gathering update! The official MTG site has shared the foil Zombie Planeswalker set that will be available, which will be available for $99.99 plus tax. Here's a look at the exclusive cards:
[UPDATE July 14]
It's looking to be a very Transformers-heavy year at Hasbro (which we're not complaining about!), as Kotaku just unveiled a Comic-Con exclusive Soundwave who transforms into a "tablet" (or vice versa). With a few clicks and twists, this seemingly ordinary tablet converts into the extraordinary Decepticon Soundwave. The figure will retail for $39.99.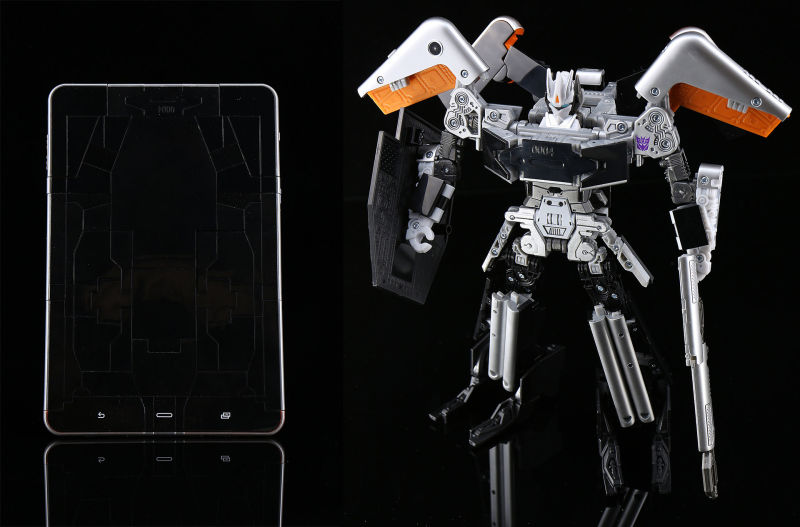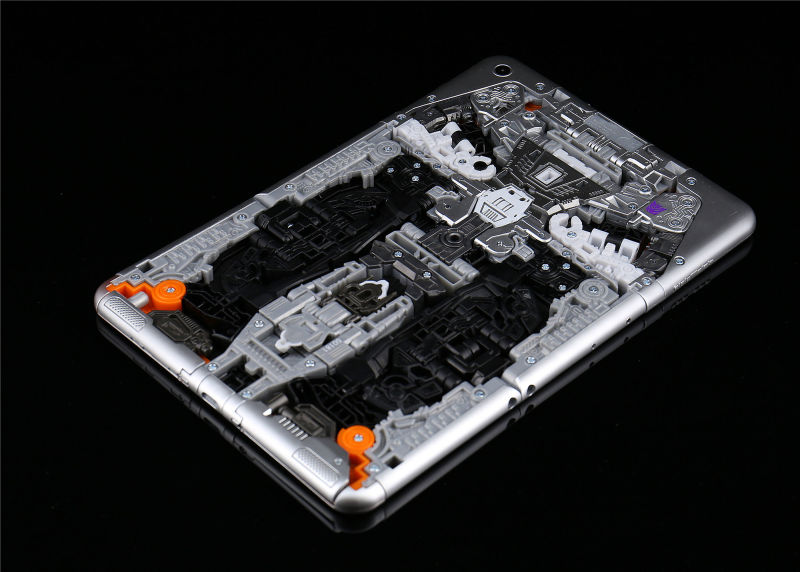 [UPDATE July 10]
The second of Hasbro's Marvel exclusives is a Marvel Legends 6″ "The Raft" boxset, which features Spider-Man, Enchantress, Dreadknight, Abomination, Sandman, and Purple Man, all behind bars at The Raft. Each figure features extensive articulation, detailed sculpting, and deco – and the set also comes equipped with four accessessories. The set will retail for $119.99. Canadian fans can also purchase the figure set during Fan Expo Canada in September.
Here's a closer look: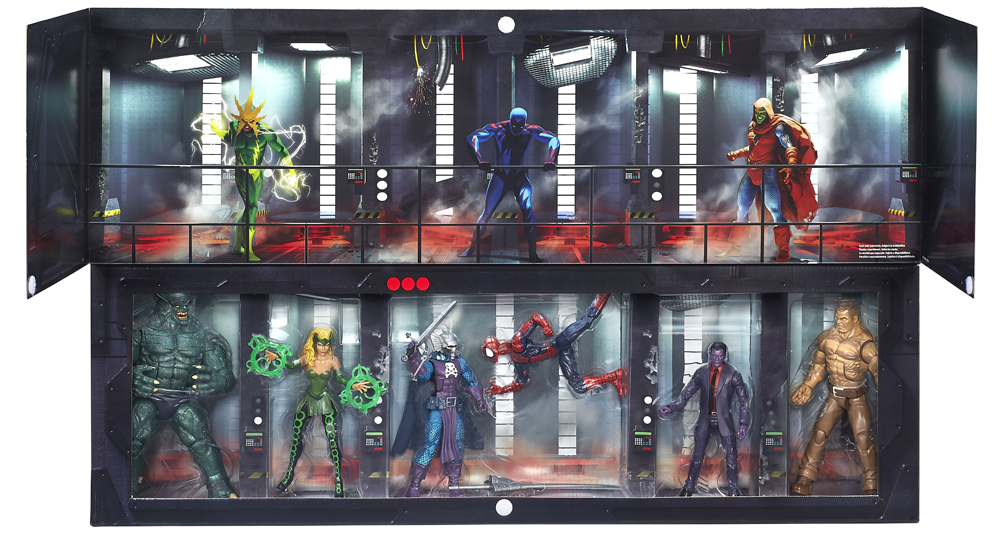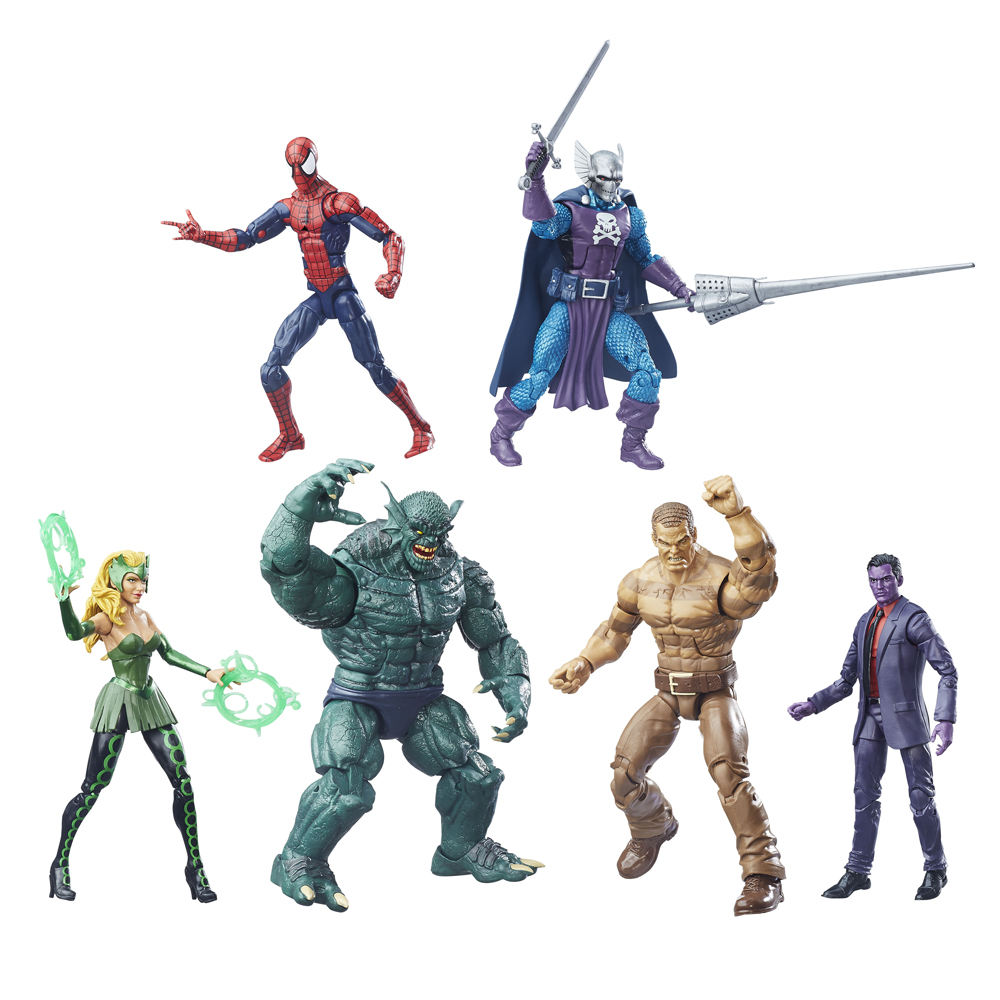 [UPDATE July 7]
Hasbro's next San Diego Comic-Con exclusive, and it's one we've all been waiting for, this year's Marvel Legends Series set: The Collector's Vault.
Hasbro has conjured up Marvel 3.75″ Legends series figures from around the galaxy for this set, which includes Howard the Duck, The Collector, Cosmo, Lockjaw, and Moonbow – as well as mysterious ancient artifacts  The Zodiac Key, Casket of Ancient Winters, and the Wand of Watoomb. The entire set will retail for $69.99 at Hasbro's booth.
Here's a look: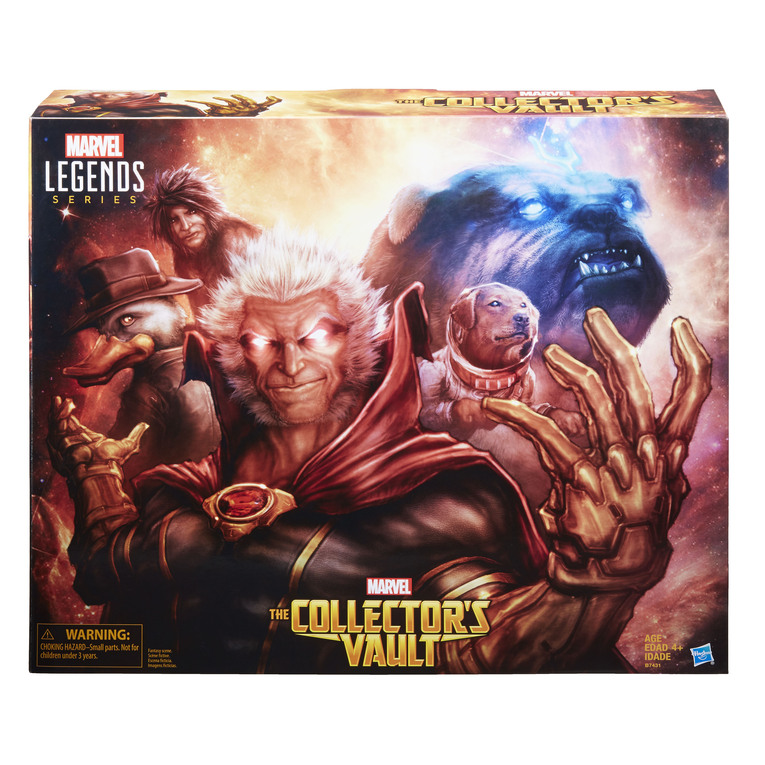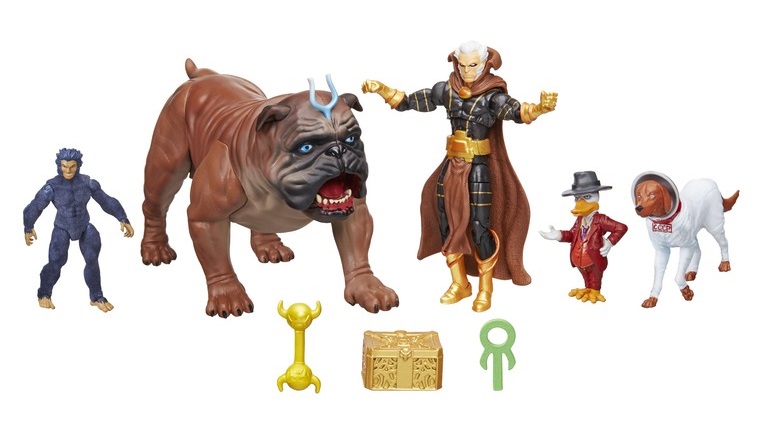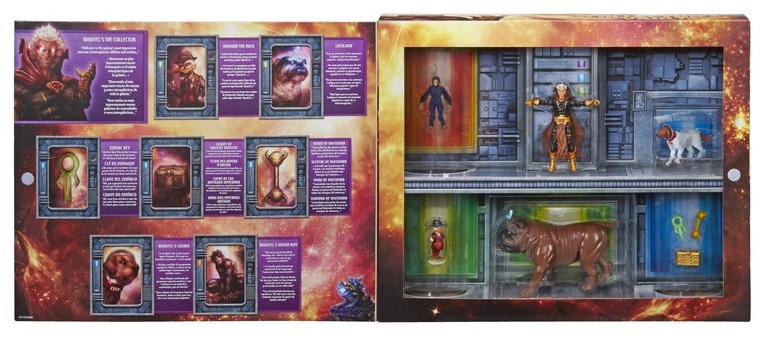 The set will also be available at Fan Expo Canada this fall.
[UPDATE July 5]
Good news, Star Wars fans! Although a Star Wars The Black Series 6″ Kylo Ren figure was originally announced as heading just to Star Wars Celebration – we've confirmed with Hasbro that it's now heading to San Diego as well.
Kylo retails for $44.99, and comes equipped with Darth Vader's helmet and a First Order banner and stand, as well as his lightsaber and a lightsaber hilt.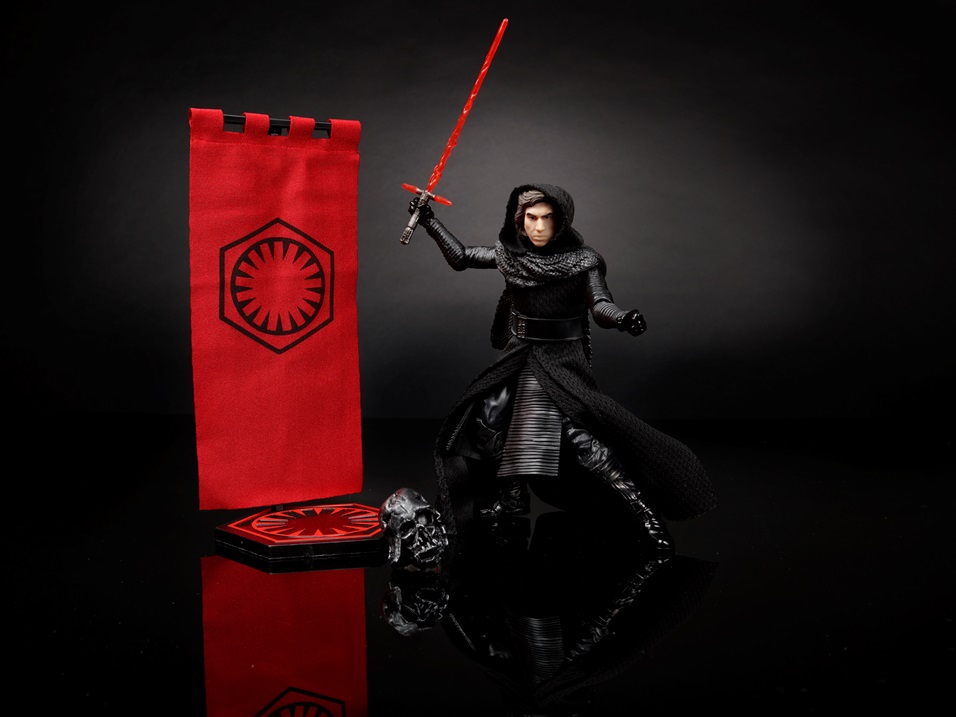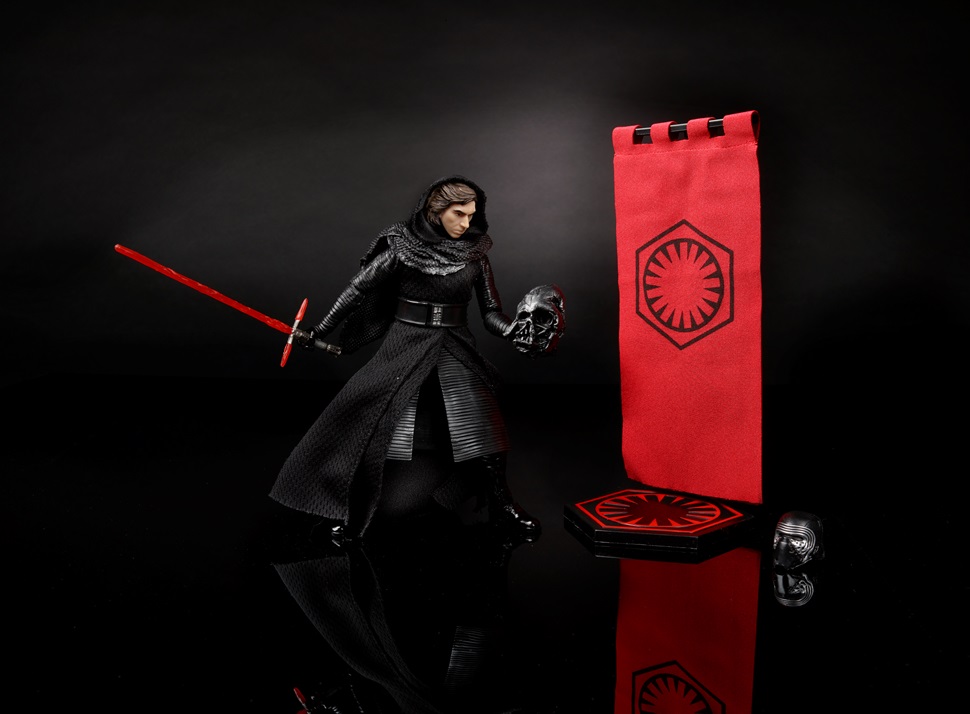 [UPDATE July 1]
Hasbro's latest San Diego Comic-Con exclusive is their annual Star Wars Black Series figure. This year, attendees can pick up a 6″ Obi-Wan Kenobi Pack. Recreate the noble journey of the great Jedi Master with the highly collectible Obi-Wan Kenobi Pack. Featuring authentic, movie-accurate detail, this elite 6-inch scale Obi-Wan Kenobi figure comes equipped with Jedi robe, 2 lightsabers, an electronic light-up table, and Princess Leia hologram delivering a vital message. Includes 1 figure with multiple points of articulation and 5 accessories, and will retail for $44.99.
Here's a look: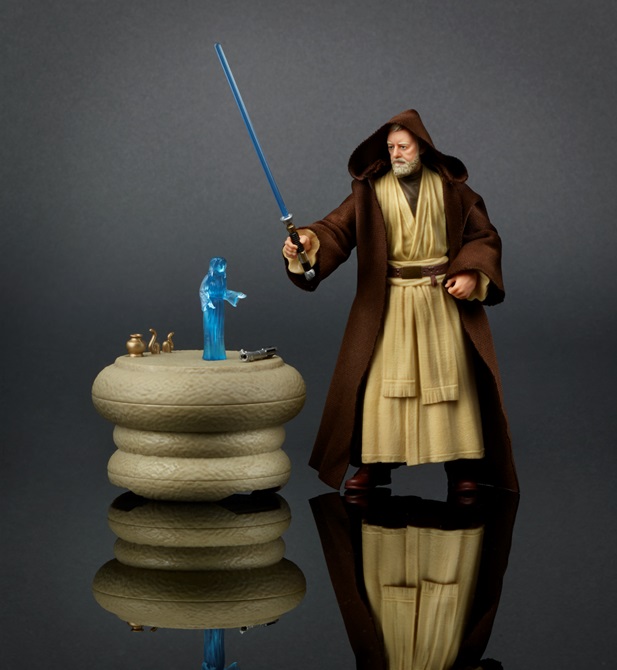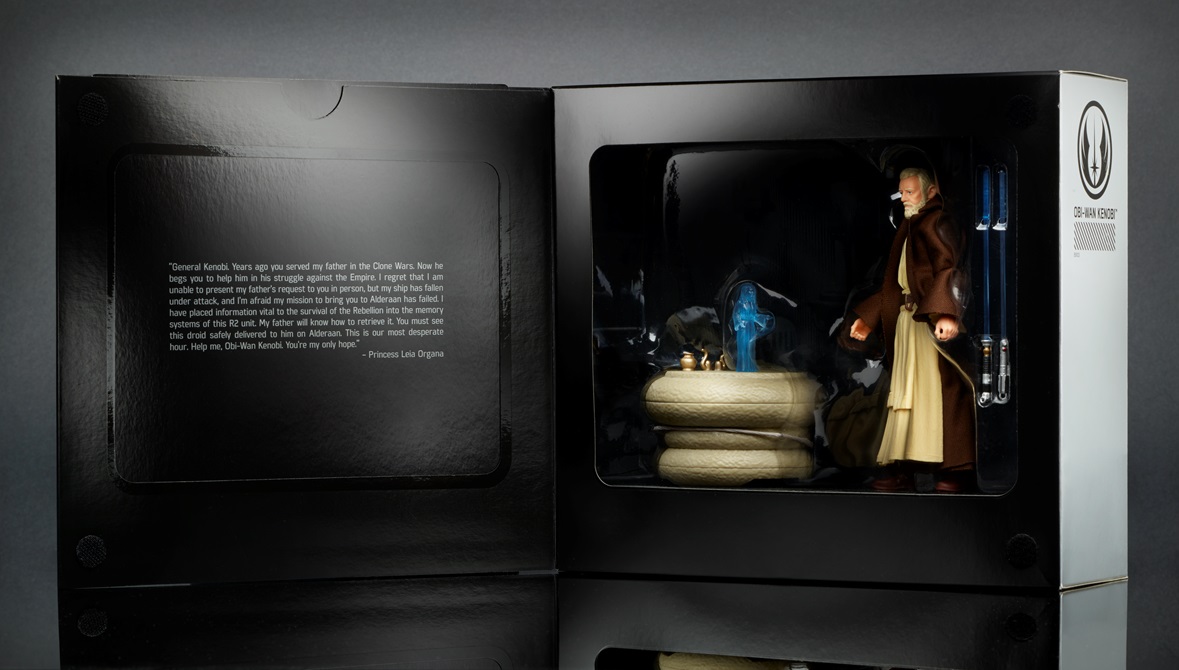 [UPDATE June 29]
Forbes has the exclusive on Hasbro's next San Diego Comic-Con exclusive, which is sure to please bronies. Hasbro will be offering up a My Little Pony: Friendship is Magic Discord and Fluttershy toy, featuring the show's strangest villain-turned-companion. Fans can act out their favorite scenes with a Fluttershy figure which features nine points of articulation and a Discord figure. The two-pack is showcased within a colorful collector package that features detailed design elements, including stained glass window inspired art and a light-up base. Requires three "AA" 1.5 volt alkaline batteries, and demo batteries are included. The MY LITTLE PONY DISCORD & FLUTTERSHY figure set will be for sale at San Diego Comic-Con 2016. It will retail for $49.99
From Forbes, here's a look: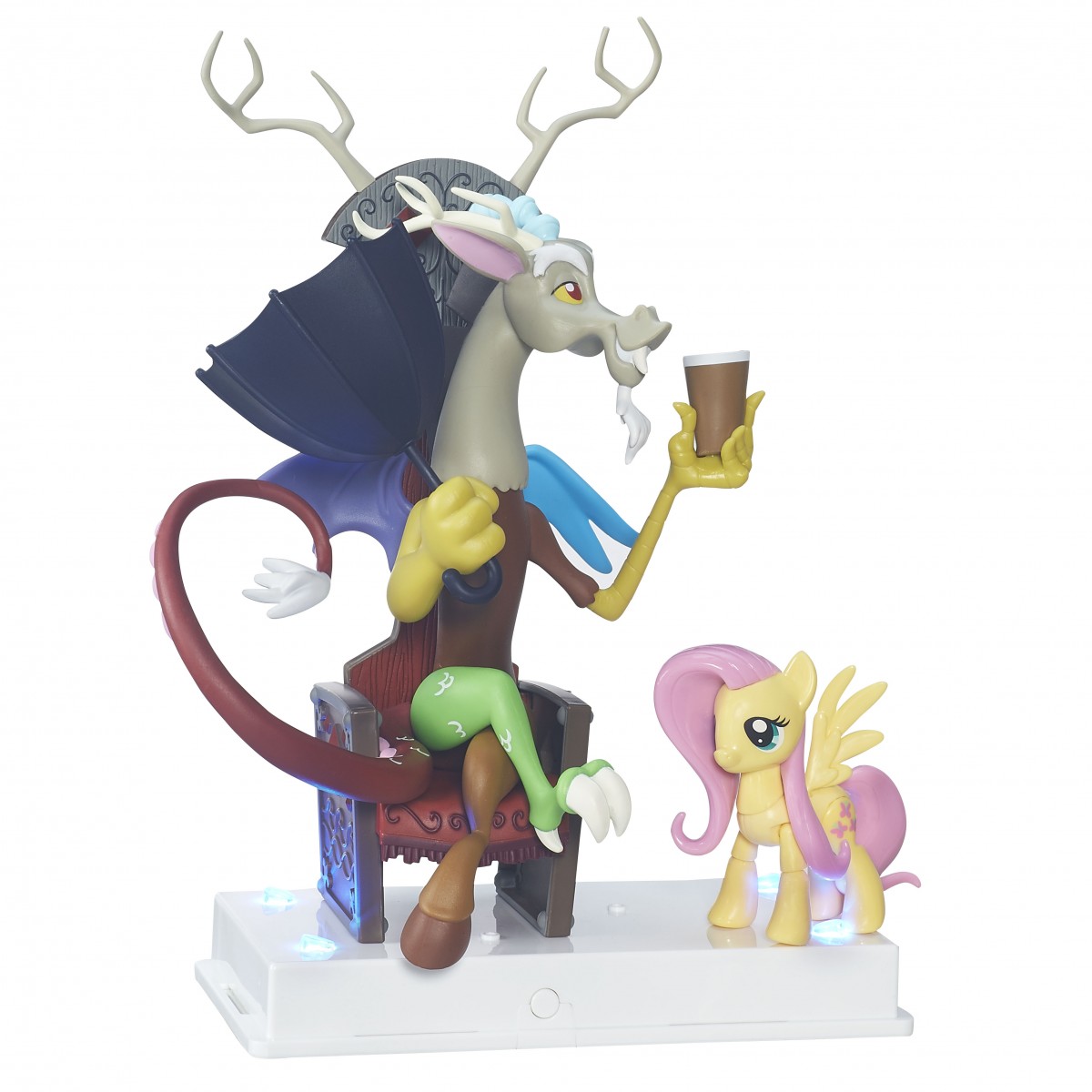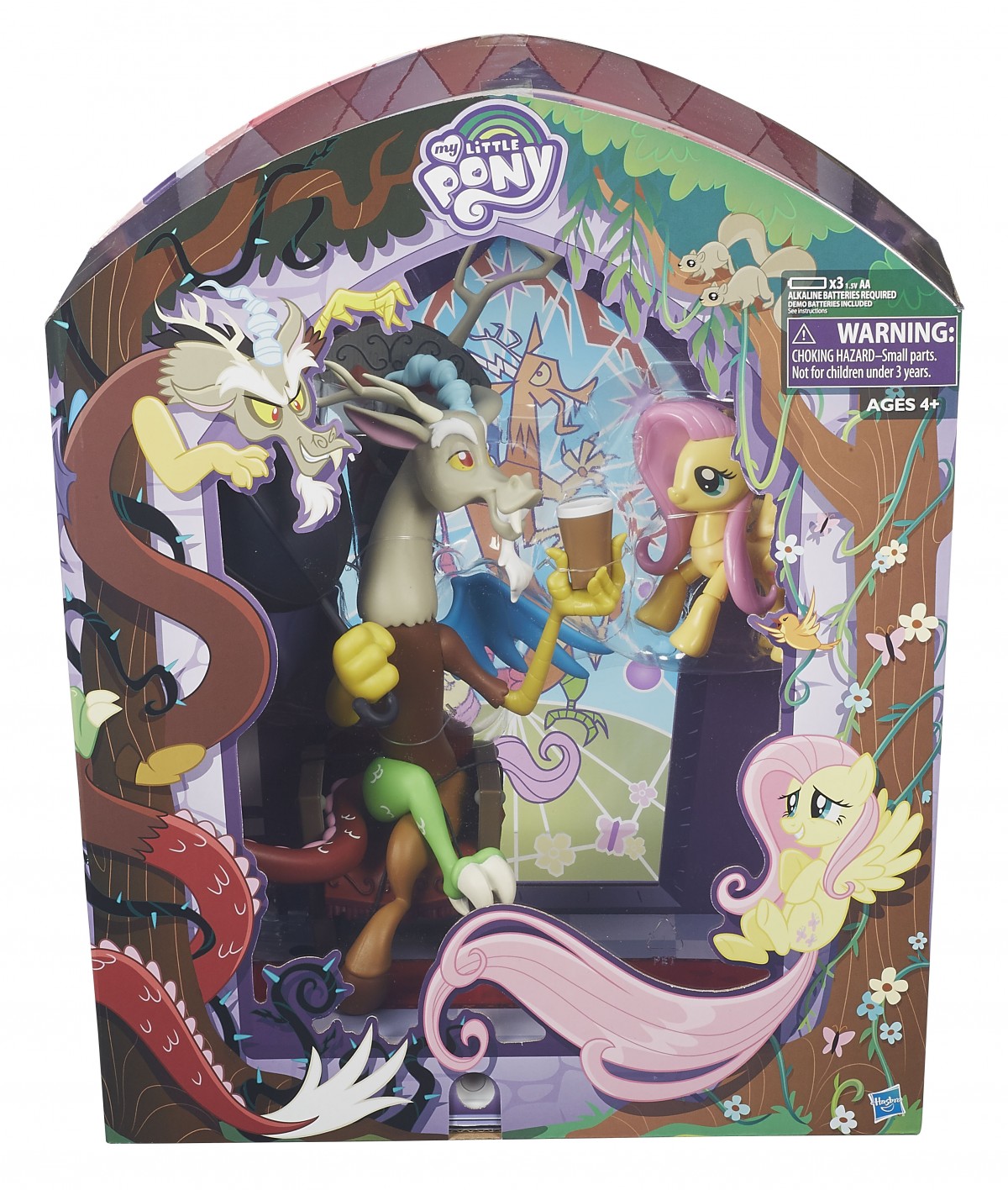 [UPDATE June 27]
Polygon has the exclusive on a San Diego Comic-Con exclusive: a new Yo-Kai Watch Jewelnyan Set, which features a vinyl Dianyan figure and five exclusive Jewelnyan Yo-kai medals. It all interacts with Hasbro's Yo-Kai Watch (sold separately), to unlock the character so players can recruit him to their team. According to Polygon, "This version combines the ghost cat with a diamond; there are several bejeweled re-skins, each of whom are represented on medals included with the toy". It will retail for $29.99.
You can read more on Polygon's site, but here's a look: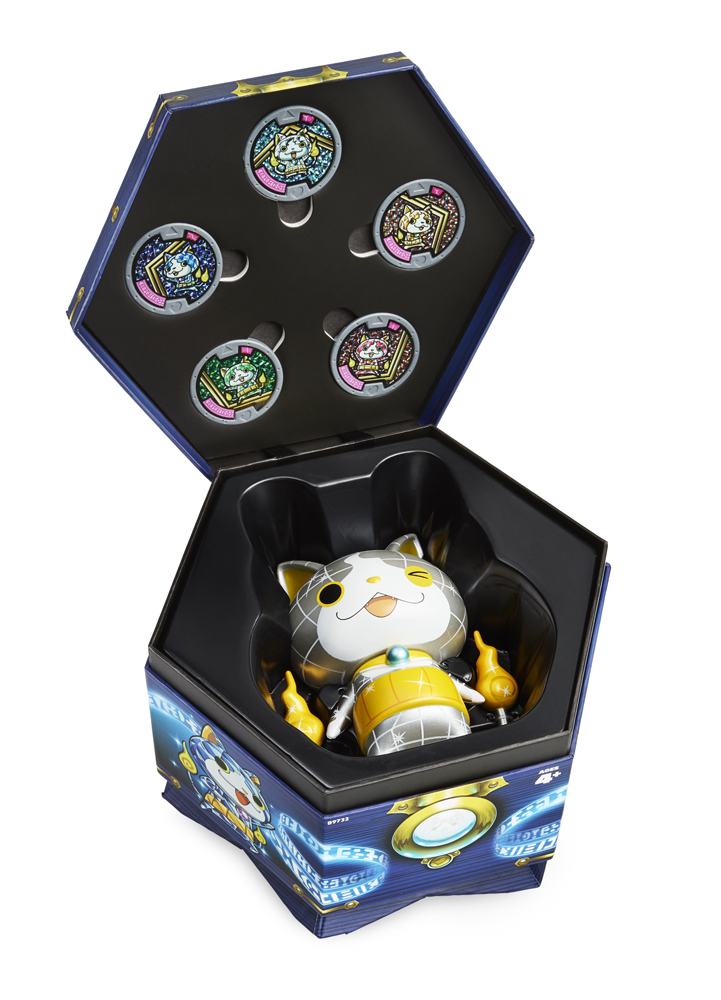 [UPDATE June 21]
Hasbro has unveiled the next two San Diego Comic-Con exclusives – which include a Micronauts Classics Collection and a Visionaries Mighty Mugg.
Ahead of the upcoming Micronauts movie, Hasbro is recurring the original Micronauts toy line with a collection that features recreations of figures from the Takara toyline from the 1970's and 1980's. The set features Galactic Warrior, Pharoid, and Orbital Defender – who each come with interchangeable parts. Veteran paint artist Ken Kelly, who created some of the most memorable packaging art for the original Micronauts toys, designed the bold artwork for this set. IDW will also be producing a convention-only alternate cover to their Micronauts comic utilizing the new product artwork from Kelly. The set will retail for $49.99.
Here's a look: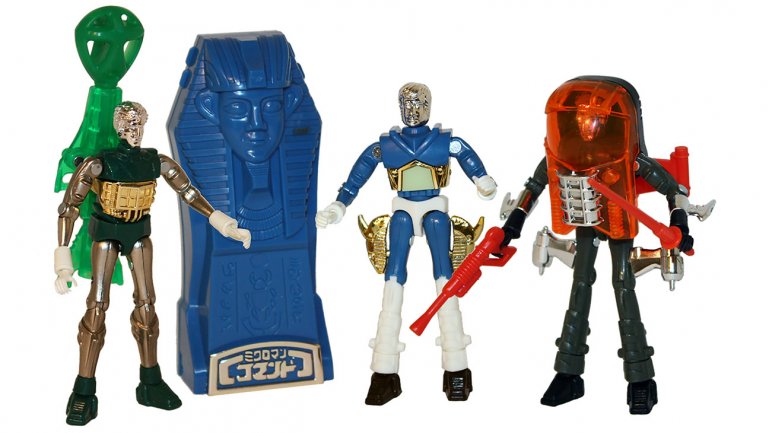 The second San Diego Comic-Con exclusive is a re-imagined Visionaries: Knights of the Magical Light Mighty Mugg set, which features Leoric, complete with his signature lion hologram chest plate. The vinyl figure will retail for $24.99
Here's a look:
You can find more information about both exclusives on The Hollywood Reporter.
[UPDATE June 17]
Hasbro announced their next San Diego Comic-Con exclusive: a  Transformers Generations: Titans Return Titan Class Fortress Maximum. The figure features robot, battle station and Autobot city modes which allows the figure to unite with Titans Return Leader Class figures (sold separately) to form a Cybertron City. The Convention Edition figure features collectible packaging and comes with a special edition poster, three accessories and a mighty sword for players to use in playtime battle. He retails for $179.99.
Here's a look: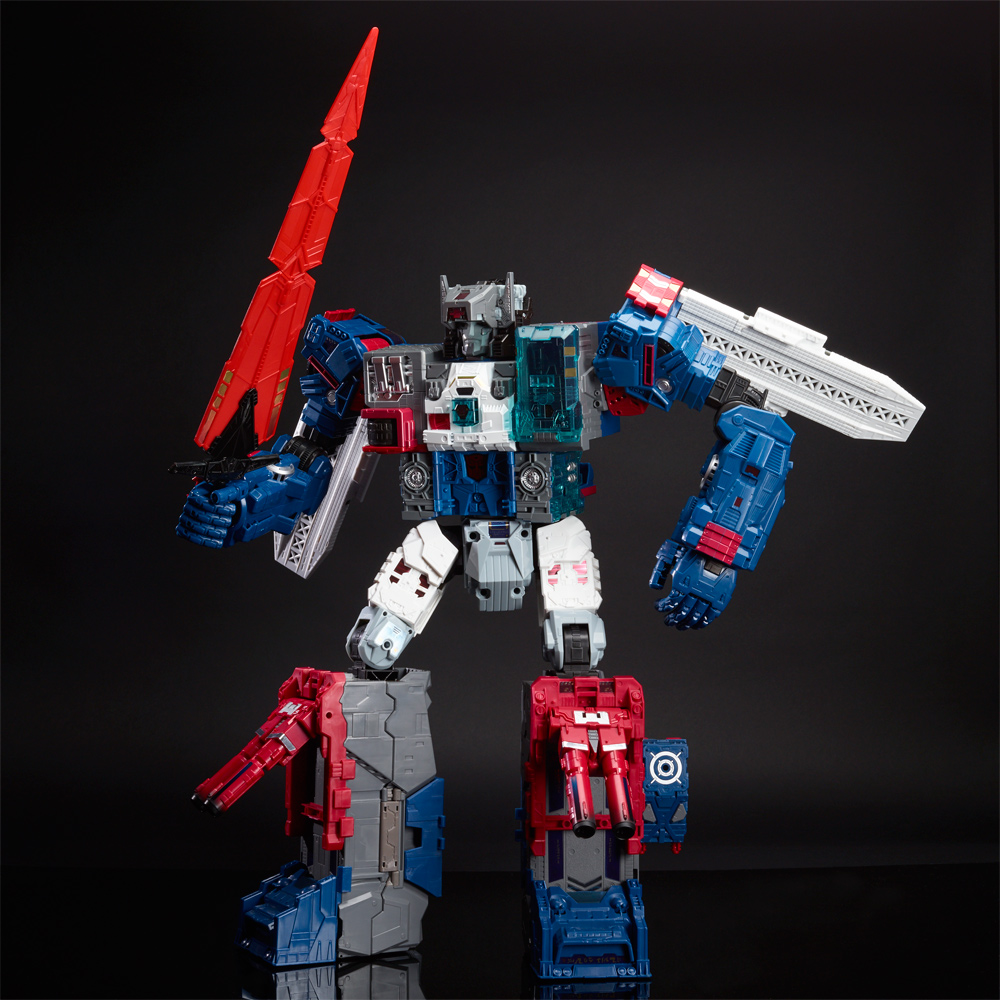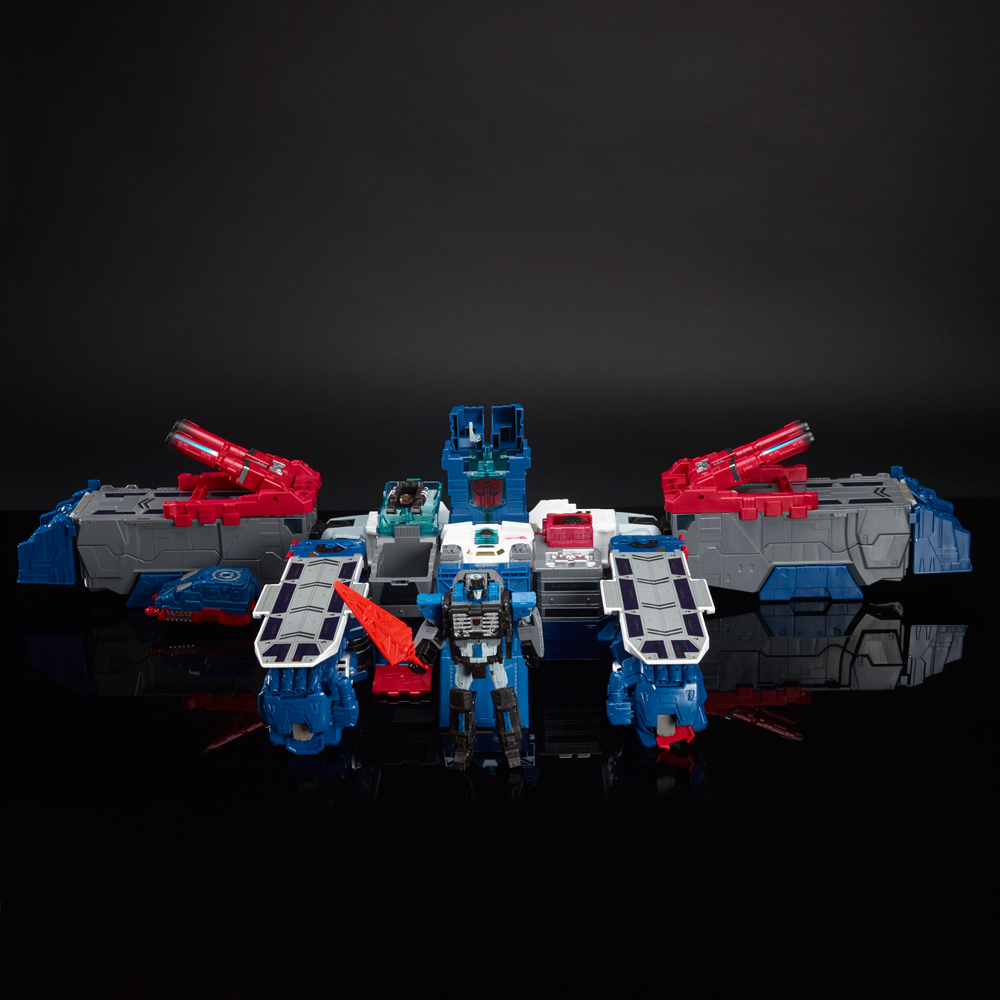 [UPDATE June 9]
We've got the first, full reveal of a Hasbro San Diego Comic-Con exclusive: This year's G.I. Joe set (and they're teaming up with Transformers!) for the G.I. Joe and the Transformers Set ($99.99). The set features G.I. Joe characters Scarlett and Autobot Powerglide, as they fight Zatrtan and Soundwave, to re-enact the Transformers episode The Girl Who Loved Powerglide in an epic showdown. Zartan comes with three swappable faces, while Scarlett comes equipped with her XK-1 power crossbow.
Here's a look at the set: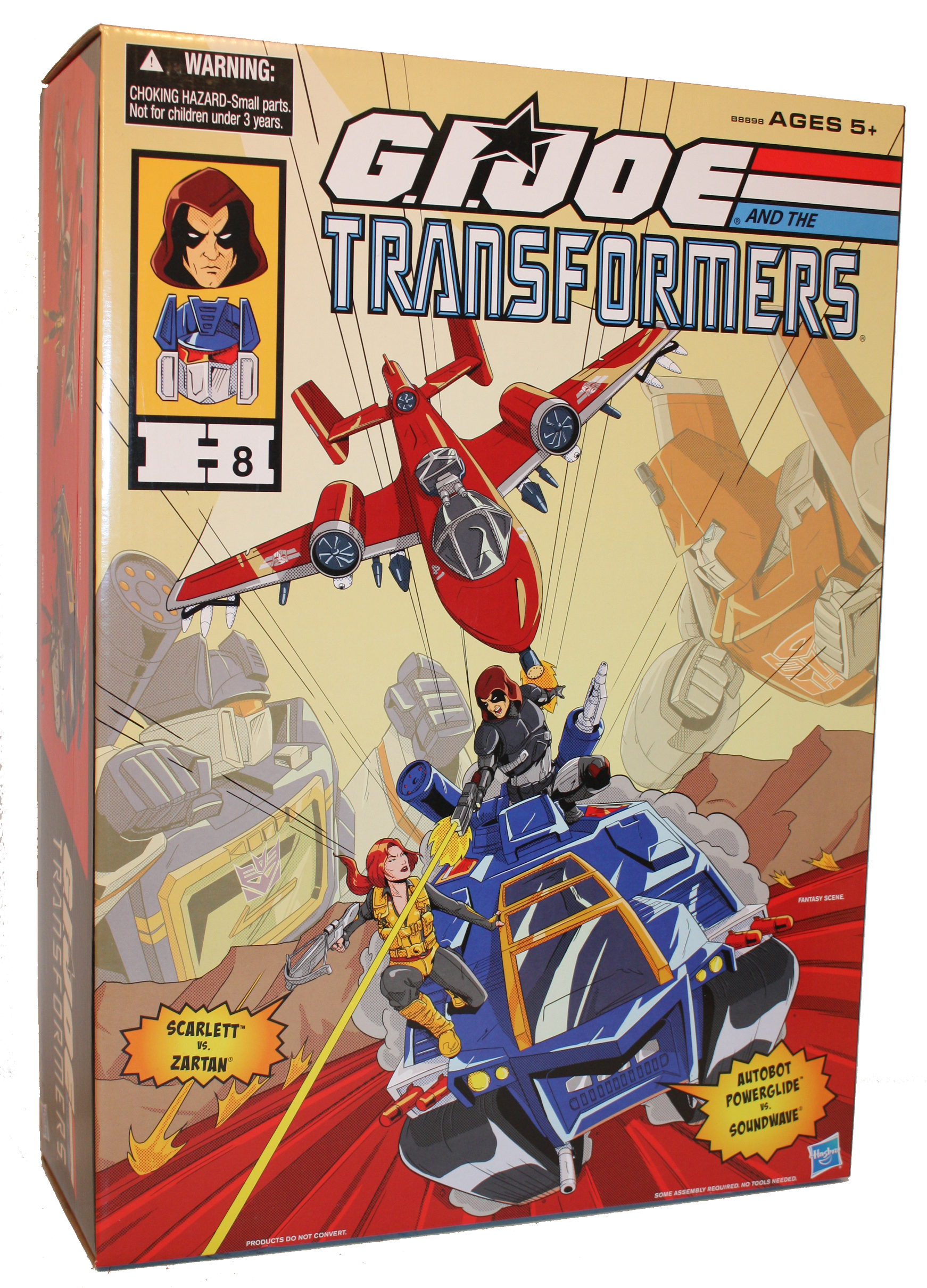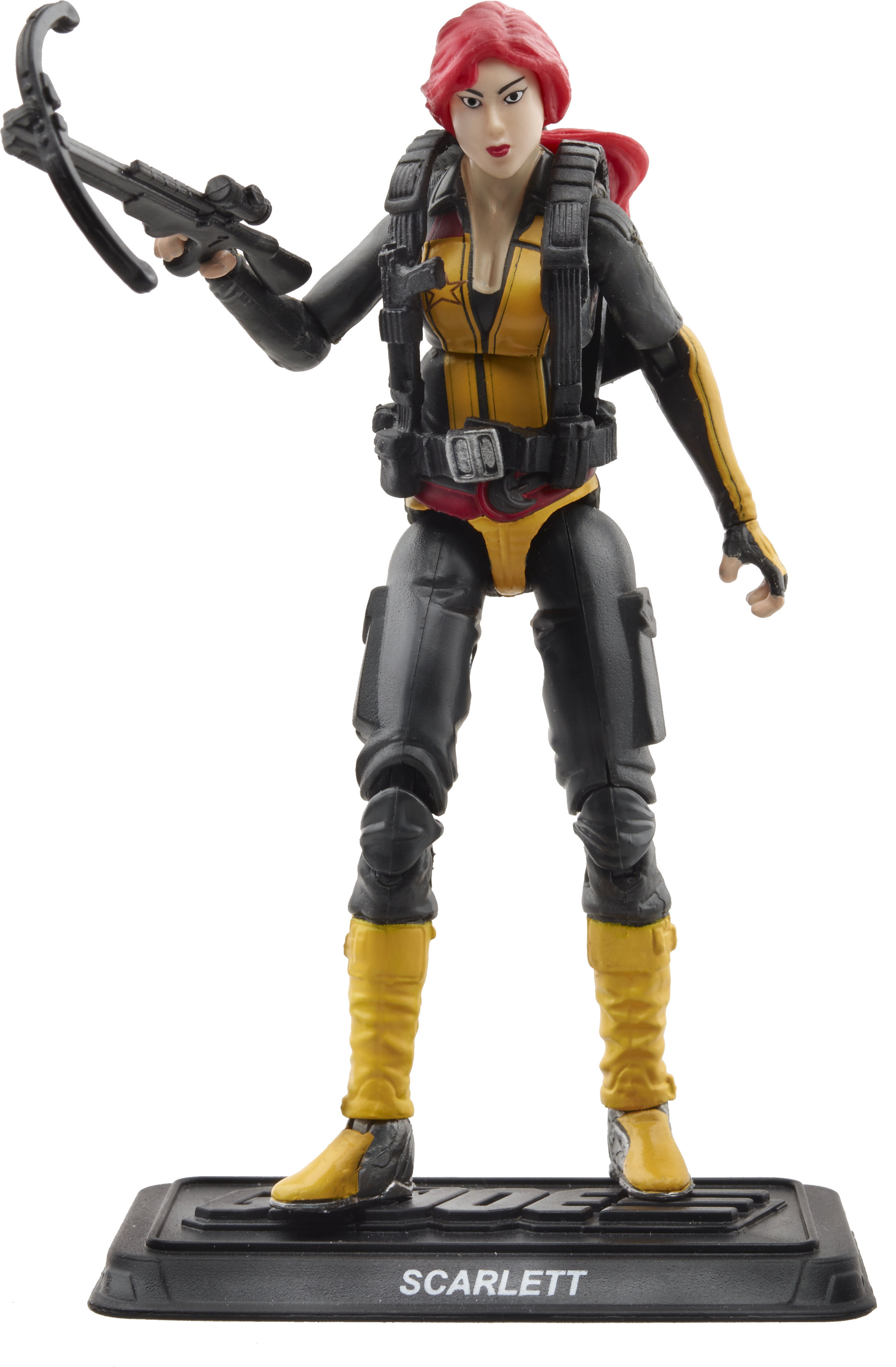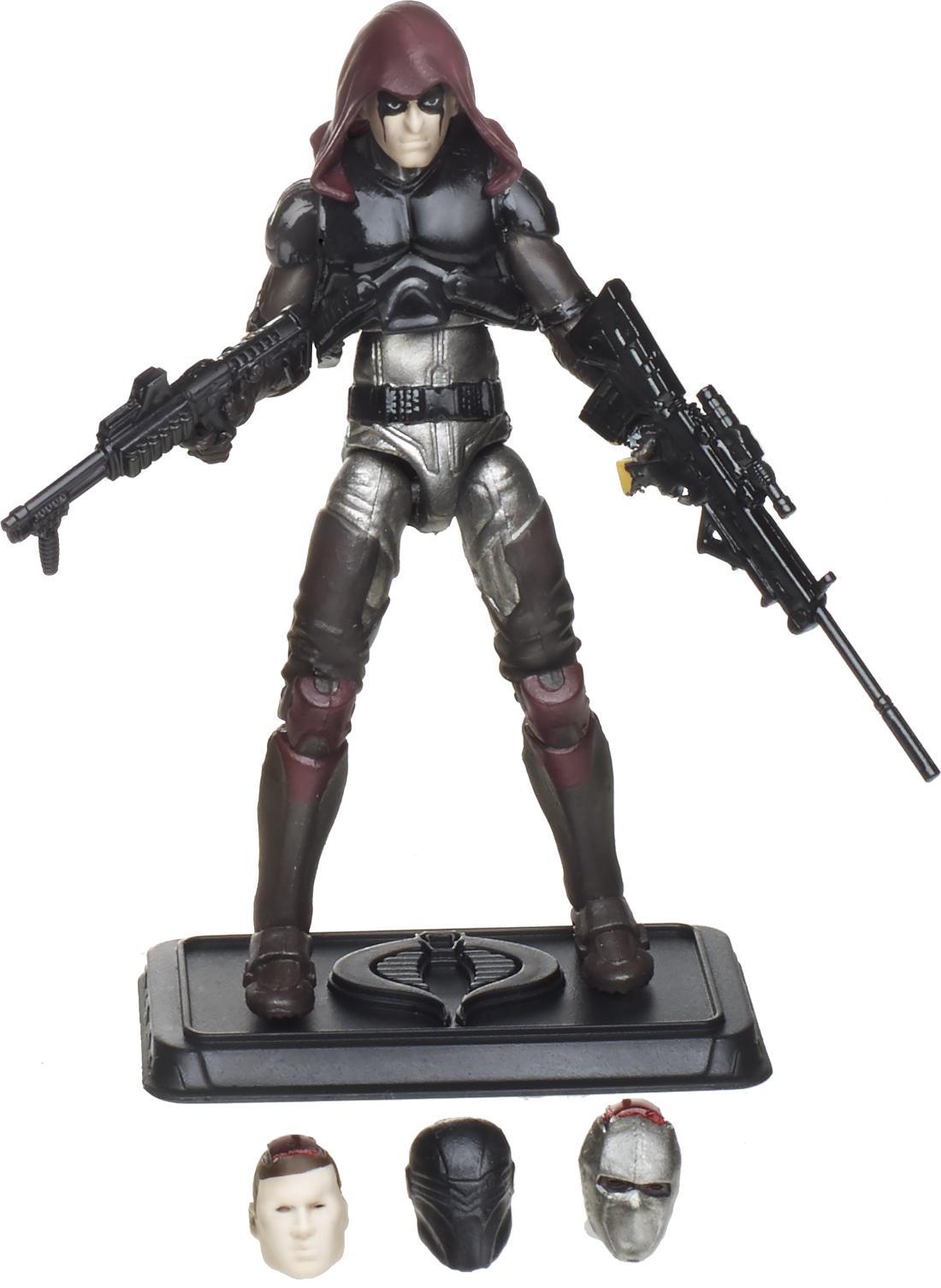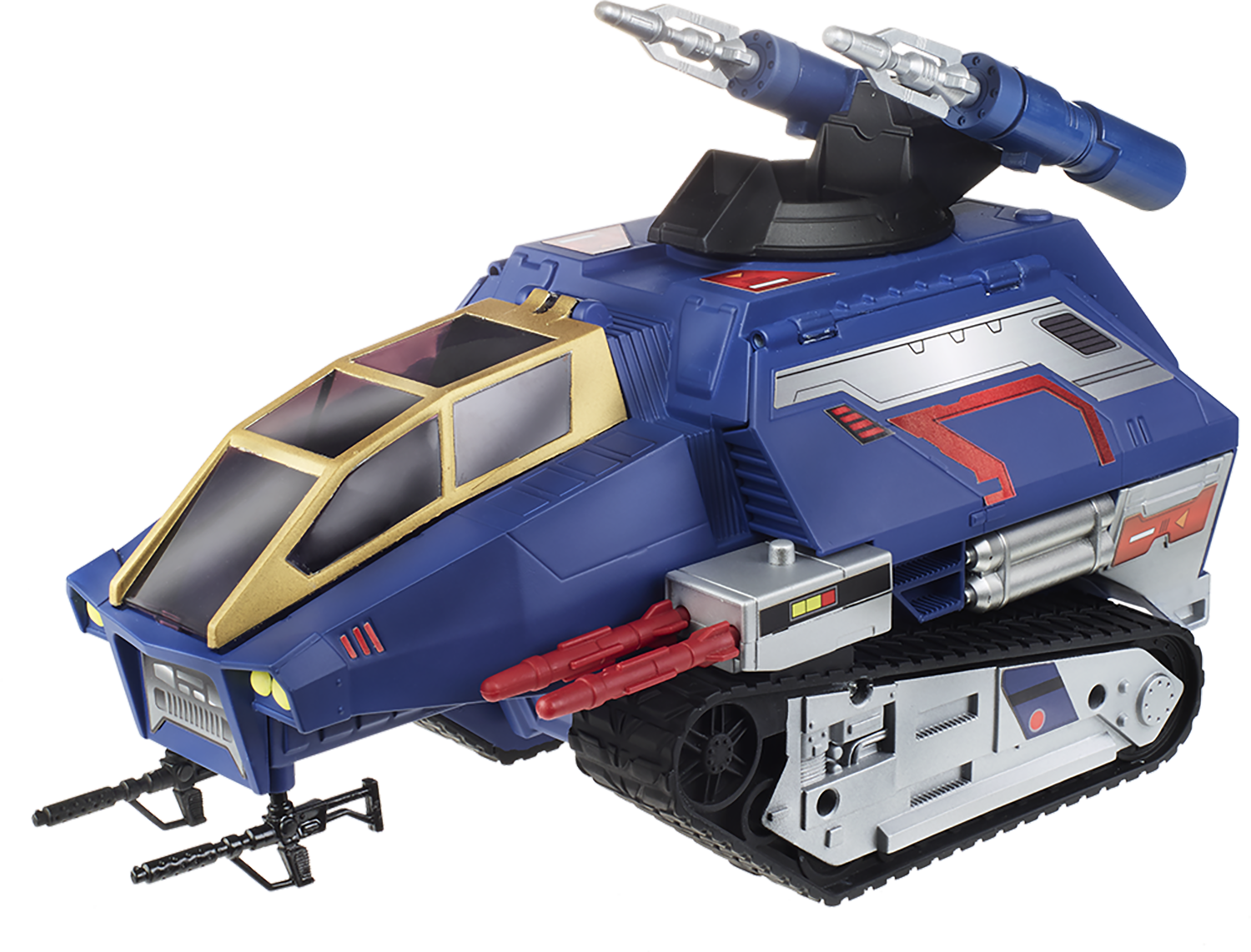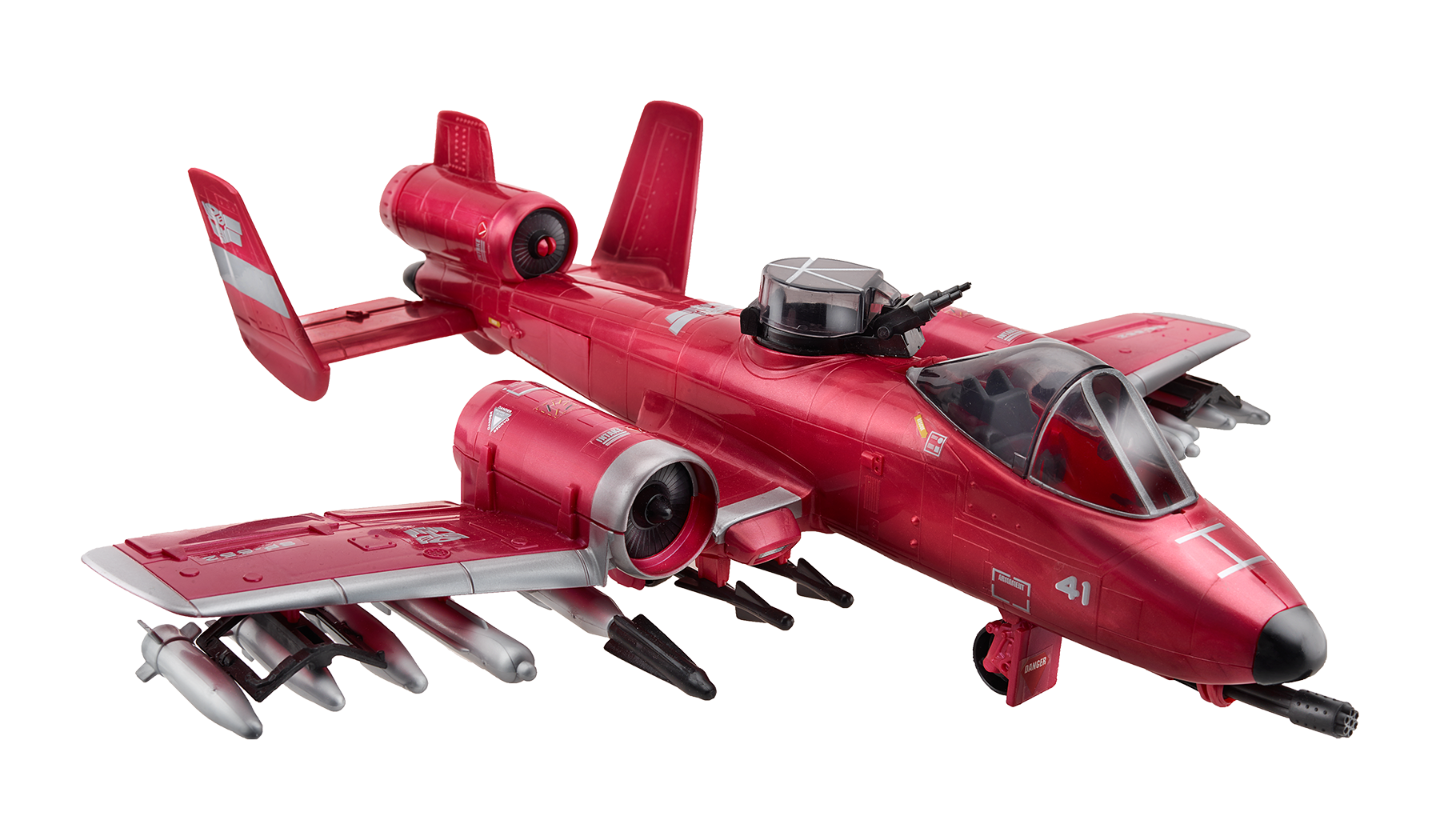 [UPDATE April 9]
Hasbro released artwork for their first exclusive of 2016, the Transformers Titan Force set. The set wil feature Windblade, Brainstorm, and Sentinel Prime in energized resurrection deco.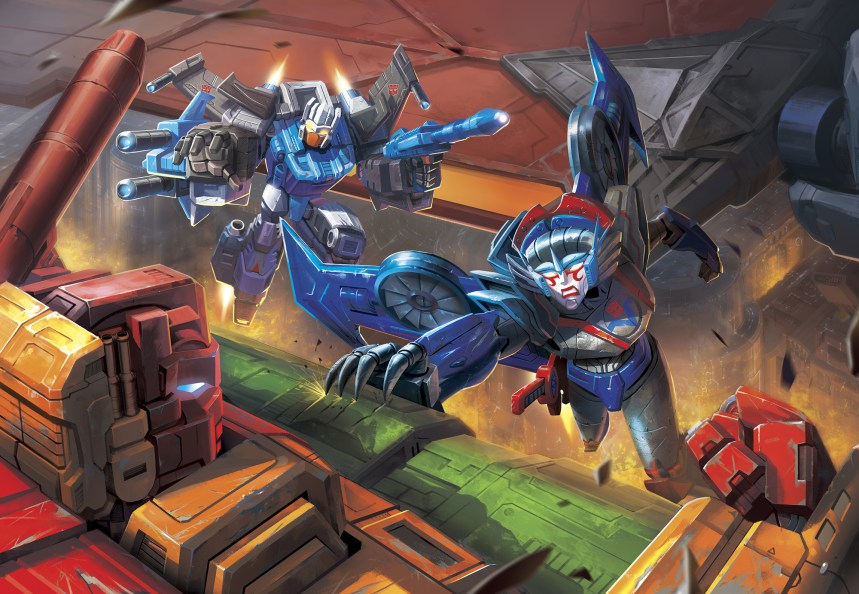 During Botcon 2016, Siebertron.com was able to snap some photos of the set. From their site, here's a look: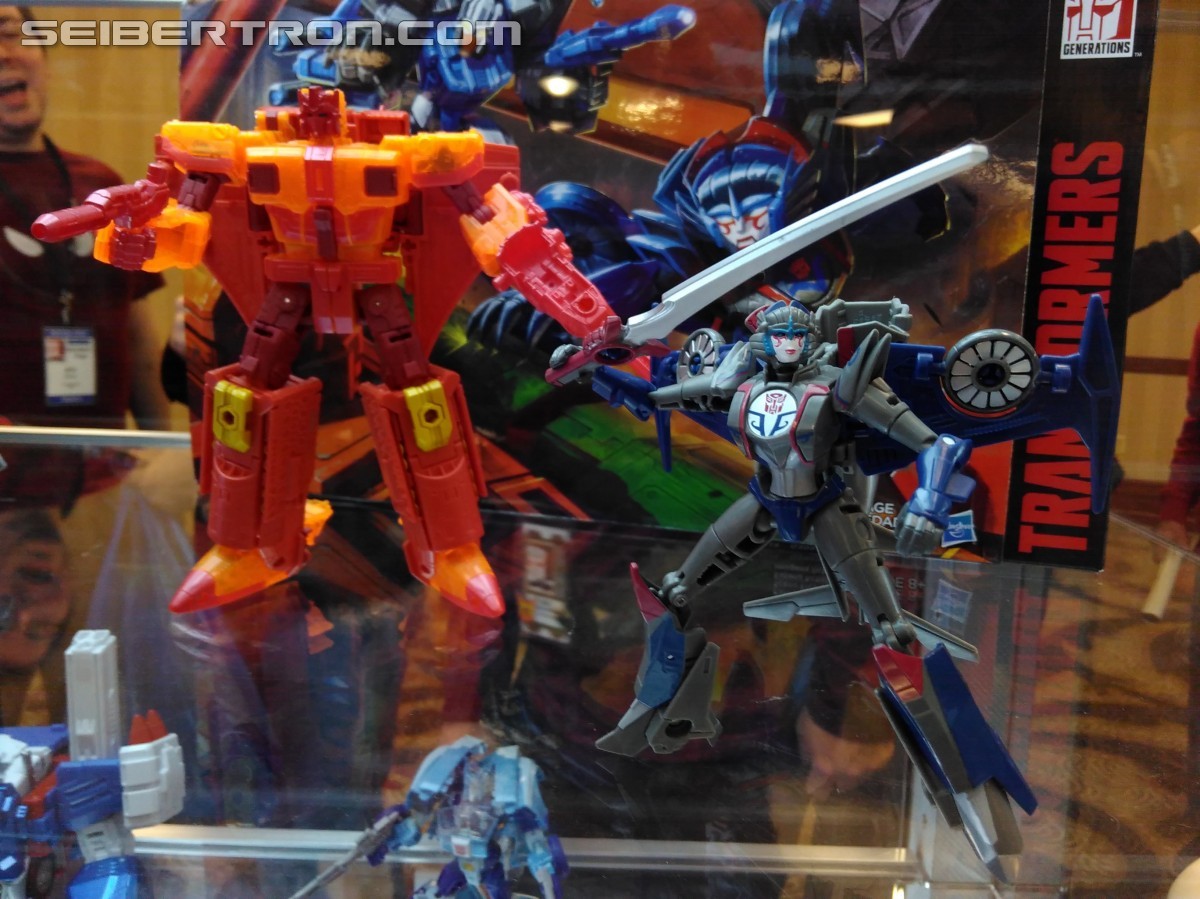 We'll update as we get more information and photos.
What are you hoping to score from Hasbro this year? Let us know in the comments.